The hot spring of Yamanashi, a hidden spring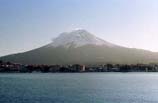 In an Touji around hot to that of an enough in Mt. Fuji, a thing with many high alkaline springs is [ that it is nothing and too far and ] the characteristic not much.
Loading...
[About range measurement and a hot spring mark]

Range measurement: A click of a departure point, a course spot, and a destination point will display a route and distance.
Hot spring mark: If it clicks a hot spring mark, pop-up appears and link to the page of the hot spring and inn.
* Please use a mark, expanding, since it may have overlapped.
The inn of

* adjacent prefectures is also displayed.