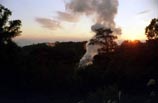 Although only the map turned to reliance, without also having preliminary knowledge nothing and a book at all, the hidden hot spring of the first class was encountered around Mt. Karakuni, and the natural hot spring also discovered an Iwano-yu, XX, a Yamanjyo (DO NOT ENTER, self-responsibility), Wake, the Wake kawayu, etc. to reliance, and, as for Kyushu and Kagoshima, has enjoyed many people's information to it. a west alkaline spring and a southern Sunayu -- measure with impact. A true hot spring kingdom.
Loading...
[About range measurement and a hot spring mark]

Range measurement: A click of a departure point, a course spot, and a destination point will display a route and distance.
Hot spring mark: If it clicks a hot spring mark, pop-up appears and link to the page of the hot spring and inn.
* Please use a mark, expanding, since it may have overlapped.