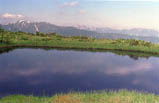 Hiuchigatake and Adatara-yama were climbed in Fukushima-ken. Reaching from the Miike parking, an intermediate marsh is the beauty of the world apart! The scene of a swamp Adatara-yama where rain water makes a sulphuric river, and "common" is force.
Loading...
[About range measurement and a hot spring mark]

Range measurement: A click of a departure point, a course spot, and a destination point will display a route and distance.
Hot spring mark: If it clicks a hot spring mark, pop-up appears and link to the page of the hot spring and inn.
* Please use a mark, expanding, since it may have overlapped.