The hot spring of Ooita, a hidden spring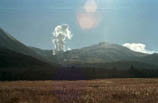 I thought whether Beppu, Yufuin, Yabakei, the Mt. Kuju foot, and hot spring density were No.1 of Japan. it hung for many days, and although it turned, from the next, the next has a hot spring and it did not progress to it very much previously -- but -- yet -- approximately [ ? ] half since it is said that he is an expert by 88 sorts of bathing commemoration marks in the hot spring passport of Beppu anyway -- 14 sorts of ... and this time -- the Beppu first rank clearance. A Beppu 8 Touji spa port and the hot spring book of 300 yen can be purchased at the famous bookstore in Beppu-shi. I who have hardly been assigned in a hot spring institution obtained to the executive director of the undisclosed place prison.
Loading...
[About range measurement and a hot spring mark]

Range measurement: A click of a departure point, a course spot, and a destination point will display a route and distance.
Hot spring mark: If it clicks a hot spring mark, pop-up appears and link to the page of the hot spring and inn.
* Please use a mark, expanding, since it may have overlapped.
The inn of

* adjacent prefectures is also displayed.