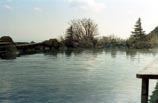 The hot spring of the mountain in Tochigi consists of the four backs (Okunikko, an okukinu, Okushiobara, and Oku-Nasu), 1 mineral-spring counties, a 1 mountains hot spring, and one natural hot spring.
Loading...
[About range measurement and a hot spring mark]

Range measurement: A click of a departure point, a course spot, and a destination point will display a route and distance.
Hot spring mark: If it clicks a hot spring mark, pop-up appears and link to the page of the hot spring and inn.
* Please use a mark, expanding, since it may have overlapped.