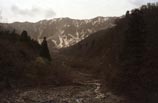 The White Hare of Inaba legend has the seashore in eastern Tottori Prefecture, and Daisen, one hundred famous mountains, in a west end, a before curie woman will visit in the east hem and the Tottorinaka part about in 100, and there is Misasa Hot Spring that he was surprised at the numerousness of the content. An enough sekigane and world leading content give a nod of assent in the middle in Misasa and Daisen. (As for the water attached to * Shirosagi, an opinion with the radium spring which was wells uping to Daisen those days is enough that's right.) Reference: The Ogami mountain shrine Shinto priest
Loading...
[About range measurement and a hot spring mark]

Range measurement: A click of a departure point, a course spot, and a destination point will display a route and distance.
Hot spring mark: If it clicks a hot spring mark, pop-up appears and link to the page of the hot spring and inn.
* Please use a mark, expanding, since it may have overlapped.