The Characteristic
By the nagayu visited again of the spring of 08, when a certain Ryokan's of the brochure was seen, it had written, "It puts also into the Large open-air bath of connoisseur liking", and when instantly called at the inn, the son revived charcoal by drum half vertical division, and he was barbecuing the burn and the bamboo shoot for rice cooked with bamboo shoots with the bamboo pipe.This was pleasing by one shot in having imposed serious time, and when it visited saying, "Is it a catching in the morning?", it answered "that's right" with confidence.As for the open-air bath, the fresh feeling to touch hot water in which a carbonic acid bursts in a pouring gate and a Pichi-Puchi and a carbonic acid burst a nose in respect of an irritate and a hot spring, and a lot of [ that it is hot and ] fountainhead were supplied.Second-class and the Rates of "hot spring first-class and equipment were the third rate, while a visitor also has the phrase written to be the very first rank ", is a Yankee and imagined the exciting dish of the frank young master, when it visited for the second time, as for the Lord, the grandpa grandma protected the field to the mountain (rice field), and the dish was the proprietress-to-be's delicate home-made dish.There is a forest here and there about whether the grandfather aimed at the shiitake mushroom farmhouse, and it offers the fresh safe new foods of a mountain as an inn of a farmer as well.It is an inn to come to visit any number of times.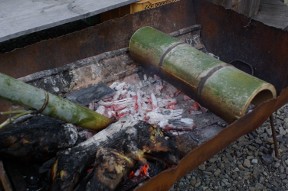 GW limitation, rice-cooked-with-bamboo-shoots homemade charcoal bamboo pipe baking (reservation required)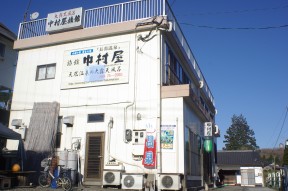 An open-air bath, Nakamuraya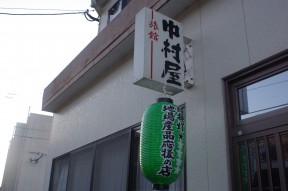 Local supply and local consumption, the store of professional product aid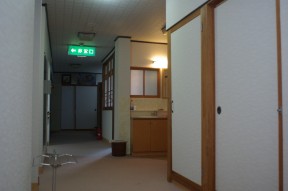 Clean inside of a hall
Dish
The home foods delicate home-made dish of the blessing of the Tabata mountain.
A cooked in a pot is a Jidori chicken (if a wild boar can be captured).
Foods
:
Private cultivation rice "scent of hot spring" (60 percent is sun credit rice) private rice cleaning, a private bamboo grove bamboo shoot, a private vegetable and private forest material wood shiitake mushroom, a nameko mushroom, a Jidori chicken, a Jidori-chicken egg, a hunting wild boar, local choice bean curd and a spring breeding Naoiri Enoha trout (landlocked salmon system)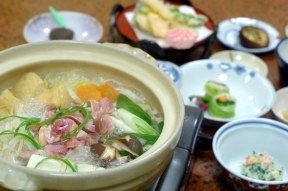 A Jidori-chicken cooked in a pot, time credit beam stock made from chicken bones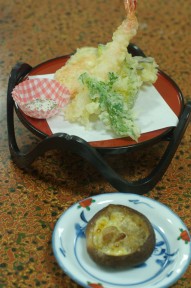 An example of this day
An incomplete technique and the tempura of vegetables like a specialty store are sweet, a lobster's body is [ smooth Brassica rapa Japanese pickles of sliced turnip, sesame bean curd, ribs, vegetable roll sesame Darre a tofu dressing, and oven-roasted shiitake mushroom mayonnaise ] soft completely, and the smell of Citrus junos marmalade and cooked-in-a-pot soup excites appetite.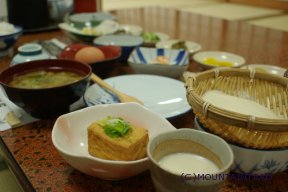 Deep-fried tofu with amber sauce hot early morning is local bean curd store direct delivery,
Soybean milk, colander bean curd, a Jidori-chicken egg (please forgive in case no stock), etc.
Breakfast in which nostalgic ginger immersed や and a seed of green herb are located in a line
It is a dish specially.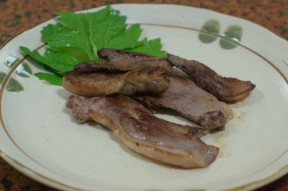 Wild boar roast meat
Meal place: Restaurant (between two)
* Still with [ although the trap of the cage was installed and capture of the wild boar which damages a rice field is tried ] no capture.
[Foods of the Nakamuraya prejudice]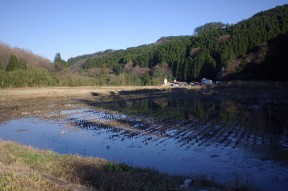 The rice field of a water tension in a off season,
Rice is a scent of a hot spring and 60 percent is credit rice.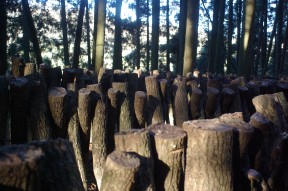 A forest which excels in slight material wood shiitake mushroom and material wood lack, and these times of numbers of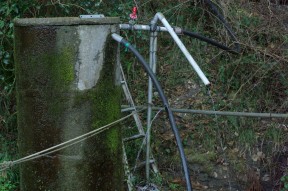 A private mountain water, a Ura-Kurozu-dani spring, coffee, etc.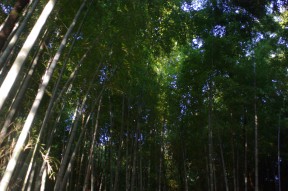 Spring and a bamboo shoot are from this bamboo grove.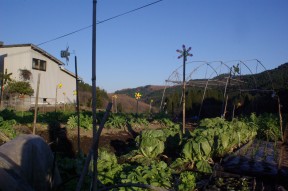 A grandpa grandma takes charge of a field.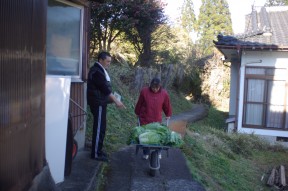 These foods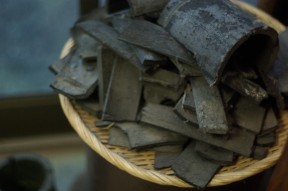 Homemade bamboo charcoal
Rates
* Please refer to the above-mentioned plan list.
Open-air Bath
A Separated by gender, an open-air bath
One-day-trip bathing: 12:00 to 21:00, 200 delightful yen which takes 2 hours for filling also with this hot water quantity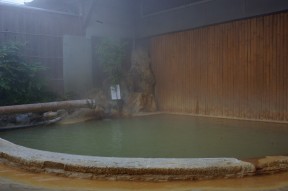 The open-air bath for women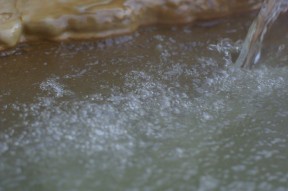 The hydrogencarbonate spring of Schwartz and the hypercarbia that bursts in respect of a hot spring.
It bursts here for high temperature and is hardly with a bubble.
Indoor Hot Spring
Separated by gender
* The indoor-hot-spring fountainhead temperature cannot use winter because of 39 ℃.(If warm water may be sufficient, they are man-and-woman shift operations to one of pair in winter because of a fountainhead whole-quantity injection)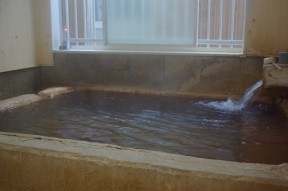 Guest Room
Nine JP-room with toilets, 15-20 persons accommodation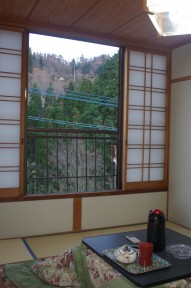 Maruyama good-location-to-see river-side guest room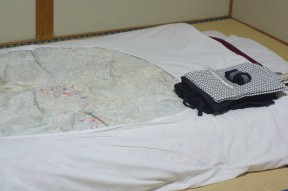 Clean bedding
Institution
Between the halls 2 (segmentation)
Near Station
JR Taketa station / JR Ooita Station

Taketa-shi, Oita Nagayu, Naoirimachi hot spring
Telephone: 0974-75-2065
FAX:0974-75-2930
Welcome and Send-off
Nothing
Parking Lot
Nine cars or the nagayu parking lot of the back