The Characteristic
the hut of the Wonderland effect of the mountain where the surroundings were surrounded in the high moor "Bougatsuru" of enough basin environment by the high ground also similar to Oze in the garden at noted Mine of the Kujyu mountain range.A log house is also in the bungalow which can be used by a charter besides a wooden main building and a new building guest room building.Seemingly the guest room building of the single room was still new, heating also went into the passage, shoes were also put on the tray, were carried in, desiccation was completed, bedclothes were beautiful, and the consideration to a mountaineer was an inn felt kind.Rather than the hut dish, it is delicious at the home-made dish of touch of the Heidi style, rice also has a Large, inside, and smallness, and it has also satisfied also in volume the warm dish which the young staff cooks.The mountain which can expect a Mt.Daisen-zan to the front from the bath of making a hinoki, and is dyed a Yuuyake was impressive.
The first visit finds a hot spring mark on a December and a map, and whether it is a natural hot spring and whether it is an inn.It had no [ that it is not a winter closure etc. and ] information, but heard that there was seemingly the inn expectation and an anxiety and ran them from the Oike to the Mt.Daisen-zan mountaineer on the way toward the chest, energy was taken out, and it arrived at the hut built at the very back of a Bougatsuru at last for about 3 hours.When the talk was observed, that was the Spa accommodation of the Kyushu highest place.Furthermore, energy was taken out, the summit of Mt. Kuju and an inside mountain was gained, and it reached to an extreme of a Kyushu only mountains hot spring.
An every-year routine occurrence,
bitterness-of-life mountain climbing
: It is draft beer all-you-can-drink the Kujyu mountain-range travels main at 9.10 days of Augusts, and night.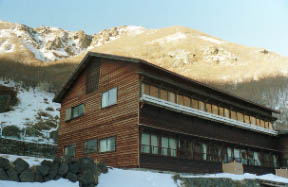 The Mt. Kuju County cluster of summits and guest room building for which it presses close at hand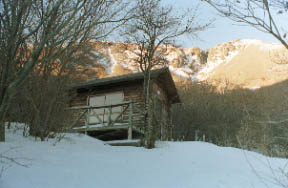 A bungalow and a log house guest room building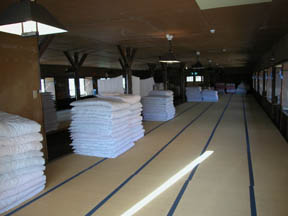 The second floor large room of the main building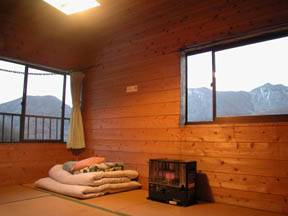 A Mt.Daisen-zan and a Mt.Heiji-dake good-location-to-see Suite
Dish
Handmade home cooking of the Heidi style.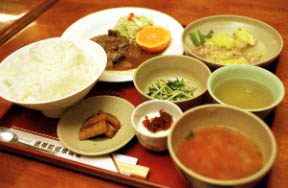 Beef muscular stew, Brassica pekinensis, pork simmered dishes, minestrone soup Caspian Sea yogurt, etc. were all handmade delicious dishes on that day.
Foods
Fresh vegetables and meat, and Caspian Sea yogurt are private culture.
* Frozen food is not used.
Example:
It is any one article, simmered dishes, a small bowl, pickles and soup Caspian Sea yogurt, jam, or honey of beef muscular stew / pork cutlet / bird southern barbarian at a daily basis.
Meal place: Every morning and evening dining-room.
Rates
* Please refer to the above-mentioned plan list.
Indoor Hot Spring
Man and woman each 1
One-day-trip bathing: 500 yen per time, 10:00 to 21:30
Guest Room
Up to one 22 four Suites (corner-room with - heater with key, one-person rise [ 500 yen ].) and single rooms, and large room 120 persons
Institution
A stand besides a lounge, a dining-room, and an original T-shirt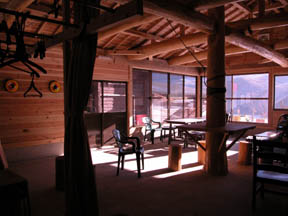 A lounge, free admission.
Near Station
Bungo-Nakamura station
-> a Hita bus, Choujyabaru Kujyu trailhead bus stop alighting
Frequently Asked Question (FAQ)
I ask a telephone of an inn from a trailhead.
When canceled, I need your help even during the On-the-day morning at the latest.Cancellation of an On-the-day afternoon requires 3000 yen cancellation charge.
Neither a shampoo nor soap can be used.
Head-lamp-bring with you at the 10 time of putting out lights.
There is no offer of amenity etc.A washing implement becomes a charge.
There is no offer of a yukata and a bath towel.
Check-in 14:00, checkout 9:00
When arrival becomes slow, I ask connection of an inn.
No mobile phones other than docomo can be used.2016/6
There is no installation of a public telephone.
Utilization time of a bath : you can use the whom who of stopping till 7:00 of a morning, and can use the whom who of a tent to 21:30 night.
Tent site fee: One person of 300 yen and a bath are 500 yen.It OKs any number of times to 21:30 night.
Supper start: Around 18:00
a credit card -- you can use.
The public parking of a trailhead is no charge.
Breakfast is henceforth (based on a group) at the 6:30 time. Change in a box lunch is possible.
Daytime box lunch acceptance can be carried out.Reservation required
Reservation reception-office start: One day three months ago.Reservation of an example June is started 3/1.
3/1 of tentative reservation: Even if tentative reservation is carried out at midnight, fax in an office serves as a start at 7:00, and a telephone is started around 8:00.
Only the telephone reservation with a hidden hot spring stamp direct at an inn corresponds.(It cannot respond in net reservation of this site.)* Since it becomes concomitant use of a privilege
- Top -
Taketa-shi, Oita Kuju-cho hokkein
Telephone: (090) 4980-2810
FAX:0973-79-2303

Welcome and Send-off
An ambulance wears in about 20 minutes in nothing and an emergency.
Parking Lot
They are those with public free parking, and on foot about 2 hours from there to a Choujyabaru.