The Characteristic
It is a this Kyushu only mountains hot spring about a mountain trail for arriving for about 2 hours.It is counted by Japanese one hundred famous mountains, 1700-m class of a mountain is located in the center of an 8 seat enough Kujyu mountain range, and there are many within the circle one, traversing, and courses to stay and reach to every mountain for 2 hours.If it acts as Naoto of the hot spring to south and is blessed with the Kyushu mainland highest peak "inside mountain" route and the weather of hyperbaric pressure from a Kita-senrihama, Miike, and Mt. Kuju, we will look at volcanic-fumes emit Io-zan straightly, and the hokkein via a Mt.Mimata will also be recommended.a Bougatsuru -- Equisetum arvense -- in a shakunage, a Pieris japonica, and a mountain, the Mt.Daisen-zan and Mt.Heiji-dake of an azalea-in-Mt Large stock, an inside mountain blueberry stock, etc. are also the treasuries of a flower leading [ Japanese ].It is in the north foot of that volcanic-fumes emit mountain seen from a Choujyabaru, and Io-zan, although it was the hydrogen sulfide spring where the volcanic system became cloudy before, the spring quality after small-scale explosion of Heisei changes, and it has become a thin hydrogen sulfide spring (an analysis table simple spring) now.
Choujyabaru-Amagamori root: About 2 hours
A Choujyabaru or the Omagari-Sugamori root (Sugamori-goe): About 2 hours
* As for the Mt.Mimata route, please go to a hot spring direct from an in-case-foggy Kita-senrihama that there is almost no sign.
They are a
Mt.Mimata and a hokkein
(100 peaks and spring Japan) in detail.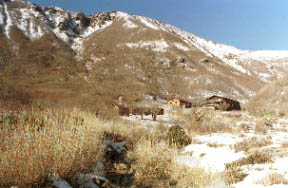 From a Bougatsuru to a hokkein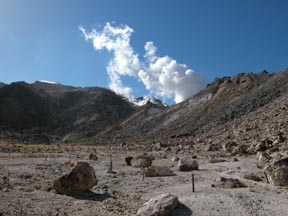 The place which reached the back of the inn for about 40 minutes "Kita-senrihama"
The Mt. Ioh volcanic-fumes nearness, an extensive pleasant place



From foot and the Kyushu nature trail to a Mt.Mimata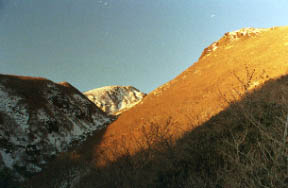 Japanese Hyakuna Sankyu pile mountain-range highest peak "inside mountain"
1791 m of the Kyushu mainland highest peaks
They are a Kujyu mountain range, Mt. Kuju and an inside mountain, and a hokkein (100 peaks and spring Japan) also here to reference.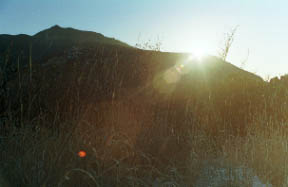 Noted Mine of an azalea-in-Mt stock "Mt.Daisen-zan"
From the middle of the month of a May to the middle of the month of a June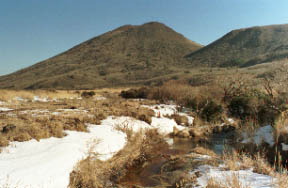 From a Bougatsuru to a Mt.Heiji-dake
Environment Protection Agency specifies Bougatsuru field ware "the 100th elections of a smell."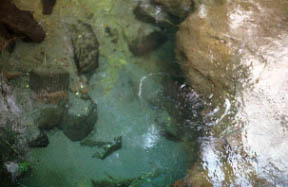 The location of a hot spring of the 100th elections of Japanese brand-name spring water "Oike."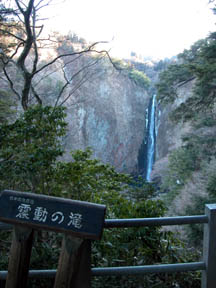 One of a hundred noted fall "waterfall of a shake"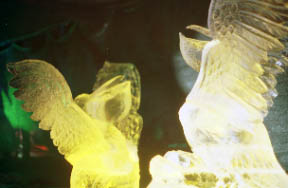 An icy festival at, Choujyabaru 04.2.13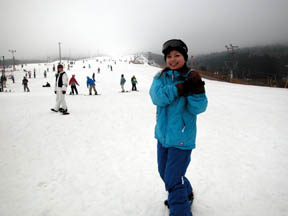 Kujyu forest park skiing ground
Fountainhead
Simple hot spring:
They are a sulfurous smell and those of a hot spring with a flower transparently and colorlessly and slightly.
Sulfuric acid ion 286mg/L
Fountainhead temperature: About 45.9 °.
Efficacy
Neuralgia, muscular pain, the arthralgia, a frozen shoulder, a motor paralysis, and a joint bruise [ a harden and ] - Break, and they are - chronicity digestive disease and recovery from fatigue.
By Train
Tokyo
-> Shinkansen about 4 hours and 52 minutes ->
Hakata
-> Kyudai Line, the Kurume course, a limited express about 1-hour and 50-minute ->
Bungo-Nakamura station
Bean jam
-> Nippo Line, about 1-hour and 32-minute -> Ooita Station -> Kyudai Line, a limited express about 1-hour and 4-minute ->
Bungo-Nakamura station
Bungo-Nakamura station
-> Hita bus, Choujyabaru Kujyu trailhead bus stop alighting -> Amagamori-root or Sugamori-goe, and on foot 2 hours ->
hokkein
By Car
The direction of Hakata -> Ooita Expressway -> Kujyu IC alighting, about 20 km
The direction of Beppu -> Ooita Expressway -> Yufuin IC alighting -> R210 and a prefectural road 11 Yamanami expressway course, about 32 km
Bus
A from Choujyabaru, Makinoto arrival
Hita bus 0973-72-0528
-> of 10:36 shots the 10:37th place
-> of 15:25 shots the 15:35th place
Kamenoi bus 0977-23-0141
-> of 09:08 shots the 09:19th place
-> of 15:30 shots the 15:41st place
* H18/10 Please be sure to ask a bus company.
Airplane
Oita Airport -> Yufuin - Oita Airport nonstop high speed bus, about 55 minute -> Yufuin station -> Kyudai Line, limited express about 20-minute ->
Bungo-Nakamura station
-> Hita bus, Choujyabaru Kujyu trailhead bus stop alighting -> Amagamori-root or Sugamori-goe, and on foot 2 hours ->
hokkein