The Characteristic
the over the end line of "ground -- an enough and this -- the point -- the world of off-limits one and wildness -- " -- when it visited for the first time in winter under closure, it was just such an impression.It is the northernmost inn suitable for the name of primitive wildness of Shiretoko, and next to each other and "the over the end of the ground" in Shiretoko.It is in the foot of Mt. Rausu, and abundant, an indoor hot spring and field stone bath are large, and the hot water quantity of a natural gush is built calmly, and also the devide is carried out also to three steps of Toujis.Field stone bath uses a certain porous andesite for the place from the first, is built, and suits the scene at the foot of Rausu well.The starlit sky of the whole sky can be enjoyed, hearing the little stream of the iwaobetsu river origin night.
Winter is shut by snow and entry of point traffic stop and a person also needs [ closure and the prefectural road 892 ] to grant a permission from an iwaobetsu.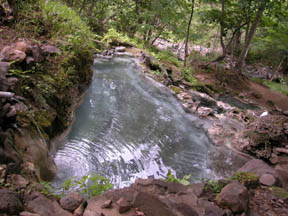 Three steps of Toujis, an open-air bath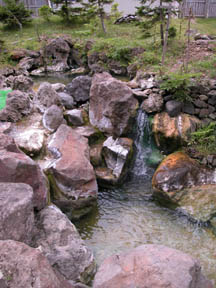 Field stone bath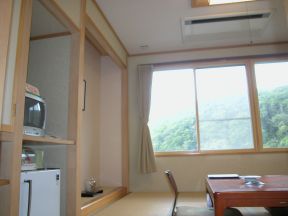 The remodeled main building guest room
A main building is an all-rooms air conditioner with toilet.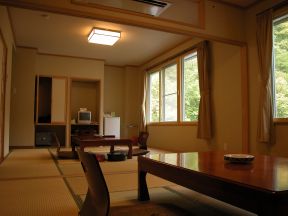 The JP room of this Tateyama side and the continuation between two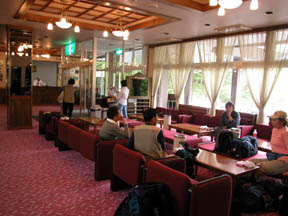 The lobby in which a mountain-climbing person relaxes
Dish
Seafood and a gibier dish
Foods
Gibier, such as seafood, venison, a bear meat, etc. which was scrupulous Okhotsk and from [ from Shiretoko ] - East Hokkaido, vegetables and wild grass
It is a
dish specially
:
They are a chilled sashimi of salmon of a hairy crab and a cherry salmon, bear-meat baking from Shiretoko, etc. at 茹 from a utoro.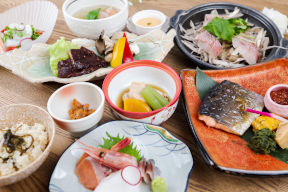 An over-the-End Meal Set Menu Example of Ground

- Aperitif
- Small bowl 道産鰊 Sea urchin food dressed with miso
- Sliced raw fish 紅鱒, and the small shrimp and the saury from Shari from a way from a way
- Simmered dishes Salmon Shirako from a utoro, and coltsfoot
- 肉物 Ezo venison flavor baking from Shiretoko
- Pottery Cherry salmon food dried in the shade from Rausu Immersed in homemade salmon roe soy sauce
- Appetizers eaten with sake Salad wind of the Pacific giant octopus from a utoro, and a ズワイ crab
- 台物 道産赤魚 Yanagawa
- 飯物 the product from a utoro -- a mozuku seaweed -- meal
- Soup オハウ of the salmon from a utoro (the Ainu version Sanpei soup)
- Pickled vegetables
- Dessert
Rates
15,000 yen (consumption tax included and excluding bath tax) -
Indoor Hot Spring
Man and woman each 2
One-day-trip bathing: 11:00 to 18:30 (last reception office 18:00)
Open-air Bath
* Since outside is in a share space from an indoor hot spring, bathe in mixed company altogether (those of bathing arrival with preparation).
A mixed bathing open-air bath (two bathtubs), the Touji of three steps of an Touji and takimis (another fountainhead)
(The use time and directions of an Touji of three steps of an Touji and takimis are important point inquiries)
Guest Room
A main building (a JP room, the JP room between two, J-W style room), an annex (a JP room, sweet)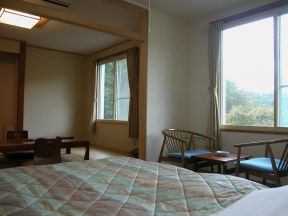 Main building J-W style room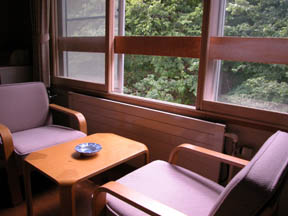 Main building guest room place by the window


Nearest Station
Shari station
- Top -
Iwaobetsu, Shari-cho, Shari-gun, Hokkaido, 099-4356
Telephone: 0152-24-2331
Welcome and Send-off
Only lodger (subscription basis)
Parking Lot
Full equipment