[Outline] The hidden hot spring of the farthest limit Chinohate-HokkaidoIwaobetsu Shari-cho, Shari-gun
[Privilege]
[Reservation] Please ask by telephone directly.
[Business] Winter closure:as usual Jan 22~ Open This Year:as usual Jan 28
[One day trip bathing] Adult of 500 yen 11:00-17:00 Three steps of Toujis are no charge.
[Address] Shari-gunIwaobetsu, Shari-cho
[Telephone] (0152)24-2331 [Telephone]
[Map] Geographical Survey Institute
The Characteristic
the over the end line of "ground -- an enough and this -- the point -- the world of off-limits one and wildness -- " -- when it visited for the first time in winter under closure, it was just such an impression.It is the northernmost inn suitable for the name of primitive wildness of Shiretoko, and next to each other and "the over the end of the ground" in Shiretoko.It is in the foot of Mt. Rausu, and an indoor hot spring and field stone bath are built calmly greatly abundant, and the hot water quantity of the natural gush is carrying out the devide also of the log bath also to two and also three steps of hot springs, or the hot spring of the takimi.Enough field stone bath uses a certain porous andesite for the place from the first, is built, and suits the scene at the foot of Rausu well to the courtyard.A Gasterhaworthia cv. Royal-Highness B/R can be enjoyed hearing the little stream of the iwaobetsu river origin night.
Winter is shut by snow and entry of point traffic stop and a person also needs [ closure and the prefectural road 892 ] to grant a permission from an iwaobetsu.
The business period of the 2017 fiscal year: For three months from July the 1st to September the 30th.(Stay becomes the business of only staying overnight without meals.)
One day trip bathing serves as only a main building.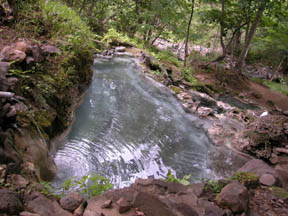 Three steps of hot springs, an open-air bath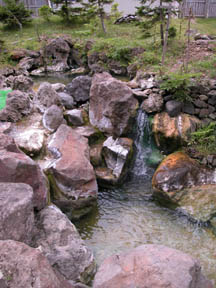 Large field stone bath.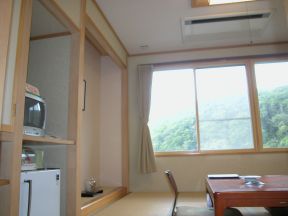 The remodeled main building guest room
A main building is an all-rooms air conditioner with toilet.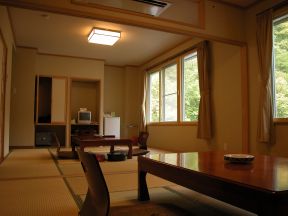 The Japanese-style room of this Tateyama side and the train between two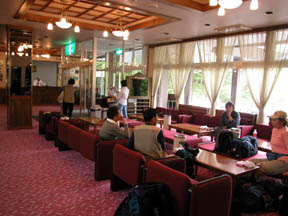 The lobby in which a mountain-climbing person relaxes
Dish
Seafood and a dish of wild plants.
O They are
foods
about wild grass rice with vegetables and meat to lunch pleasing.
It is a salmon in wild grass and autumn in the fresh seafood of the Utoro port and the Shari port landing, and spring.
It is a
dish specially
:
Dish of sashimi served on a boat-shaped platter
Meal place:

The guest rooms with the new building BT are room foods every morning and evening.
A main building guest room is together dining space.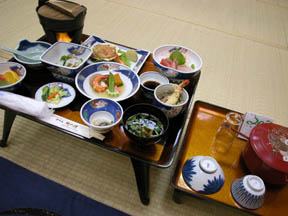 Example 04/10/12
A delicacy, a vinegared, a row slices, scallop baking, a cooked in a pot, simmered dishes, a shrimp sky buckwheat noodles, pickles, soup, and a dessert
Rates
* Please refer to the above-mentioned plan list.
Indoor Hot Spring
Man and woman each 1
One-day-trip bathing: Adult of 500 yen 11:00 to 17:00
Open-air Bath
* Since outside is in a joint space from an indoor hot spring, please consider all to be mixed bathing.
The hot spring of the hot spring and takimi of 2-3 steps of mixed bathing Large field stone bath (three bathtubs) and log baths
Guest Room
A main building (a Japanese-style room, the Japanese-style room between two, a J-W style room), and annex (a Japanese-style room, a sweet) All the 170 persons accommodation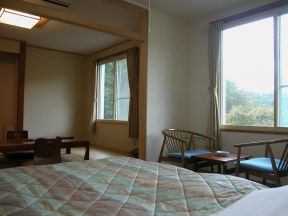 Main building J-W style room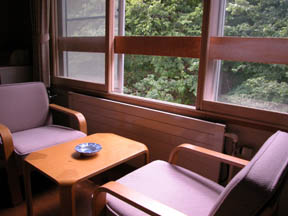 Main building guest room place by the window


Institution
A large room and a coffee lounge snack
Near Station
Shari station
- Top -
Iwaobetsu, Shari-cho, Shari-gun, Hokkaido, 099-4356
Telephone: 0152-24-2331
FAX:0152-24-2280
Welcome and Send-off
Please possession and more than 2 persons consult to a motor coach.
Parking Lot
Full equipment