The Characteristic
In the night of a January, the road was traffic stop in Shiretoko Nature Center.The gate opened in the next morning and it ran the enough road of snow coverage to the iwaobetsu winter traffic stop spot in fear among the snow fall.the -- there is an iwaobetsu 4 more km ahead.Although winter is shut and closed by snow, it is the northernmost hot spring institution also in Shiretoko.discovering the footprint of a brown bear under April 25-day winter closing openning Shiretoko Five Lakes, and encountering a brown bear also fortunately in the road in the visit of the continuing July -- the habitation density of a bear -- dreadfulness of Shiretoko (Shirietoku: place where the ground ends) called the world's No.1 was realized.Although it is tepid, by the water of river drawn and placed, by one person who does temperature adjustment, two mixed bathing open-air baths (dressing room nothing, natural hot spring) of "the hot spring of a takimi" of Za-ppu-ri sank-underneath size have the favor of an inn, and are opened for free in summer in "three steps of hot springs" and winter which receives the hot fountainhead in three steps and is adjusting water temperature.It is in the upper stream of an iwaobetsu river, and the Mt. Rausu trailhead, and they are 8.8 km, and ascent about 4 hours to the summit of the mountain.
Shiretoko It seems that it was tried hard at ecology restoration of ascension of a salmon, such as removing the erosion control dam of population as registration Shari-cho to a July 14 Akiyo community natural heritage in 2005
, and a brown bear.I congratulate you on your registration.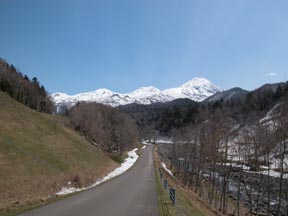 The Rausu mountain peaks in line, an iwaobetsu river, and a hot spring are this 4K upper stream.
Nature watching, ski mountaineering which walks
:
Shiretoko Five Lakes: Road opening of traffic is before GW.
Kamuiwakka: Road opening of traffic is at the end of a May.
The Shiretoko mountain peaks in line, Mt. Rausu (Japanese one hundred famous mountains)
Mt. Rausu opening of the climbing season, beginning of a July
Waterfall of a Furepe:
A tourist ship, Io-zan and Kamuiwakka (coming alongside the quay is not carried out)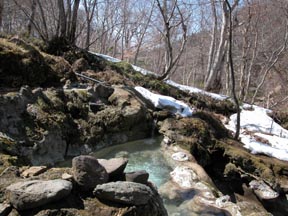 H15.4.25 Three steps of hot springs of a business opening day (free admission)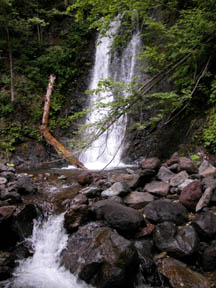 The waterfall of an iwaobetsu Kawakami style (Yugami of a takimi)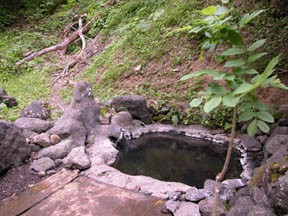 The hot spring of a takimi (free admission)


The indoor hot spring, open-air bath, and log bath of an inn are a charge and an adult of 500 yen.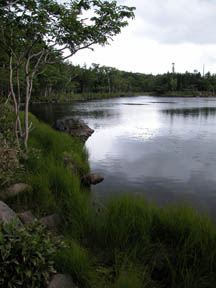 Three lakes in Shiretoko Five Lakes
4-5 lake is keep off (H15.7) because of the Kumaide rejection.
Winter information:
Winter closing and three steps of hot springs are buried in snow, and an iwaobetsu does not have an injection of a hot spring, either.Management is not carried out although the hot spring of the takimi is filled.
an iwaobetsu to the point -- traffic stop, on foot [ about 4 km ], and an avalanche -- requiring care -- detailed -- the inside of a "100 peaks and spring Japan"
Mt. Rausu mountain-climbing information
Fountainhead
Hot brine spring: It is [ water-white ] a saline taste slightly.
Fountainhead temperature: About 60 °.
Efficacy
Neuralgia, rheumatism, etc.
By Train
JR Senmou Line -> JR Shiretoko-shari station -> the Shari bus Shiretoko line, a tour bus (tour bus a number although it is large a hot spring course one No. 2 per day),
By Car
Shari-cho
-> A utoro, Shiretoko Nature Center, an iwaobetsu course, and about 45 km ->
iwaobetsu
By Plane
Memanbetsu airport
-> An Abashiri bus, Okhotsk Shiretoko line, about 2-hour and 15 minutes, or Shari bus -> utoro terminal alighting -> Shari bus and the Shiretoko tour bus ->
iwaobetsu