[Outline] Straw-thatched-roof spa resort Kuroyu-Akita Semboku
[Privilege]
[Reservation] Please ask by telephone directly.
[Business] Winter closure:as usual Jan 10~ Open This Year:as usual Jan 17
[One day trip bathing] 9:00 to 16:00 Adult of 500 yen
[Address] SembokuTazawako Obonai Aza Kuroyuzawa 2-1
[Telephone] (0187)46-2214 [Telephone]
[Map] Geographical Survey Institute
The Characteristic
The attractive point enough building of a straw-thatched roof or a cedar bark roof finish stands side by side on the desolate point-of-origin belt of a leader Kawakami style, and it forms the straw-thatched-roof swarm "kuroyu."Furthermore, the log of a beech is used for the pillar of the hot-spring hut concerning an open-air bath or cascading water hot springs, and the scene of the kuroyu is made with the mountain, the river and the primeval forest, and the fountainhead surrounding the four quarters.This atmosphere can be said to be the peculiar design here.The abundant fountainhead was drawn on the gutter or the river and it uses with seven hot springs.If the lamp of a home generation of electricity is lighted at the nightfall, the design of a kuroyu will increase brightness again.
2010-11 -13 visited again:
Electricity was pulled and the radionuclide generator of the home generation of electricity which was in the parking lot was also removed.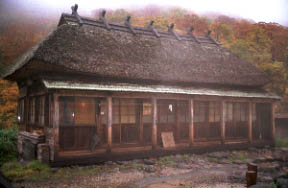 The Touji section guest room building of a straw-thatched roof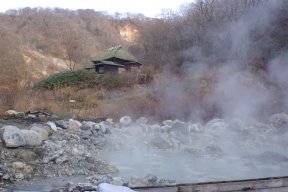 A jigoku swamp and the back are Separate from mains.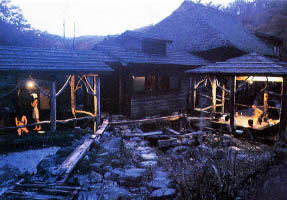 An open-air bath scene of sunset and this photograph are inn offers.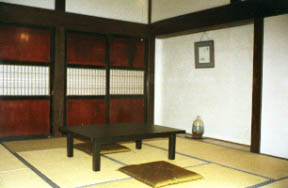 The guest room of reconstruction (two rooms)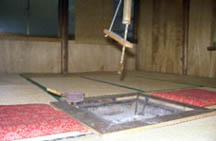 A Touji section, a guest room with a sunken hearth
Dish
[The home-made dish based on wild grass mushrooms]
It is wild grass in spring and is a meal unique to the mountain based on mushrooms in autumn.The simmer of an
example
char dish grilled with salt, a mushroom cooked in a pot, tempura, wild grass, and a dried filleted herring, sesame tofu, a vinegared, a Suzusayaka noodle, a smoked radish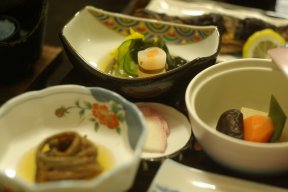 Simmered dishes of local foods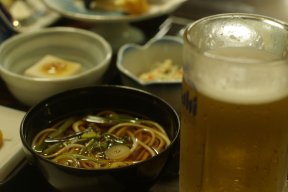 A Suzusayaka noodle and the final day are draft beer services!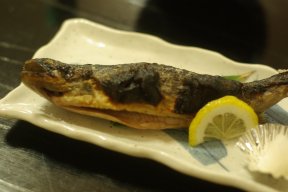 Char dish grilled with salt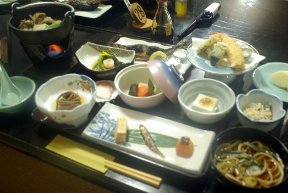 The home-made dish of my local aunt using the cooked in a pot and local foods of the Bunaharitake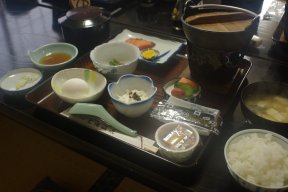 Breakfast
Special dish: Mushed rice stick (only autumn)
Hinai Jidori-chicken cooked in a pot
A char Sake which flavored by grilled fish, 1,000 yen per go, 1400 yen 2-go

Meal place: Every morning and evening dining-room.
Rates
* Please refer to the above-mentioned plan list.
Indoor Hot Spring
The man-and-woman one mixed bathing 1 each, and all are Log structures.
One-day-trip bathing: 9:00 to 16:00 Adult of 500 yen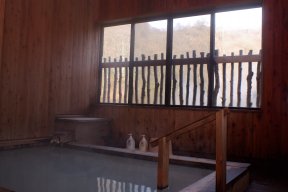 Main building indoor hot spring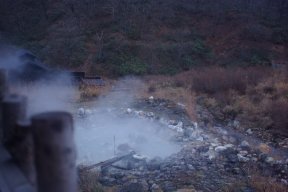 The outside of the window of an indoor hot spring
Mixed Bathing Open-air Bath
The mixed bathing 1, the male 1, the woman 1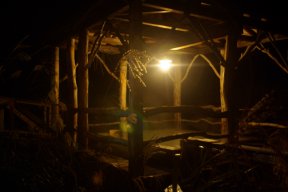 Mixed bathing open-air bath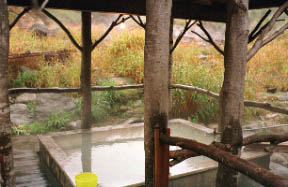 Indoor-Hot-Spring + Open-air Bath
The male 1, the woman 1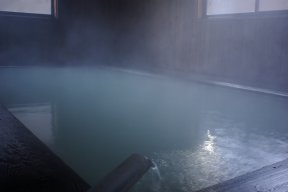 A Separated by gender, an indoor hot spring with an open-air bath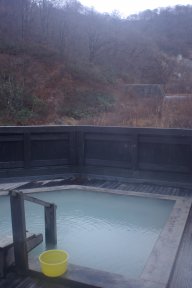 Open-air bath
Cascading Water Hot Springs
Field cascading-water-hot-springs 1& cascading water hot springs 1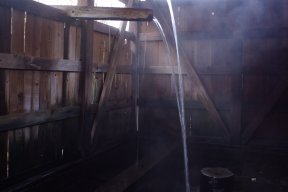 Guest Room
They are two rooms during 20 Japanese-style rooms and reconstruction. 80 persons accommodation,
Touji section: 23 rooms (5 room with an inner sunken hearth.),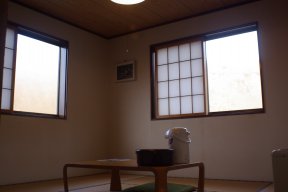 Main building guest room
Near Station
Tazawako station -> for bus about 50 minutes for mammillary line Nyuto Spa, the bus terminal -> Kuroyu pick-up bus is connecting.
- Top -
Postcode014-1201
Akita-ken Semboku tazawa lake Obonai Aza Kuroyuzawa 2-1
Telephone: 0187-46-2214 FAX:0187-46-2280
Welcome and Send-off
At the bus terminal for mammillary line Nyuto Spa
Parking Lot
Full equipment