The Characteristic
Nyuto Onsenkyo:
Onsenkyo which wells ups in the Heights which looks at a Mt.Nyuto at the northeast in Tazawako, and the front, and looks at Akita Mt. Komagatake to the right hand.It was dotted with seven hot springs and each has released individual charm.The nature seemingly beech oak woods are [ nature ] grow-thick northeast kitas is left behind the whole place, and the "Nyuto Onsenkyo circulation courses" in which 7 hot-spring Hachiken is connected is a hot spring and a popular stroll way which enjoys nature fully.
Kuroyu:
Active volcano A clouds of volcanic steam is raised to the Mt.Nyuto trailhead and the leader river left bank which stand in a row from Akita Mt. Komagatake, a jigoku is formed, and that of an enough is a Kuroyu between the two jigoku swamps.It is nationwide very new it to be only a Kuroyu that a jigoku swamp is seen, and for the inn to have been built between jigoku swamps, and to use the hot spring also in Nyuto Onsenkyo.The fountainhead is used as a hot spring field collect minerals, and is carrying out catching sale of the mineral-rich sediment.It will be a historied hot spring of discovery around Enpo 2 (1674).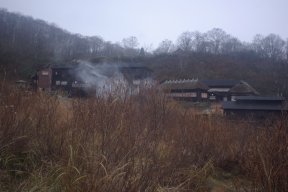 2010-11-14 Kuroyu of Final Day of Business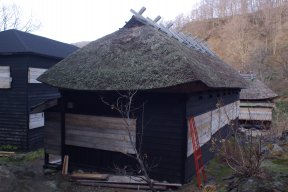 The Touji building of the straw-thatched roof which enclosed in winter and was carried out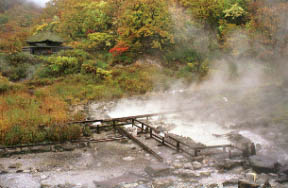 It uses by a Separate the fountainhead, the old cottage, and now.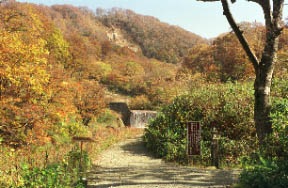 The Mt.Nyuto trailhead under a kuroyu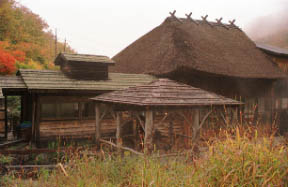 Cascading water hot springs, an open-air bath, and bath structure
1478 M of Mt.Nyutoes, with Account of Climb-Down-to-Entry Line

* The first Saturday of the Akita Mt. Komagatake June, the Natsuyama difference mountain climbing.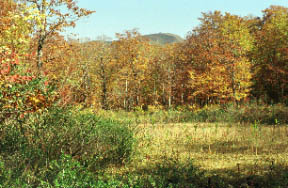 Karabuki-marsh (being Good Location to See about Long Distance Mt.Nyuto)

Alpine flora can be enjoyed in May Lysichitum camtschatcense and summer.
On foot-from Kuroyu about 20 minutes
Fountainhead
A simple hydrogen sulfide spring, acid sulfur spring 82 ° Clouded white (hot spring of alkalinity [ kuroyu ])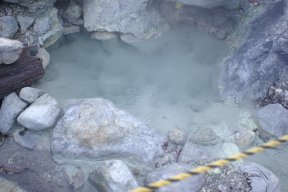 The fountainhead of cascading water hot springs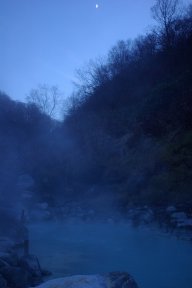 A skillful jigoku, the fountainhead
Efficacy
High blood pressure, arteriosclerosis, peripheral circulatory disturbance, a rheumatic disease, the dyskinesia, diabetes, chronic toxicosis, chronic eczema, a wound, chilblain, and infertility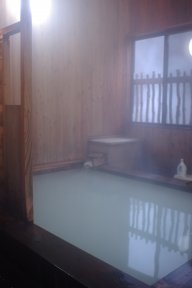 The indoor hot spring of an inn
Public Bathhouse
Those with the Nyuto Spa saving book system, the lodger limited sale of 1000 yen
* An all the 8 houses bath can be used once each.The hot spring of a no bathing experience is indefinite, and it can use it.
By Train
Tohoku Shinkansen use
Tokyo -> Akita Shinkansen Line Komachi, bus about 50 minutes for fastest about 3-hour -> Tazawako station -> mammillary line Nyuto Spa, and a bus terminal -> Kuroyu
* The pick-up bus is connecting.
By Car
The Urawa IC-> northeast way and about 7 hour -> Morioka I.C->R46, about 1-hour and 30 minutes, and Nyuto Spa 田 沢湖 Heights holiday camp right-turn -> Kuroyu
Contact
Ugo traffic: 0187-43-1511