The Characteristic
When about 4 km of pass overs went down the Yanagisawa Pass from Okutama, it is an enough hot spring to the Daibosatsu Pass trailhead.drinking the miraculous fountain which wells ups from under cloud Minedera for many years -- a good -- a bath is taken and it is known as a noted spring of a good.When a bath was actually taken to the alkaline spring of 26 degrees, the hot spring was soft and the nagayu could be enjoyed by the contrast bath, and if it was a woman, it was thought that it was a hot spring whose expectation is considerably possible for grace or lustrous skin.Nature including the hilly country around Daibosatsu Pass known for the novel "Daibosatsu Pass" of a Nakazato Kaizan, such as a Mikubo Heights of a Renge-Tsutsuji and the Chichibu mountain-peaks-in-line foot Ichinose Heights, can be enjoyed fully.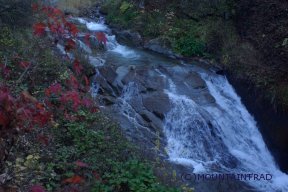 It is a flow Shigekawa ravine about an inn front.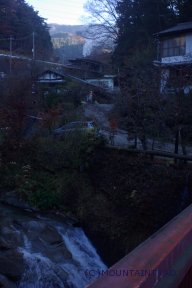 The morning Shigekawa ravine and sakeishi.
Peripheral Information
In fruit kingdom Yamanashi "Enzan and Katsunuma", fruit hunting can be performed through the four seasons.
the cherry from spring outing to a strawberry farm, a peach, a plum, a grape, and a persimmon -- and it becomes a strawberry again.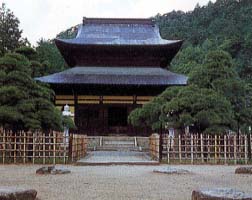 Kougaku-Temple,
There is a Ken-Pon-Chaku-Shoku Daruma-Zu of a national treasure.
In Enzan, it is known as Kamakura in Koshu and many Buddhist temples are enoughs.
Erin-ji: Shingen Takeda public family temple
Cloud Minedera: Shingen Takeda public prayers-for-victory temple
Fountainhead
A simple alkaline spring, PH9.9, water-white tasteless no odor
slightly sweet soft water of touch -- it is delicious.There are many people who have drunk habitually by door-to-door delivery.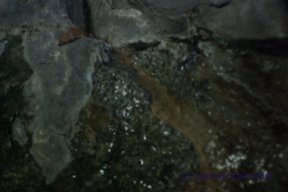 It splits and gushes from a base rock rent like the name of a stone?
Efficacy
The rheumatism, neuralgia, recovery from fatigue, a beauty effect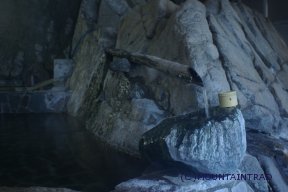 The inner bath of a base rock as it is
The alkaline spring of 26 degrees is soft and a nagayu is recommendation slowly to grace and lustrous skin!
By Train
Chuo Line use
Shinjuku station -> Enzan station (limited express Azusa about 1 hour and 22 minutes)
Daibosatsu Pass trailhead going bus (about 40 minutes) terminal
On foot-from terminal about 5 minutes
By Car
Central high-speed use
It goes into a general way from Katsunuma IC, and they are about 15 km of R411 courses.