The end of March business was carried out for 09 years.Thank you very much for having favored for a long time.
The Characteristic
A parking lot is built from an enough and there in the back of a Ryokan town in [ which is nature upper hillside ] on foot five part at the place which went up a little enough slope of its gradient to the left.The fountainhead and a main building building inherited what was co-owning of the village before, and the spring quality of the fountainhead, efficacy, and temperature are No. 1 things also in Masutomi.especially -- water temperature -- an enough -- at things, it is resistance -- there is nothing -- a fountainhead tub -- a long time -- a sank underneath -- things will be made and efficacy rich as a result will be received.Self-cooking and an overnight stay with rice and soup no dishes are also possible, and it is used for disease treatment and a long-term stay.A hot-spring cure is enjoyed by woods bathing and a hotspring bath.
Rinsingoneselfwith hot water outside the bath was also used at 100% of the fountainhead, and it cared about the meal to health food diet, and it was thought in the morning that it was carried out by the work worked just as carrying out set exchange of tea boards, etc. and spa accommodation at 7:00.
* Please keep in mind that it is not the service and pleasure especially whose main building is, and the gorgeous dish which are the inns of a hot-spring cure medical-treatment speciality. [ like a ryokan with a hot spring ]
* Please go out after also considering the measure against cold heater loan 1 day 300 yen in winter.although one two mattresses and credit are, a cold day also obtains a quilt and I lend it one sheet.
* since a supper is from 4:00, please arrive by 3:00 -- since it is spa accommodation, neither mountain climbing nor the use of one night in the direction of fishing has been accepted.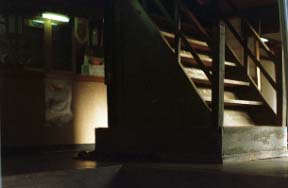 "The main building of 120 - a building 130 years ago"
The wedge of stairs is impressive.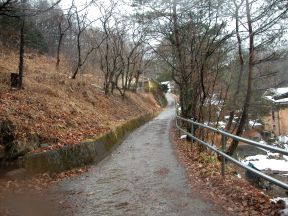 * It takes on foot 5 minutes in a slope from a parking lot.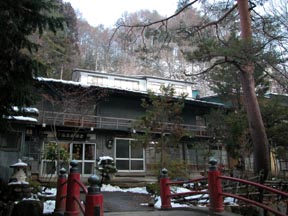 It is a guest room building to a main building Entrance and the back.
The crimson hot spring is flowing into the river.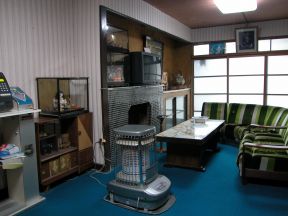 Lounge (heating inside a hall is only this heater)
Dish
The Japanese food of a vegetable subject
The merit of a material is felt for a row slices, a baking scallop, etc., and it is anxious to health food diet, such as fish ball and a Chinese yam.Boiled rice was sweet-smelling and I received the fly from the hot bird juicily and deliciously.
A supper is from 4:00.
A fish, tempura, sliced raw fish, etc.
They are room foods a daily basis of seven daily moving averages, and every morning and evening.
In the visitor of a hot-spring cure continuous stay, it is with a snack.
an Example
Hors d'oeuvre (a scallop and a beefsteak plant volume), a Chinese yam julienning Alaska pollack, a たこ vinegared, a scallop and the Hockey sliced raw fish, a yellowtail Chinese radish, the fly salad garnish from a bird, fish ball soup.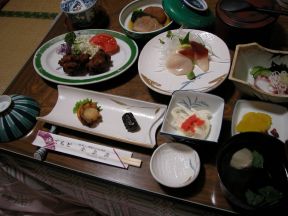 Supper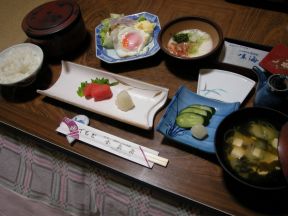 They are health food diet and Nagai's dried laver also in the morning!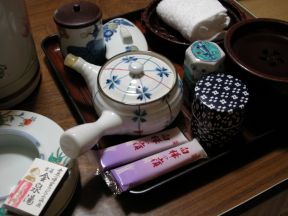 Tea boards are exchanged at 7:00 in the morning.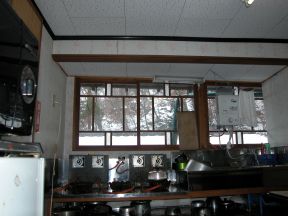 There are space for hot-spring cures cooking for themselves, and a coin ceremony gas refrigerator and a microwave.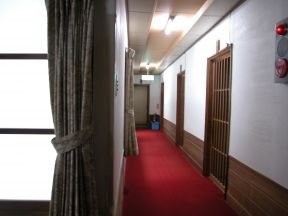 Annex guest room building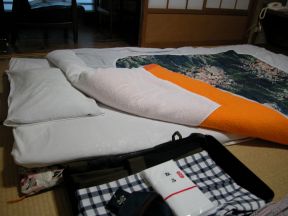 A towel is also attached to a collar and it is beautiful bedding.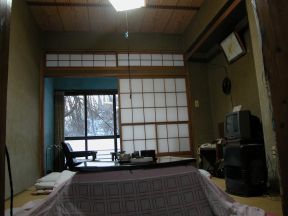 Annex guest room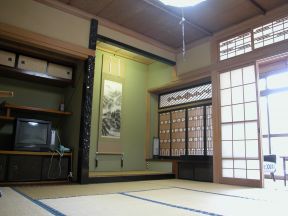 New building guest room
Rates
* service charge 10%- both consumption and bathing tax included -- an adult -- 1 other people
Two overnight stay
Main building
Main building The room of 8,813 yen of a self-cooking part, the main building sliding-door compartment of 9,390 yen, annex 9,968 yen with a veranda
New building
12,278 yen ~
Overnight stay with rice and soup no dishes
Main building
6,503 yen

Self-cooking

Main building
5,348 yen
An overnight stay with rice and soup no dishes is boiled rice, pickles, miso soup, and with other one articles.
Bedding, a sheet, a yukata (the 4th night exchange), a heavy outer kimono, tableware, cooked-in-a-pot kiln, with a self-cooking tool
Heater loan: 300 yen per day (there is a kotatsu.)
Television is a coin ceremony.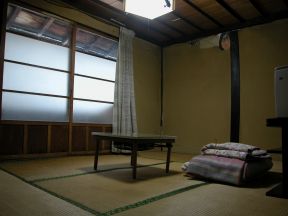 The guest room on the second floor of the main building (an old wing, for self-cooking hot-spring cures)
Check-in Out
It is at the latest till 4:00 at check-in and the 12 time.
* It seems that there is a relation of a meal from 4:00 and the reservation in the direction of mountain-climbing return is difficult.
Checkout, 10:00
Indoor Hot Spring
Only mixed bathing.Since female persons can wear a thin clothes wore in bathing, a bath towel, etc., please bring them with you.
* The 2003.5.31 present female bath is not used.
If there are a cold spring (32 ° of fountainhead) and two bathtubs of rinsingthemselveswith hot water outside the bath and it enters by turns, circulation will be promoted and the hot-spring cure effect will be heightened.in order that rinsingoneselfwith hot water outside the bath may also repeat 100% of the fountainhead, and a lot of cold spring injections and heating, be soaked in the fresh fountainhead -- measure.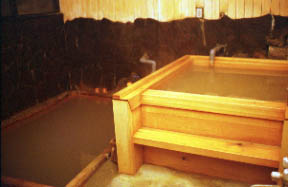 The hinoki bath (metal bathtub heated from beneath) and fountainhead tub which were renewed H16.3
One-day-trip bathing: 600 yen, and 9:00-16:30 With no rest
Guest Room
25 rooms, 60 persons
Six new buildings, an inner two-room with toilet
Near Station
From the Nirasaki station to the Masutomi hot spring going bus (about 1-hour and 5 minutes) terminal
- Top -
6722, Obi, Sutama-cho, Kita-Koma-gun, Yamanashi-ken
Telephone 0551-45-0211 FAX 0551-45-0021

Welcome and Send-off
A welcome and send-off is if allowed to meet to the parking lot or bus stop of an inn at the time of the more nearly required whom who of care.
Parking Lot
Several sets, on foot-from parking lot 5 minutes