The Characteristic
Kinpo, the hot spring which seethes with the foot of a Mizugaki.The nature of Chichibu-Tama National Park which is in a designated place specially and a Hontani-river ravine and a primeval forest weave can enjoy itself through the four seasons.Especially red leaves are compared also with Oirase.a hot spring -- radium content -- there are many whom whoes by which it is known as the world's No.1, other components come out very abundant, and a hot-spring cure is periodically carried out for disease treatment, especially cancer recurrence prevention.
National [ the 2001 May ] Arbor Day venue.
Emperor-and-Empress attendance is expected.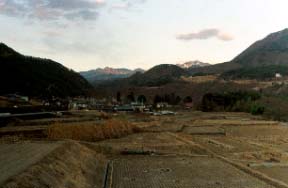 From Nirasaki and the Masutomi line
They are 2230 m of Mt.Mizugakis to the right, 2598 m of Mt. Kimpu, and the left.
Japanese One Hundred Famous Mountains, Back Chichibu Dominant Peak "Mt. Kimpu"

A primeval forest and the mountain where a shakunage is beautiful.A Gojho-Rock huge in the top is an enough.

From a Mizugaki mountain villa to an about 40-minute Fujimidaira hut -> from there to about 3 hours and a half
Japanese One Hundred Famous Mountains, Mt.Mizugaki

The rocky mountain bristling with the eroded granite.The strange shape of a mountain overwhelms what is seen.

From a Mizugaki mountain villa to an about 40-minute Fujimidaira hut -> about 2 hours and 10 minutes after there
Fountainhead
Included boric acid carbonic acid hot brine spring 30.8 ° (Kinsentou fountainhead)
The 40 fountainhead is taking out to Masutomi the radioactivity in which three places of an enough are strong, and, seemingly, temperature of radioactivity will also be [ remaining 37 places ] weak an average of 17 degrees 30 degrees or more.
Efficacy
Asthma, gastroenteropathy, cancer, liver disease, the rheumatism, neuralgia, diabetes, hemorrhoids, a hysteropathy, oversensitivity to cold, eczema, athlete's foot, a skin disease
Public Bathhouse
The hot spring of Masutomi
By Train
Chuo Line use
Shinjuku station -> Nirasaki station (limited express about 2 hours)
Masutomi hot spring going bus (about 1-hour and 5 minutes) terminal
On foot-from terminal about 8 minutes
By Car
Central high-speed use
O Prefectural road Nirasaki-Masutomi spring about 18-km 25 minutes from Sudama IC
O It is a cross-over Kuromori course (winter is also a passing good and skid necessity) about Nagano-ken Kawaue-mura to the Shinshu Pass.