The Characteristic
The inn of the beam and post structure not using a nail.Restoration new building and the symbol round window of the Aoki kosen also left the building for meiji three years as it is in Showa 25, and the present husband uses the mainstay of a thick zelkova, and uses the beam of Matsu for the right man in the right place.The enough was surprise to the inside of what is called remote and quiet natural environment of the Mt. Houou trailhead in this traditional wooden structure.It was like [ shivering ] when the inn built in the midnight in a winter closure and a snow light was seen for the first time.The husband who inherited this building has even a feeling of appreciation.Although a hot spring is water-white tasteless no odor apparently, it is felt refreshed after the taste of the ferruginous spring which became brave when drunk, and a bath, and gets warm with the ultra-red ray effect or a sufficient deeply concerned about.There was the smell of a madam's hand structure rice bran fish preserved in miso in the dining-room of the earthen floor at the time of a supper.
The Omachi Keigetsu which passed the travelogue writer of a meiji and sunray by the tsuta had also left the footprint to this ground.
The hot spring of Aucuba japonica where a sounds of stream from ravine is also considered whether to be Oigawa, and hears a morning glory
Omachi Keigetsu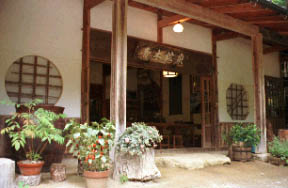 Entrance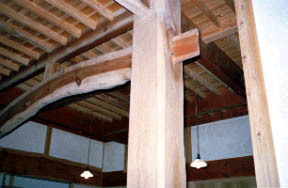 The mainstay of a zelkova "beam and post structure"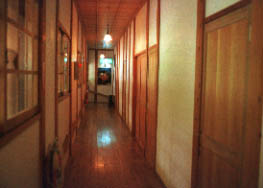 The second floor of the main building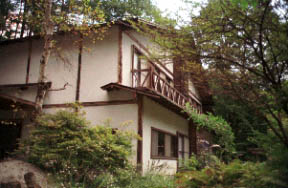 Stay building "Karamatsu"
Dish
Only the present staying without meals are accepted.There is no offer of a meal.
Rates
* Both consumption and bathing tax included
* Only staying without meals are accepted.
staying without meals 2 persons or more -- 7150 yen
Staying without meals One person of 8800 yen
Campsite They are 1 other people of 800 yen.
Indoor Hot Spring
A Separated-by-gender bathroom, Ishiburo.
Bathing: 9:00 to 19:00
Bathing chisel: 1000 yen (inclusion of tax)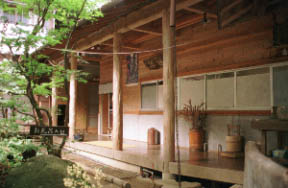 Bath structure
Guest Room
A main building, guest room building a "Karamatsu" and a Separate from main "white birch", all the 24 rooms 100 persons accommodation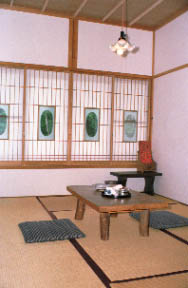 The guest room on the second floor of the main building
Institution
A rest station and an extra large size kotatsu set in the floor
A restroom is rinsing.
tent place Stretch 100. a watering place - flush lavatory full equipment
Frequently Asked Question (FAQ)
Only the present staying without meals are accepted.Offer of a meal cannot be performed.
Check-in -> since the bath is till 19:00, give me early check-in.
There are also body soap and conditioning shampoo in a bath.
There is no offer of a bath towel.Since there is also no charged loan, please bring with you if needed.
There is no offer of a yukata.Amenity becomes a toothbrush and a towel.
-> using a gas burner, a cooked in a pot, etc. which are used in the institution of cooking, and a mountain It is OK if it is in the summerhouse of a garden.
Although there is a watering place, since it is not, bring pots-and-pans cookware tableware and gas with you with foods.
The room has neither of refrigerators and air-conditioning.Please consult in an inn in that case.
Although a refrigerator and a microwave are in an inn, it cannot be used when an early-morning departure is carried out.It is possible to merely pass at a morning, when you want a hot spring.
Carrying in, such as alcoholic drinks, is possible.
Usually, although the visitor of mountain climbing becomes a guest room building "Karamatsu", as for appearance, the first floor, and 1 and 2 persons will prepare the upper story in large numbers with the number.
Near station
JR Nirasaki station -> Yamanashi central traffic bus South-Alps Mt.Houou three peaks Mountain-climbing bus on a refular route Terminal -> from on foot 2 minutes or, and the Nirasaki station to a taxi
- Top -
Postcode180-0013
2-30-2, Nishi-Kubo, Musashino-shi, Tokyo
Telephone: 070-4174-1425
* The communications tower of DoCoMo was built in the campsite.A telephone call is good to a nearby mountain range.
3350, Seitetsu-machi Aoki, Nirasaki-shi, Yamanashi-ken
Welcome and send-off
Nothing
Parking lot
100 full equipment