The Characteristic
The hot spring, the 1142 discovery which wells up to the unexplored region of Japanese one hundred famous mountains which cannot go if it is still located in the northwest in volcanic-fumes emit Mt. Chausu (Mt. Nasu), and the slope mountain side of a retirement warehouse and you do not walk one for 2 hours from the prefectural parking lot on the foot station of the Nasu aerial ropeway.The history which mainly prospered by the ascetic's Gyo-jya of a hot-spring cure and a Hakutouzan belief when the sandogoya-shuku, the Nogiwa new inn, and the continuing highway in Aizu had the traffic of both man and horse from the itamuro inn is before Taisho an enough.the golden age (around the meiji first year time) -- the Kashiwa store, a Daikokuya, the Miharu store, Sanoya, and Ikushima -- although five houses of a tall building did business, there are all the houses disappearance in Boshin war (1868) etc. after that, and it has become only two houses, the tobacconist which marched out from Kuroiso Ekimae in meiji 44, and a Daikokuya, now.A user wants to enjoy wild grass picking, fishing, mountain climbing, and alpine flora and bird watching, and to stay slowly in pure nature, although a mountaineer is most (hot-spring cure).
Sandogoya-shuku:
They are the remains of an enough posting station from a sandogoya in on foot 40 minutes.
Hakutouzan belief
Like belief mountain climbing of Dewa Sanzan, it called it the climb 3 of those to reach Gassan (Mt. Chausu), a Hakutouzan, and Mt. Asahi, and believed in it.
As for a Hakutouzan, the west side in Mt. Chausu and the cloudy hot spring point out per flow out.It is also called a Gohouzen-no-yu.
* The strong wind of a Minenochaya requires special attention.It was terrible especially every morning and evening, and while he was sleeping in the lower prefectural parking lot, I thought whether to turn the whole car.
hiking -- account: --
Mt. Nasu and a sandogoya
The
north hot spring from the 2006 April 14-day sandogoya, Mt. Sambon-yari Mountain skiing
The route which results to a sandogoya
Foot station (<- 15-minute, 20 minute ->) mountain-climbing guidance place (<- 30-minute, 50 minute ->) Minenochaya (<- 40-minute, 30 minute ->) Numahara bifurcation (<- 20-minute, 20 minute ->) sandogoya of an aerial ropeway
* Although there is also a route which rides on an aerial ropeway and goes from a summit-of-the-mountain station, time is taken on the contrary and, seemingly, it will be hard to walk with grit.
* The path through a wood from an itamuro is a difficult part.The schedule of Heisei 13 to traffic stop.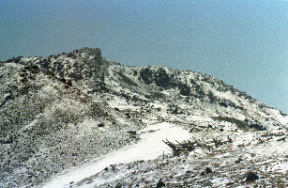 From a Minenochaya to 1917 m of Mt. Chausu
The tremendous sounds and the volcanic fumes are raised.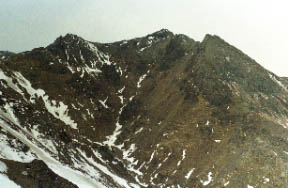 1896 m of Mt. Asahi
By the Alpine shape of a mountain, it has a synonym of fake Hotaka.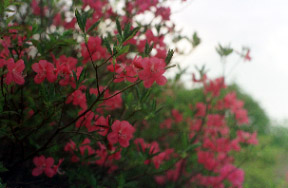 Azalea
In the mountain trail on a mountain-climbing guidance place
A Shimizu-daira, the vegetation girdle of a haimatsu
It is observed by at least the altitude of 1700 m as an enough stock.
Inkyogura-dou
It starts in a season and rose pink Rhododendron metternichii at the beginning of the month [ 5 ], and blooms all over with Rhododendron brachycarpum, Sorbus commixta, an Iwakagami, a Hakusan-chidori, and bluish purple Gentiana scabra var. buergeri deep in autumn.
Bibliography: Sandogoya magazine
Issue: The sandogoya magazine publication committee Daikokuya Ryokan whom who
Fountainhead
a simple spring (hypotonicity neutral hyperthermal springs) -- water-white 50 °
Efficacy
Neuralgia, gastroenteropathy, a skin disease, a weak constitution, a trauma, diabetes, a social disease and rheumatism, an agnogenic intractable disease, improvement of physical condition (women's diseases), etc.
By Train
Tohoku Shinkansen use
Tokyo station -> Shinkansen NASUNO 75 minutes -> Nasushiobara station
The Sendai station -> "Yamabiko" 75 minutes -> Nasushiobara station
transferring to the Nasushiobara station or Tohoku Line -- Kuroiso -- tea stall prefectural parking lot (trailhead) -> on foot about 1 hour and 40 minutes of a foot station of station -> Higashino bus 75-minute (60 minutes after Kuroiso) -> Nasu aerial ropeway -> on foot about 20-minute -> Pass
By Car
Northeast way use
Tea stall prefectural parking lot (trailhead) -> on foot about 1 hour and 40 minutes of a Nasu IC-> Nasu-Kogen line, a volcano expressway course, and an about 18 km-> Pass
[Winter] The section of the tea stall parking lot of a Pass is closed from an Oomaru parking lot.Traffic-stop period: December one day -, and March 31 days * Nasumachi homepage
A Nasu IC-> Nasu-Kogen line, a volcano expressway course, about 16 km -> tea stall prefectural parking lot (trailhead) -> on foot about 2 hours of a foot station of Oomaru parking lot -> on foot about 20-minute -> Nasu aerial ropeway -> on foot about 20-minute -> Pass
Contact
Daikokuya: Telephone: 090-1045-4933
Higashino bus: Telephone 0287-62-0858