[Outline] Sandogoya-Tochigi Nasu Oku-Nasu sandogoya
[Privilege]
[Reservation] Please ask by telephone directly.
[Business] Winter closure:as usual Jan 01~ Open This Year:as usual Jan 15
[One day trip bathing] Improper
[Address] Nasu-gunOku-Nasu sandogoya
[Telephone] (09010)45-4933 [Telephone] 黒磯案内所(冬期専用):0287-63-2988
[Map] Geographical Survey Institute
The Characteristic
The inn followed with the history of a sandogoya.The main building rebuilt in Boshin war in meiji 2 disappearance and next year can see the forcibleness and the tradition which it came for a black pillar, a beam, etc. to the snowstorm in about 130 at all.Moreover, it serves as a brilliant building which adhered to wooden and harmonized with the scene of the mountain until Large repair in recent years also results in a sliding shutter or a railing.The kotatsu set in the floor of the bathtub of the countrified Log structure, stone bath and a clean hot spring, and a cashier was also a feel-comfortable thing.Lights are a lamp, a naked light bulb of a home generation of electricity, and 9:00 putting out lights.
* Winter (from a December to a March) carries out the closed also of closure and the year ends and New Year holidays.
H 18-year April 14 days, a visited again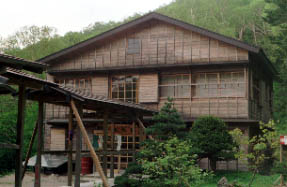 New building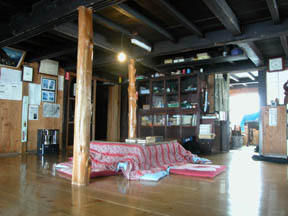 Enough living room of a kotatsu set in the floor.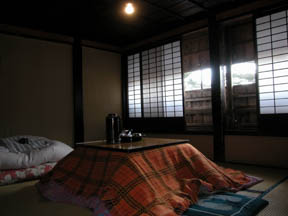 Single room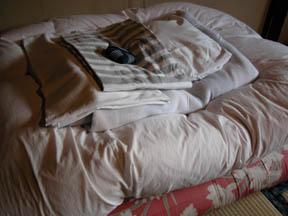 A beautiful and warm feather quilt, a sheet
* A yukata will prepare at those who stay in more than a continuous stay.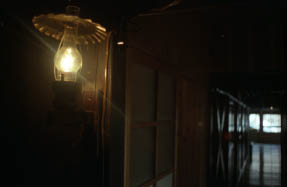 The inn of a lamp, 9:00 putting out lights.
Dish
Dishes of wild plants, such as a fresh article and a wild banboo sprout, stored goods, etc. which carry out a load raising on once people's back for a week.
* No Additive is Used.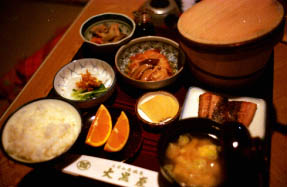 Example
:
Handmade very delicious delicate dishes, such as Chinese yam fly broth, a mushroom herring, simmered dishes, a konnyaku salad, bean curd soup, and a dessert.
Rates
* an overnight stay with 2 meals -- both consumption and bathing tax included
Two overnight stay : 9,500 yen
Staying overnight without meals: 6,000 yen
Child: 8,500 yen
Hot-spring cure Rates (at the time of one-week or more stay)
Three overnight stay
: 8,800 yen
Indoor Hot Spring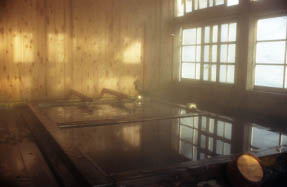 Wooden bath structure, the bathtub of a Log structure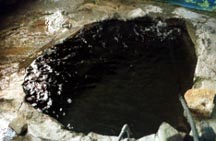 Stone bath
The bathtub and stone bath of a Log structure.Man-and-woman 1-hour shift operations
* One day trip bathing is impossible.
"A hot-spring cure makes ten days a one cycle, and it will carry out the cure, even if they will be 32 sorts of illnesses, what kind of other serious illnesses, and an incurable illness, if the double and a 20-day hot-spring cure are carried out."
* It hands down at the time of hot spring discovery, and quotes from a sandogoya magazine.
Guest Room
28 rooms (single room use) 80 persons
Institution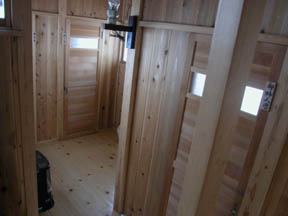 A drying room and a new-building flush lavatory
Near Station
The foot station bus stop of the Nasu aerial ropeway, on foot about 2 hours.
Parking Lot
The Nasu aerial ropeway top, a prefectural parking lot (no charge).On foot about 1 hour and 40 minutes
Frequently Asked Question (FAQ)
Two overnight stay : 9,500 yen become including tax.
Check-in 2:00PM checkout 8:00AM
When arrival becomes slow, I ask connection of an inn.
A mobile phone cannot be used.The telephone of an inn becomes satellite carrying and is about 10 yen in 7 seconds.
The satellite public telephone of an inn is one telephone call of 200 yen.
Reservation telephone-at-favor-does directly.(Night-duty Tori: 09010454933)
Neither a shampoo nor soap can be used.
There is no offer of amenity etc.
Since a bath towel is not attached, bring it with you.
Since a yukata becomes for the whom whoes of a continuous stay at the time of rush hours, bring clothes if it is one night, when you will sleep, the washing implement, etc. with you.
A bath becomes for every hour by man-and-woman shift operations.
As for breakfast, 6:30-7:00, and a supper become at the 17:30 times.
Using breakfast as a box lunch cannot be accepted.
The daytime box lunch of 500 yen is a willing to do separately.
A wall outlet is not in the room.
the wall outlet of an inn -- the relation of a generator -- a situation -- measure.
A toilet is Japanese style rinsing.
Since a lamp goes out at putting-out-lights 9:00, head-lamp-bring with you.
Cancellation charge will generate and charge only On-the-day cancellation of 3000 yen.
Give me connection of cancellation by 20:00 of the previous day by telephone directly.* Telephone : please do not use the 090-1045-4933 (7:00AM-20:00PM * night power supply OFF) * inquiry form.
Waiting for cancellation cannot be accepted.
Winter carries out the closed also of closure and the year ends and New Year holidays.
A prefectural parking lot is upwards as 100m of the foot-of-a-mountain station of a ropeway (summer * winter is from a lower Oomaru), and its Minenochaya course is common from there.Reference: Mt. Chausu and a sandogoya (Administrator) * Minenochaya are the Passes between Mt. Chausu and the brink.
One person's stay is also accepted.
- Top -
Nasu-gun, Tochigi Oku-Nasu sandogoya
Telephone: 090-1045-4933 (7:00AM-20:00PM * night power supply OFF) and Kuroiso information (only for winter): 0287-63-2988