The Characteristic
Although it is the altitude of 1870 m, and a hut used as the base of Mt. Tengu mountain climbing, a madam's handmade dried flower is everywhere decorated with inside of a hall, there is no mountaineer stink, and a woman can be pleased rather.ancient times -- the view and interval of the mountain from a window which moss and the fern steamed the bath of a cedar and a rock and was prepared widely are the atmosphere unique to the mountain which are not.A scuttle is also prepared greatly and has a feeling of freedom.
* It acted as intermediary in the Japanese Islands at lunchtime [ NHK ].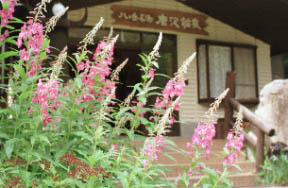 Yanagiran bloom Entrance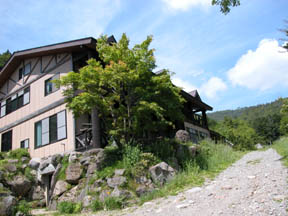 East building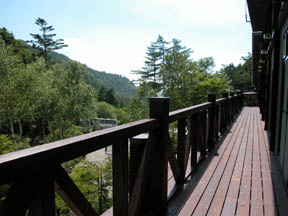 From a west building guest room veranda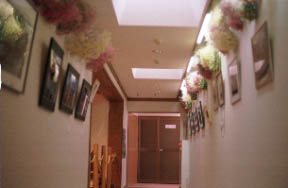 The homemade dried flower which fills inside of a hall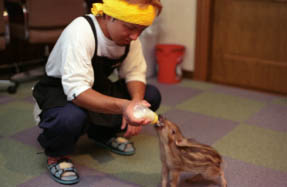 Baby bore
Dish
The dish consisting mainly of wild grass and river fish.
It is in a prepared and a handmade dish is located in a line.soup -- an ingredient -- the flavor of the whale with deep-fried nostalgic venison in which many handmade tastes and deep-fried tofu with amber sauce were also devised together with fish powder, and fresh deep-fried char is well fried with the well fried and sounds Parii, and homemade fruit wine -- the smell of surprise -- I received each very deliciously in handmade.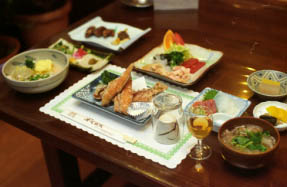 Example
:
They are deep-fried three sorts of 3 colors and venison about the row slices and the Chino specialty vegetable gelatin of soup and char of homemade fruit wine, hors d'oeuvre (an ascetic's-Gyo-jya garlic and a Kogomi-fern, Petasites japonicus) and a Chinese radish, and a ribs honewort to a fly and deep-fried tofu with amber sauce, soup and the trout of fish powder, and konnyaku.
Specially, a have good reputation is cooked : carried out, and it carries out, and is cooked-in-a-pot (it is wild boar meat.) 2 public \5,250-.
I am taking out 20 or more kinds of homemade fruit wine [ one glass of ] to the supper.
Rates
* Please refer to the above-mentioned plan list.
Indoor Hot Spring
man-and-woman one ancient times each -- the bathtub of a cedar (Yaku cedar tree)
There are two more tepid bathtubs in it being hot.
A cold spring makes it strike and it is a hot spring.
Sauna
One-day-trip bathing: 700 yen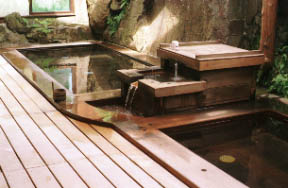 Guest Room
25 rooms, 100 persons
Institution
60 halls, a lounge, billiards, a ping-pong table, a game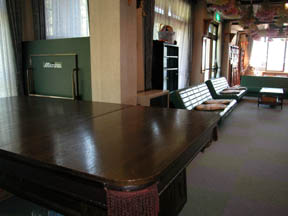 Rest room
A toilet is rinsing.(Septic-tank-for-waste-water-treatment-from-house ceremony)
Near Station
Chuo Line Chino station
- Top -
1323, Kohigashi, Chino-shi, Nagano-ken
Telephone 0266-76-2525 FAX 0266-76-6071

Welcome and Send-off
They are those with the pick-up bus from the Chino station.About 40 minutes "Reservation required"
Chino from station :P M1:00 and PM 4:00
From Ryokan : AM9:00, AM12:00, and PM 3:00
Parking Lot
Full equipment