The Characteristic
The hot spring of the mountain used for a mountaineer as a Mt. Tengu trailhead.As for the back of the Ryokan, there [ dividing ] are the primeval forests of a hemlock system on the gregarious-life background of the Hikari-goke moss.There is a good point of nature walks, such as a stand in all directions and a Name-taki, and it is the highest also at a hike.
From an inn, there are especially many mineral-rich sediments, the enough fountainhead has an effect in recovery from fatigue about 50 m, and it relieves the fatigue of mountain climbing.There is a history which about 400 years before Shingen Takeda says carried out the Founded or started to use this hot spring to a soldier's medical treatment.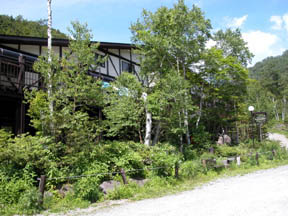 Mt. Yatsugatake trailhead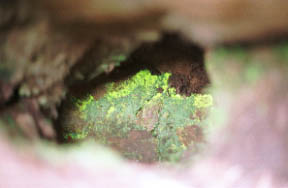 A Hikari-goke moss is observable to the cave of the inn back.



Much alpine flora to the inside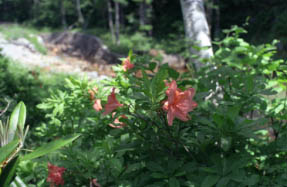 Renge-Tsutsuji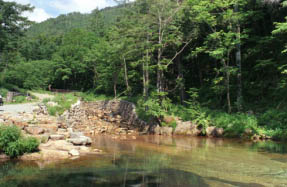 He is flow Karasawa about an inn front.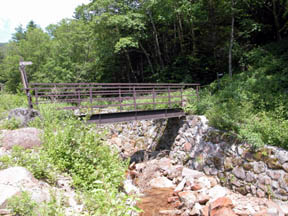 An inn is a trailhead upper part.
Mountain-climbing information : (100 peaks and spring Japan)
Mt. Aka and a Karasawa kousen
The Mt. Yatsugatake hidden hot spring circulation Last program of a series
Fountainhead
11 ° of fountainhead, a
carbon-dioxide cold mineral spring

A mineral-rich sediment precipitates and the fountainhead is pure white.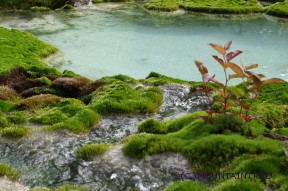 Efficacy
recovery from fatigue, neuralgia, muscular pain, the arthralgia, the harden of a joint, hemorrhoids, oversensitivity to cold, and a bruise -- breaking -- hypertension, arteriosclerosis, a cut, and a burn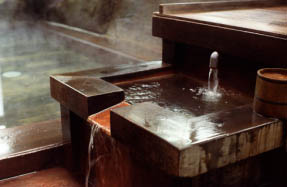 Fountainhead rinsingoneselfwith hot water outside the bath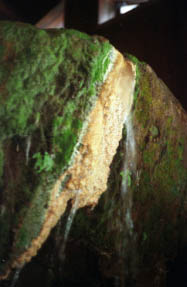 About 10 ° cascading water hot springs
By Train
Shinjuku -> Chuo Line -> the Chino station alighting Limited express about 2 hours and 20 minutes
Nagoya -> Chuo Line -> Shiojiri station change -> Chuo Line -> Chino station Limited express about 2 hours and 30 minutes
They are those with the pick-up bus from the Chino station.About 40 minutes "Reservation required"
By Car
Tokyo -> central way -> -- pass Suwa IC-> "forest in Mitsui" -- about 3 hours.
Nagoya -> central way -> -- pass Suwa IC-> "forest in Mitsui" -- about 3 hours and 30 minutes
Mt. Yatsugatake traversing way -> there are two ways for 1 hour and a half from 2 hours and a Fritillaria camtschatcensis common through Mt. Tengu to the Nishio root.
It is in the place which went up a 4-km mountain path from the cottage place "forest in Mitsui" of foot.This mountain path is safe also to a female driver, although extended maintenance is carried out at its own expense and it has not paved.