The Characteristic
First, just, the dish obtained deliciously Petasites japonicus vegetables boiled hard with soy, a grilled beef and tempura, especially a lobster for that it was delicious and a firm material, although it seems that there was no prejudice so much.He has a feeling currently managed by the policy which the husband adhering to a Log did just although it led and the whole was not dressed up, the guest room using the whiskered velvet shrimp Ebisu pine wood in which the old guest room was also remodeled also has a taste, inside of a hall and a dining-room were also obtained finely, and breakfast became the feeling which the self attached for which and gained to coffee and a raw egg.Finishing [ a restroom ] of a renewal.And a bath is the effect of tapping of the mountain seen only here in the total fir-tree structure which constructed the Log without using the nail, and Hokkaido.A husband is if the pile up of the lamber of a fir tree is carried out to a red Ezo spruce and it is remodeling little by little in the right man in the right place.It is and can pass warmly 2 stories of the Showa 43 Structured wooden, and a floor heater.
'10-/spring
Internet connectivity: From each part store of wireless LAN (satellite BB) to no charge
docomo telephone call area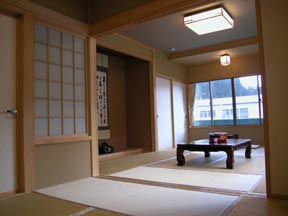 Guest room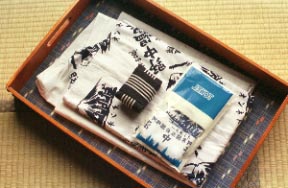 A yukata and a washing set, an alder ten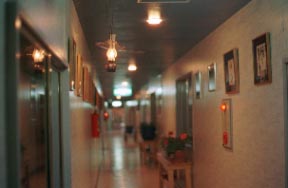 Inside of a hall in which an illumination lamp is lighted.
Dish
Wild grass subject country-style dishes.
While that of a prepared or a potato is warm, it is set on the table.
Foods
Wild grass (Petasites japonicus - Kogomi-fern Pteridium aquilinum and spring ascetic's-Gyo-jya garlic) etc.
Example:
A row slices, tempura, simmered dishes, a vinegared, a potato dish, a beat, pickles, rice, and soup
Meal place: A supper is a room and a dining-room in the morning.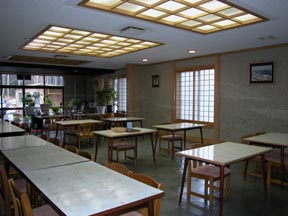 Dining-room
Rates
* Both consumption and bathing tax excluded
Same-Price-All-the-Time Rates

Adult An overnight stay with 2 meals, 7,250 yen
Below school child An overnight stay with 2 meals, 4,800 yen

Nonaka Hot Spring Winter Hot-spring Cure Plan

I will provide the visitor of three or more night stopping with winter limitation "hot-spring cure plan."
An overnight stay with 2 meals, 5,250 yen
Those with a simple self-cooking room.Pick-up important point consultation.
Indoor Hot Spring
Man and woman each 1
The mineral-rich sediment of un-heating, a non-water running and free-flowing hot-spring water, and the shape of a white particle.
Every day hot-spring payment cleaning.
The Shimizu is being pulled and a nagayu is also recommendation at a coldness-and-warmth bath.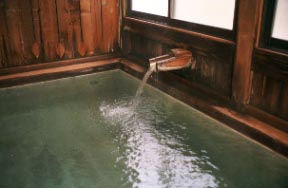 A wooden bathtub
One-day-trip bathing: Adult of 350 yen 9:00 to 20:00
Open-air Bath
Field stone bath (husband hand structure), man and woman each 1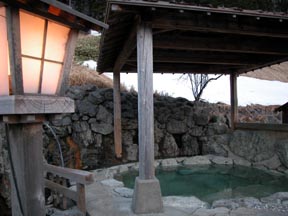 The open-air bath for women
Guest Room
All the Japanese-style rooms, 11 rooms 45 persons
Institution
A hall and a dining-room
Internet connectivity: From each part store of wireless LAN (satellite BB) to no charge
docomo telephone call area
Near Station
Kushiro station -> Akan lakeside going bus terminal
Yama-no-yado Nonaka Onsen
- Top -
159, Mo-Ashoro, Ashoro-cho, Ashoro-gun, Hokkaido
Telephone: 01562-9-7321
FAX:01562-9-7164
Parking Lot
Full equipment, a motor-coach possible