[Outline] Hidden hot spring Okuyama-AkitaDoroyu Yuzawa-shi
[Privilege]
[Reservation] Please ask by telephone directly.
[Business] open year round. regular holiday : not fixed
[One day trip bathing] 500 yen 8:00 to 17:00
[Address] Yuzawa-shiThe Takamatsu Aza doroyu swamp 25
[Telephone] (0183)79-3021 [Telephone]
[Map] Geographical Survey Institute
The Characteristic
The black-lacquered wooden Ryokan which suits well in a doroyu swarm, the Taisho first year foundation.the Large open-air bath of the mixed bathing from hot water quantity being abundant -- at first, it is, and many baths drop in and are inns popular also with a guest.
Zen obtained at lunch
is the palatability of conviction by handmade [, such as a boiled carp in soy and sugar, ]! Delicacies, such as a fresh water crab and a catfish, can also be tasted in autumn.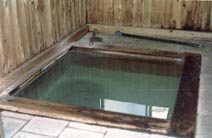 For roads or the indoor hot spring which is.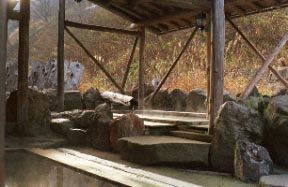 The mixed bathing open-air bath of juxtaposition, two bath tabs.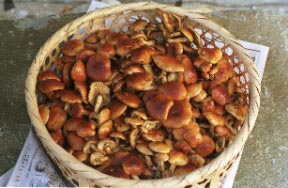 The mushroom of material wood breeding is a flavor near nature in a mountain.
Dish
Wild grass, river fish, and a carp dish.
an Example
the dishes boiled in soy and sugar, the slices of carp chilled in icy water, the wild grass, the mushroom, the chawan-mushi, and one-pot dishes of a dish grilled with salt and carp of char (a mushed rice stick and a potato hot-pot-dish-with-duck-meat-and-vagetables [ こ汁 and ] - see, and it is a cause cooked in a pot etc. in autumn)
Special dish: They are parboiling in lightly salted water of a fresh water crab, a catfish (sliced raw fish and tempura), the Minase grilled beef, a grilled on porcelain, and the sliced raw fish and the Sake which flavored by grilled fish of char in autumn.
Meal place: Every morning and evening, a large room.
Rates
* Please refer to the above-mentioned plan list.
Indoor Hot Spring
A stone-made mixed bathing Large bathroom (simple sulfur spring)
They are the men's section of a bathhouse and ladies' bath of each to the yuya which crossed the road.
* Free-flowing hot-spring water
One-day-trip bathing: 500 yen
8:00 to 17:00
Open-air Bath
The mixed bathing open-air bath of a Log structure, two bath tabs, 1.
A new mixed bathing Large open-air bath, 1.
The open-air bath only for a woman, 1.
Guest Room
19 Japanese-style rooms, 60 persons accommodation
Institution
A large room, 40 mats
Near Station
* Bus : as for a doroyu going bus terminal, a doroyu (summer), 11 / 1 - 4/30, the Ikoinomura bus stop is a terminal.
Welcome and Send-off
Only winter is to :Ikoinomura bus stop (November one day -, the end of an April).* Reservation required
It is to the Yuzawa station above 5 persons.Reservation required.
Parking Lot
Full equipment