The Characteristic
The hot spring of the quiet in a mountain which accomplishes a small swarm in the depressed ground at the foot of Mt. Takamatsu, and the countrified air are enoughs.It seems that many mad thermoses make a face look into near a Yakushi-female-budda shrine, and the breath of a sounds like Gobo-Gobo and the earth can be heard probably because a tremendous sounds, a volcanic-fumes emit, and a Kawarage jigoku are immediately the neighborhood.It is a hot spring which can carry out skilled [ of the hot spring of a volcanic system ] to the next swamp with an enough Kawarage Oyu waterfall.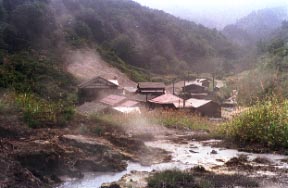 A hot spring resort and a mad thermos group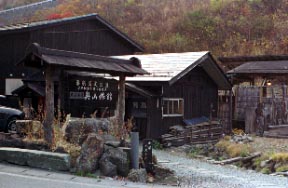 The yuya of an Okuyama Ryokan
One-day-trip bathing: 500 yen
8:00 to 17:00
Mt. Takamatsu
1346 m and a trailhead are a hot spring top or a Kawarage mouth, and about 3 hours.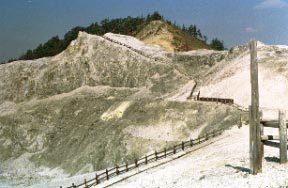 Kawarage Oyu waterfall
It comes out from a doroyu to the parking lot on a Kawarage jigoku in about 5 minutes by car.on foot about 25 minutes -- a guardian deity of children -- a forest parking lot -- furthermore, it is the Oyu waterfall when it goes down for about 20 minutes.The waterfall of the hot spring called No.1 of Japan and some basin of a waterfalls serve as a bath tab, and temperature, spring quality, and the environment of a Kawarage Oyu waterfall are wonderful.The enough sulfurous smell in particular of an acid taste does not accumulate.
* The road to the Jizo forest and the road to a Kawarage jigoku are closed winter.
Fountainhead
Simple hydrogen sulfide spring 80.5 ° Clouded white
Simple sulfur spring 79.6 ° It becomes cloudy slightly.
It is the Okuyama-Ryokan fountainhead above.
The fountainhead original with each Ryokan is pulled and spring quality also differs little by little.(Also quantity of a mud component respectively.)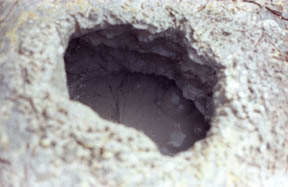 Efficacy
high blood pressure, arteriosclerosis, peripheral circulatory bisturdance, a rheumatic disease, and diabetes Others
By Train
Yamagata Shinkansen use
Tokyo -> the Yamagata Shinkansen wings, fastest about 2 hours and the 30 minutes, Yamagata station -> Oou Line, about 2 hour -> Yuzawa station -> doroyu going bus about 1 hour and 20 minutes, a terminal
* Bus : as for a doroyu going bus terminal, a doroyu (summer), 11 / 1 - 4/30, the Ikoinomura bus stop is a terminal.
By Car
From the direction of Tokyo
Urawa IC-> northeast way -> Ichinoseki I.C.->R342 Kurikoma Heights -> it passes through the prefectural road 282, R398, and the district way 51, and is about 66 km.
* Winter R342.R397.R398 are traffic stop.
Urawa IC-> northeast way -> northing Jct-> Akita Expressway -> Yokote I.C.-> Yuzawa Yokote road -> it passes through Yuzawa I.C.->R13 and the district way 51, and is about 26 km.