The Characteristic
It is the hot spring of the deepest part and a mountains national road which wells ups to an enough unexplored region previously also in Kii Peninsula and Wakayama-ken which were blessed with the altitude of about 600 m, and nature.It is like [ which was loved as "3 / Japanese / beauty's hot spring" along with Gumma Kawanaka and Shimane Yunokawa, and was surprised at the as smooth as boiled egg of the day following myself ].Therefore, it is an emotional hot spring resort, being on the ground which it is popular, and there is 1300 years of history, and is called unexplored region.It is in the foot of a mountain of the prefectural highest peak "1376 m of Gomadan-zan", and ayu fish angling and a branch are prosperous in red-spotted trout fishing in Hidaka-gawa.Rhododendron metternichii var. pentamerum was in all glory in [ brilliant ] on the Komoriya nature trail to the Omangafuchi.
Please go out via Gomadan-zan together with the Koyasan visit.
The Koya ryujin skyline became no charge.
It visits for the second time solemnly via Koyasan of 2010/11/27, and night.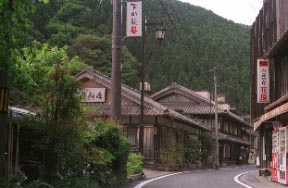 A wooden yuyado is a remain.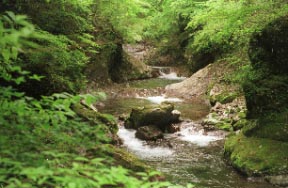 "The Komoriya ravine, the waterfall of a white slow stream"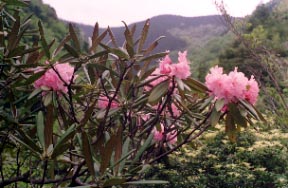 Rhododendron metternichii var. pentamerum is a ridge before a slow stream in the middle of an April.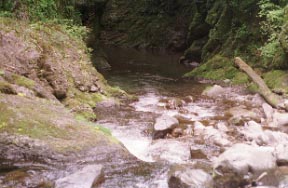 "Omangafuchi"

Powder was thrown away into the white slow stream, they threw away rouge into the waterfall of a red slow stream, and the postmortem of a Taira no Koremori and the lover Oman threw themselves into the slow stream.
Komoriya ravine nature trail
: It can go back and forth to an Omangafuchi in about about 2 hours.
Fountainhead
Soda water matter sodium salt spring (alkaline spring) 48 ° Water-white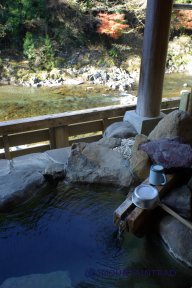 It is a good-location-to-see Arinokiya open-air bath about a ryujin river.


Efficacy
Neuralgia, gastroenteropathy, a stiff neck, lustrous skin, a burn, and a cut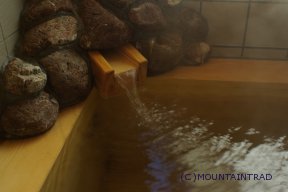 Arinokiya Pouring gate


Public Bathhouse
A former hot spring, the adult of 600 yen, the lodger of 450 yen
By Train
Shin-Osaka
-> JR Kisei Line limited express, an about 2-hour and 20-minute -> Kii-Tanabe -> ryujin going bus, about 1 hour and 50 minutes, terminal alighting (a bus is connected with a limited express)
Koyasan
-> from an April to the bus via the Koya ryujin skyline, 2 per day, and the end of a November
By Car
Pine-covered area IC
-> Hanwa Expressway and a Nankai-Yuasa road, an about 100 km-> Arita IC-> prefectural road Gobo Miyama line, abbreviation 90km 90 minute
Arita IC->R424
Koyasan
-> the Koya ryujin skyline, 60 km of abbreviation via Gomadan-zan
* The mountains national road R425 from Nara and Totsukawa is narrowed many [ fall accident ], and is careful of the whom who along which it passes.