The Characteristic
It is a hot spring which is proud of overwhelming altitude also in several hot springs which exceed the altitude of 2000 m in Japan.pulling the hot spring from the lower part of an inn, and a jigokudani -- a non-water running ---less -- it is the fountainhead free-flowing hot-spring water of warming.Sulfur is fragrant, and the hot spring of a jigokudani where a mad thermos and a sinter cone are seen is strong, and is the hot spring of a volcanic system and a hydrogen sulfide spring which carried out the ash clouded white.The view of Midagahara and a long distance Toyama plain is brilliant from Tengu-Daira.The bird which Tateyama 3 mountains including Oyama rise high behind an inn, and plays nearby is a ptarmigan.a cobalt blue mikurigaike -- the stroll course which is in a ridge and it travels with a jigokudani, a Raichozawa, and a Rindo pond on the basis of here is a time-tested product.Please stay slowly and bring memories home in large numbers.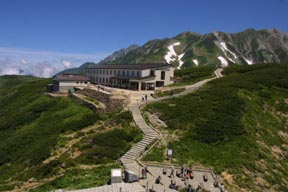 If it goes down to the lower right on a mikurigaike and the left, it is in a position called a jigokudani.
It is Mt. Tsurugi that is visible to the back.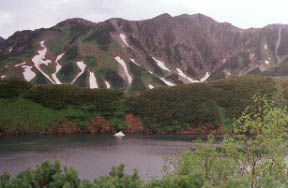 "A mikurigaike and Tateyama"
1st day of a recommended model course of an inn : The Shoumyo waterfall and the Tateyama caldera museum tour studied about the Tateyama belief in the Tateyama museum etc.* Only winter runs a pension Okon.The closed has obtained at the time of Mikurigaike business.
The 2nd day: It is an old road to Tengu-Daira, stopping over and carrying out the marsh stroll of the Heights bus in Midagahara.The whom who weaker of a walk takes a walk an alighting jigokudani in Tengu-Daira, and is to a mikurigaike.It looks at the crimson setting sun which soaks in the hot spring of the No.1 height of Japan, and sets in a blank of cloud.(Ideal)
The 3rd day : They are ptarmigan watching and alpine flora observation of the mikurigaike circumference by guidance of the staff.The whom who of a good walker is to the sun rise of a Murodo-yama or Oyama.
Dish
Japanese food
Additional Dish

Char dish-grilled-with-salt \1,000

Char Sake-which-flavored-by-grilled-fish \1,900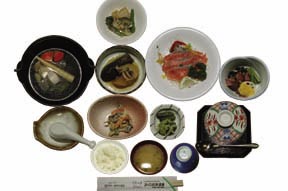 An example of a dish (photograph inn offer)
Rates
* an overnight stay with 2 meals -- both consumption and bathing tax excluded
8000 yen - 13000 yen
It is based on the room and a dish.
A child is 80% of an adult rate (a dish is the adult average).
With business April 17 days -, and November 24 days
Indoor Hot Spring
Man and woman each 1
Guest Room
28 rooms (20 single rooms, eight sharing a rooms), 120 persons
Institution
Tearoom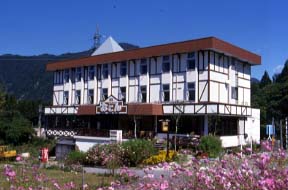 Inside of the Tateyama Raishou ballet Pension Okon
The foot hot spring of Tateyama is pulled.
A sodium hydrogencarbonate spring, alkalinity, 43.4 °
Near Station
On foot-from Murodo terminal about 12 minutes
- A Top -
Murodo, Tateyamamachi, Naka-Niikawa-gun, Toyama-ken common
Telephone: (0764) 63-1441 FAX:(0764)63-1404
(Winter connection same as the above)
Pension Okon
3-47, Motomiya, Toyama-shi, Toyama-ken, 930-1452
Telephone: 076-465-4595 FAX:076-482-1115
A deposit is a postal transfer. 00750-1-15524

Welcome and Send-off
In the case of bad weather, please contact me.
Parking Lot
A private car is at the Tateyama station.