The Characteristic
The wooden Ryokan of Keio two years, and 1866 foundation 12 years after a perry arrival.The fountainhead of a village is used those days.It is the inn which was looking at the one-step beyond of periods, such as having the private fountainhead in Taisho 3, considering a foreigner's arrival if a Sennin-buro is gone into a structure and Showa from a thought with "in a bath which becomes a have good reputation of Izu in following 4 year" Shimoda, and building the guest room in Kamoi higher 4 suns than usual.It was felt as the optimum inn for the main building which protects traditional Japanese architecture, the bath substantial high-level, the dish blessed with the material, especially a foreigner's reception.
Although it tends to hide in the shadow of a Sennin-buro, is the "Manyouno-yu" of a wooden bathtub a hot spring which a woman can be uniquely proud of only for a woman?
Renewal of H20.2.26 visited again
The figure etc. in which it adheres to the posture and material to making the inn which harnessed warmth of not only the inherited thing but a pure Log, and tackles a dish were anew felt wonderful.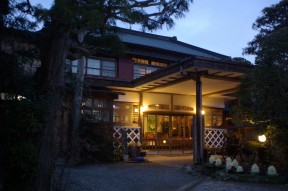 The Entrance of nightfall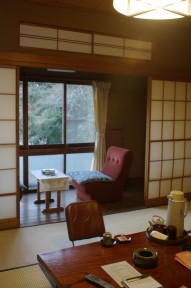 Guest room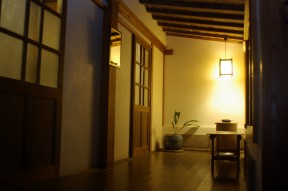 Family bath "Issen-yu"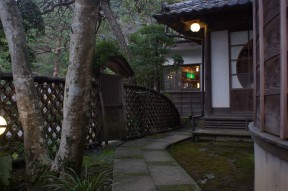 The attractive point before an Issen-yu and to a garden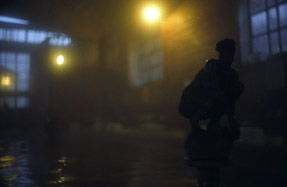 A Sennin-buro and a bronze statue
Dish
The handmade Japanese-style dish which was blessed with foods and cooked at homemade miso or a hot spring.
photograph
: -- spiny lobster fresh slices of live fish arranged to look lifelike -- main -- a fresh row slices, a bill (simmered dishes), a monetary value cooked in a pot, hard clam soup, etc. -- truly -- Shimoda -- this much -- also coming out -- it adheres to the material also the mountain of the fresh fish felt reasonable, and in it -- I will come out -- the king crab nail -- the skill of fragrance condensation.The hand-made fresh soba noodles of the buckwheat flour from Hokkaido which not only a fresh fish but a young master takes out with confidence, the rice from a parents' home, the hot spring cold water containing hot spring rock (special order), etc. are impression things.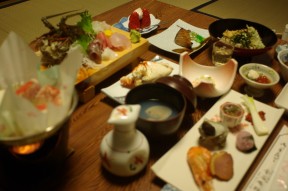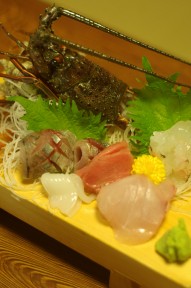 "Shimoda kana where spiny lobster is ordinarily located in a line" writer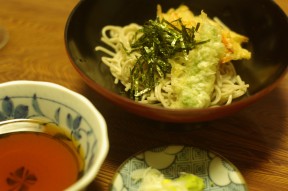 Hand-made fresh soba noodles of a young master
It is blessed with foods, such as fresh marine products landed in the Shimoda port, a local fresh article, agrochemical-free vegetables of a hill at the back, fruit, and wild grass.
Meal place: A Japanese-style room is a room and a European-style room is a restaurant every morning and evening.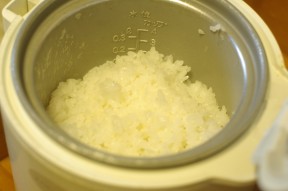 Boiled rice is the highest palatability,
From a young-master parents' home (Niigata)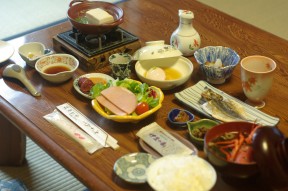 Breakfast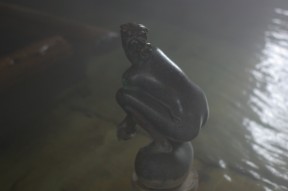 The next morning, a bronze statue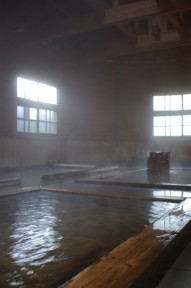 Wooden bath structure, a Manyouno-yu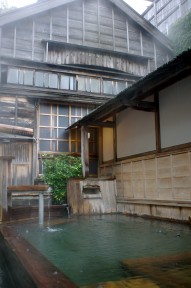 each man and woman -- it annexs to an indoor hot spring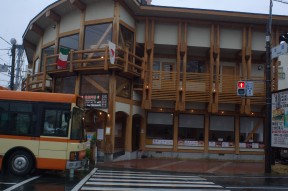 Dinning Log Shimoda
A foppish mediterranean sea system Italian 、 the south-Shimoda-station crossing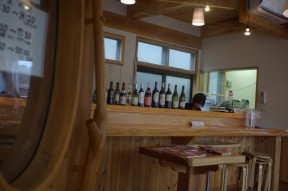 Rates
* Please refer to the above-mentioned plan list.
Indoor Hot Spring
Sennin-buro
: The mixed bathing for males is possible.Izu's 1 wooden bath.From a female dressing room, a key can be opened and it can enter.
Manyouno-yu
: As a wooden woman bath, it is No.1 of Japan.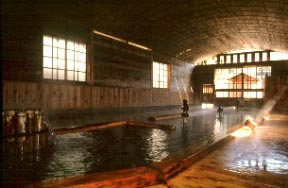 the "Sennin-buro" * -- this offer like a photograph inn
One-day-trip bathing: 1000 yen.Up to a 9:00 to 21:00 reception office and 22:00
Izu's 1 wooden bath harmonizes with the bronze statue of three bodies, and asserts the personality unique to this hot spring.
Open-air Bath
The man and woman each 1, with cascading water hot springs and a bubble bath.
Family Bath
Issen-yu: Only for a lodger (no charge)
A Rates is 1 sen the yuya of the Meiji Era building, and those days.
Guest Room
A main building, : with a wooden of 2 stories ten Japanese-style rooms
An annex, : with a steel rod of 2 stories three European-style rooms All the 50 persons accommodation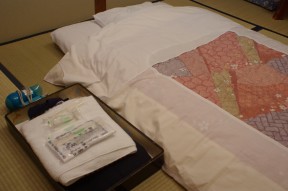 Amenity bath towel dryer
Institution
An astronomical observatory, a dance hall (the first floor of the annex), and Shimoda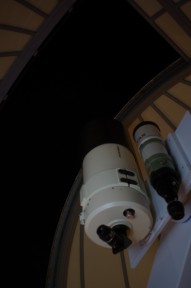 The 280-mm reflecting telescope installed in the 3-m dome observatory.
The photograph of Uranus was shown.The whom who who wish needs to speak to a young master.
Near Station
It transfers from
Rendaiji
to on foot 4 minutes or, and Shimoda, and they are taxi 6 minutes, and 3 km.There is also a bus.(Matsuzaki and the one for Dogashima, 8-minute kouchi alighting)
- Top -
114-2, Kochi, Shimoda-shi, Shizuoka-ken
Telephone: 0558-22-0325 FAX:0558-23-6078

Welcome and Send-off
Nothing
Parking Lot
50 full equipment