The Characteristic
The hot spring which wells ups to Hii River said that the has-eight-heads Yamata-no-orochi over eight valleys and eight hills lived.Even a sad air which makes the legendary village where the enough alley of a public bathhouse is taken in a daughter young every year at an Ikenie recollect is felt.It seems that finish bath structure has already melted the new building in Heisei 13, and an Old roof tile into environment in the public bathhouse of the Yunouekan management management which pulled the fountainhead of the natural gush of a dry river bed.The fountainhead flows through a gutter, a somewhat deeper bathtub is filled with it from three buckets of rinsingitselfwith hot water outside the bath and take-some-pail-of-water-before-bathe combination, a river sand sense and a washing place are covered with a river stone, and a bottom is the effect of a kawayu.The type of spring which adapts itself to the skin entirely is also good, and it just flows through hot-water-quantity Toyotomi and a hot spring like a river.It is about the same Rates as a public public bathhouse in this institution.A little Yamata-no-orochi is told to Susanoo-no-mikoto to have eradicated the place which got drunk with alcoholic drinks by the downstream sky KA deep pool.A firefly flies to a June and Hii River.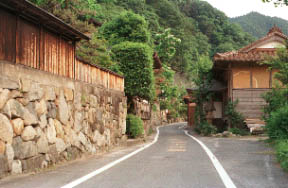 The left backs are a Yunouekan and public bathhouse bath structure.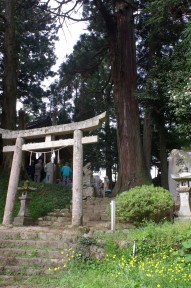 Onsen Shrine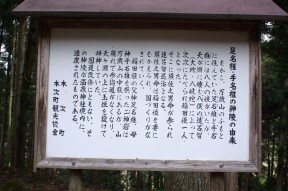 Father Ashinazuchi of an Inada princess The grave of a mother Tenazuchi,
The origin which transfered the shrine to Onsen Shrine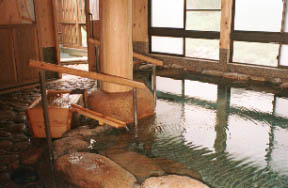 Yumura Spa public bathhouse
Fountainhead free-flowing hot-spring water (with no heating cooling circulation)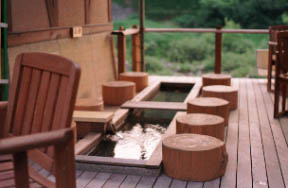 Footbath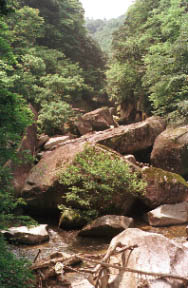 Oni-no-shita-burui
Oni-no-shita-burui
<> It is a recommended trekking course which a promenade is improved in the canyon which continues about 3 km, and can enjoy a hole, a huge rock, etc. of a riverbed.The natural treasure of a country, the prefectural appointed nature park.
<> It is said that the bad alligator of the Sea of Japan which adores the princess of an Ai has gone up and done Hii River every night according to the Izumo regional chronicle.It is told that the princess who disliked this alligator dammed up the river and has hidden itself by Oiwa.The origin of a word is coming from the waninoshitau.... when a riverbed is actually seen, a huge rock lies one upon another as this legend, and an alligator is disagreeable -- for the first time in [ a crack ] is imagined.
Fountainhead
Alkali simple spring:
Transparency and colorlessness, tasteless no odor.
Fountainhead temperature: About 44.1 °.
1239 m of
Azuma-yama
<> It is about 1 hour from the mountain of the Hiroshima-ken border, and the Shimane-ken Omaki trailhead parking lot (several sets).on the way -- it appeared in being in the extensive Heights and passing one day of a weekend well, and the chef-to-the-Emperor field campsite (lower photograph) made it it.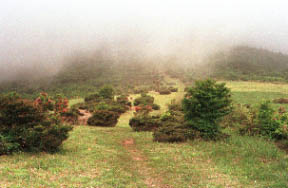 Azuma-yama (China one hundred famous mountains) and okuidumo yumura Yunouekan - 100 peaks and spring Japan
Efficacy
a cut, a burn and eczema, and a heat rash - women's diseases and hysteria stress
Public Bathhouse
Yumura Spa public bathhouse Yunouekan possession management
Adult 300 円 子供 of 130 yen Infant of 70 yen
An inner bath, an open-air bath, and footbath H14.6.
Family bath: Aside from the above-mentioned charge of bathing, it is 1000 yen.A Yunouekan lodger is no charge.
By Train
Tokyo -> Shinkansen about 4 hours and 10 minutes -> Okayama -> Hakubi Line about 2 hours and 40 minutes -> Shinji station -> Kisuki Line, the bus for about 30 minute -> Kisuki station -> Kitahara, about 20 minute -> Yumura Spa bus stop alighting, on foot 5 minutes
Kisuki Line: Saturdays and Sundays run by switchback in fame and spring, and a truck train runs every day in summer.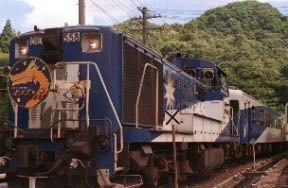 By Car
Osaka -> China way ->
Tojo IC->R
314, about 70 km
Matsue ->R9andR54, about 40 km
Hiroshima -> China way ->
Miyoshi IC->R
54andR314, about 90 km