The Characteristic
It seems that it will be built from meiji six years here, and it is left behind, without a stone wall, a building, a life, and humanity changing.The wooden floor of the pure Log in which paint is not carried out and which polished and was full makes the life which was pleasant for bare feet and did not have slippers recollect.There is true relaxation which is not in what was directed, and it considered the inn suitable for calling it "the country mansion of homesickness."Although there are five rooms in the second floor, it takes a guest room only to 2 sets.Although it will imagine that a big-ticket inn says that it is to 2 sets of limitation, the husband of a country mansion is a low charge and, moreover, does the above reception more.Use and a family bath are also no charge about the public bathhouse which owns a hot spring.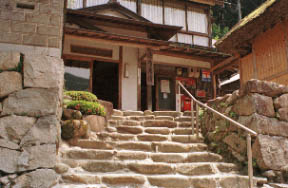 Entrance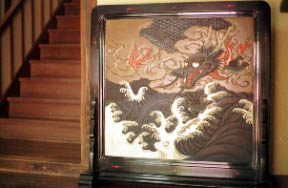 The lacquered screen in which the brilliant dragon was carved

Dish
Un Okude's delicacies from the mountains, delicacies from the sea of the Sea of Japan.
Handmade, the dish of the orthodoxy who chooses a material and applies time and by whom it is full of originality, and the technique of a young master are felt all.
Foods
It is a wild boar (the product from a stock farm, the female of 2-3 years old) in the natural sweetfish of Hii River, and winter the wild grass of the ground, and a July to the middle of the month of a September in spring.
an Example
Hors d'oeuvre, fresh slices of raw fish, a clear soup, a vinegared, a steamed cake, the broiled fish, a flied, pickles, and fruit
* It responds to consultation of the content of a dish.
It is a dish specially.
Carp dish important point reservation
Meal place: Every morning and evening room foods.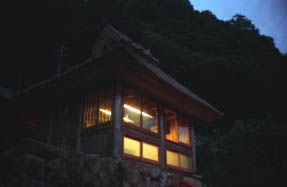 Restaurant of a sunken hearth:
(H17 roo-finish substitute, a photography June)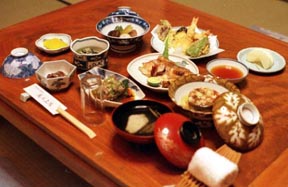 The photograph used by HP.
* And a supper and breakfast interchange by "the restaurant of a sunken hearth", and "room foods". [ 2 sets ]Usually, appearance becomes a supper with a sunken hearth restaurant in large numbers.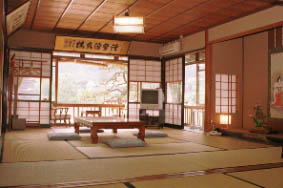 The dignified guest room for Mr. [ a lot of people ]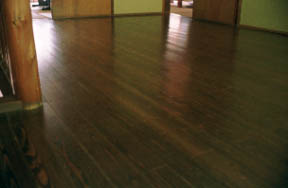 Between the calm second floor boards,
It seems to be pleasant if a nap is taken in summer.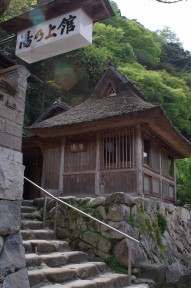 The restaurant of a sunken hearth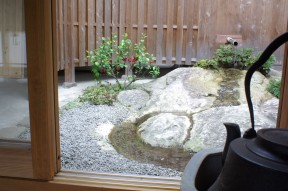 From a straw-thatched-roof restaurant
Rates
* Please refer to the above-mentioned plan list.
Indoor Hot Spring
The Yumura Spa public bathhouse is an indoor hot spring.
Man and woman each 1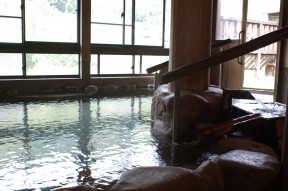 Open-air Bath
They are use and the man and woman each 1 about the Yumura Spa public bathhouse.
Family Bath
It is 1 to the Yumura Spa public bathhouse.
* An Open all year round, one day trip bathing good, lodger no charge.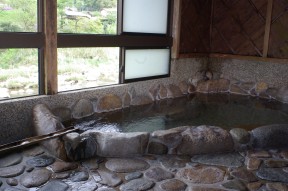 Guest Room
Up to five Japanese-style rooms and 2-set 18 persons.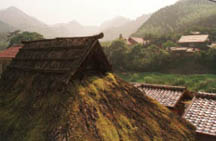 From a guest room
Institution
Yumura Spa public bathhouse
Near Station
Kisuki station -> the bus for Kitahara -> Yumura Spa bus stop
- Top -
Postcode699-1343
Shimane-ken Unnan Yumura 1336
Telephone: 0854-48-0513
FAX:0854-48-0514

Welcome and Send-off
It cannot do.