The Characteristic
A riverside crosses to two places and, probably, is scooped out like a cave because there was a gush of a lot of hot springs from a river bottom base rock.The deer by which bushman came the wound for Kyoho era every year about 300 years ago to healing is found, the flow out of a hot spring is discovered, and the hot spring which divided and was able to do the river is reported.One of the two flow outs is a fukumotoya natural cave hot spring a public bathhouse and another.Although it is comparatively more tepid that a hot spring both springs from the base rock of a bathtub bottom as at ancient times as for a hot spring, it wells ups conversely, the neighborhood is felt warm, and the touch is soft.When satisfied [ enough ] with the hot spring of the spring out underneath at first in the public bathhouse, the rock surface exposed the bath of the next door fukumotoya, and when still natural touch was uncannier, local learned to whom who, and instantly, a bath was taken, the hot spring to wells up was felt, and he sat on the boulder of a bottom, and took a long bath in the cave of an as at [ ancient times ].If it was this river, it was not surprised that the kingfisher which flies a surface of a river from a bath was found with a natural thing in particular.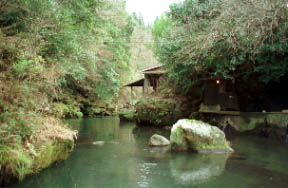 The Machida river and cave bath
The backs are a public bathhouse and this side fukumotoya.
Firefly: The middle of the month of the end of a May - a June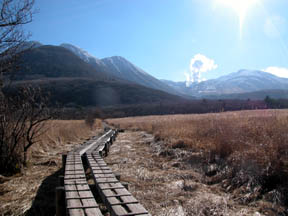 From a Choujyabaru to Mt. Kuju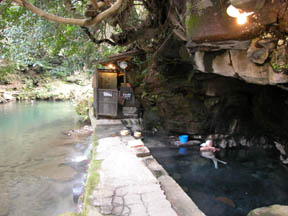 Kabeyu natural cave hot spring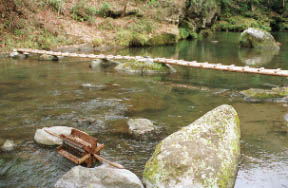 The Machida river, peaceful scenery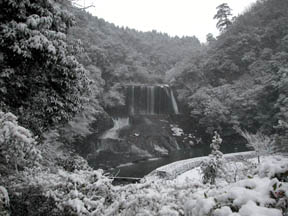 Ryumon Falls, the day of the heavy snow of a December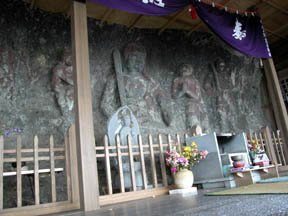 Mr. France dug under the "Zuigan-ji-temple and Magai-butsu-budda" cliff
Fountainhead
Simple hot spring:
Transparency and colorlessness, tasteless no odor.
Fountainhead temperature: About 39 °.
Efficacy
Neuralgia, the rheumatism, gastroenteropathy, skin enhancement, and women's diseases
Public Bathhouse
From a step base rock to a gush Adult of 200 yen H15.12.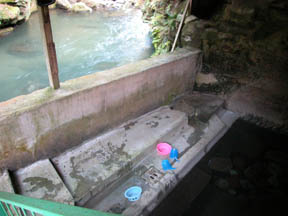 By Train
Tokyo
-> Shinkansen about 4 hours and 52 minutes ->
Hakata
-> Kyudai Line, the Kurume course, a limited express about 1-hour and 40-minute ->
Bungomori station
Bean jam
-> Nippo Line, about 1-hour and 32-minute -> Ooita Station -> Kyudai Line, a limited express about 1-hour and 12-minute ->
Bungomori station
Bungomori station
-> Taxi 15 minutes or, Ooita Kotus, the bus for Hosenji, and kabeyu bus stop alighting ->
kabeyu
By Car
The direction of Hakata -> Ooita Expressway -> Kusu IC alighting, about 15 minutes
The direction of Beppu -> Ooita Expressway -> Kujyu IC alighting, about 10 minutes
Airplane
Oita Airport -> about 60 km
Oita Airport -> Yufuin - Oita Airport nonstop high speed bus, about 55 minute -> Yufuin station -> Kyudai Line, and limited express about 30-minute ->
Bungomori station
-> taxi 15 minutes or, Ooita Kotus, the bus for Hosenji, and kabeyu bus stop alighting ->
kabeyu