The Characteristic
The wooden Japanese style Ryokan of meiji foundation.Merit of the view which is built on the gently-sloping hill in the Matsunoyama suburbs, and can occasionally see a blank of cloud.however, if there is no desperate preparedness in the day of a heavy snowfall, arrive -- it is also a place of the like which is not, and the snow raises a beech forest, and it brings about wild grass and a mushroom.Neighboring vegetables are also wonderful and it gets a material local [ so rich and safe ] with the dish which gets across to a Matsunoyama from generation to generation.A bath and a hot spring have the effect of a professional liking so that the style of an inn may give an account.
The inn which the day of heavy snow and the way in front of an inn were carried out in the middle of the February as three round trips, and was found at last.A word of the "take a bath" of a husband met in the inn which is likely to be buried in snow.Seemingly the spring quality of the hot spring wooden [ countrified ] was also uncanny, and it was impressed.However, I had the stage of wild grass lodge at the end of an April by what "Is not understood if it does not stay."Although it was an ordinary dish apparently, it was a dish made to regard it as a "Oh" until it resulted in one-and-another pickles.It seems that the husband adhering to a material is using Spirinchus lanceolatus from Hokkaido, and a high-class tuna.... Don't think about cost too much.
A visited again of an abundance eye: 2016/9/14 Updating
2017/11/27 Discontinuance of business.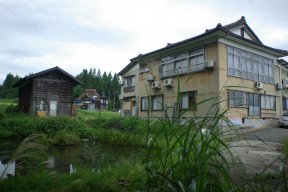 The corner of a snowy country swarm, Ikehata's guest room building.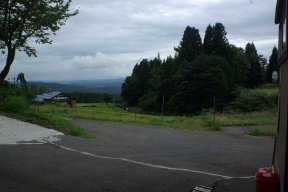 Merit of a view built in a steep range of hills.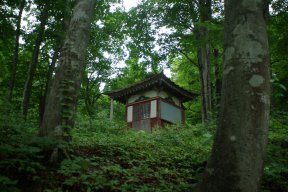 The Yashiro in an adjoining beech forest.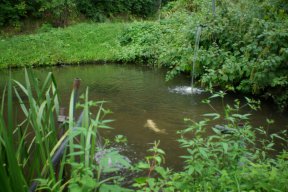 A carp sails in a pond and a firefly is also a drift in a season.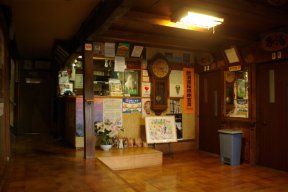 It is the enough inside of a hall of feeling of purity also in a prejudice.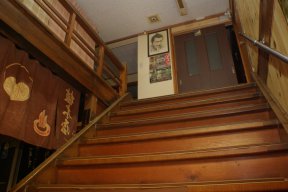 Dish
The home-made dish which was rich in the subject in seasonal delicacies from the mountains (wild grass, mushroom) at Variety (the sea and mountain).
It responds in season mainly and many wild grass, mushrooms, vegetables of a home garden, and neighboring vegetables can get the grilled on porcelain of a river fish dish grilled with salt and a beef.Rice is Koshihikari from a Matsunoyama (from Uonuma).(If a season comes, a husband is to a mountain every day)
Every morning and evening dining-room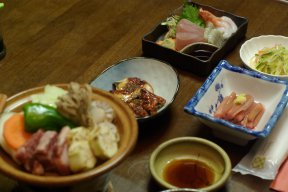 The home-made dish of local vegetables, such as a vinegared of ZUIKI, and stir-fried dishes of a luffa.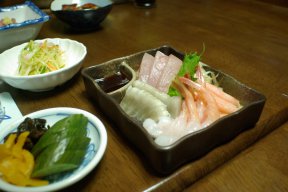 The tuna of this day is raw swordfish.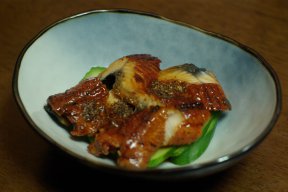 Conger eel kabayaki.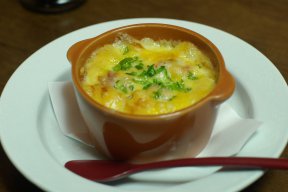 Gratin of a summer vegetable.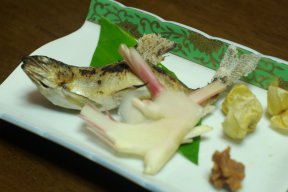 Physalis alkekengi var. franchetii (delicious) accompanies with the sweet fish grilled with salt in which a get on skewer also prospers, and raw ginger.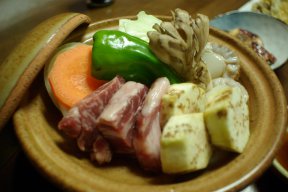 Beef is softly tasty by a thick slice.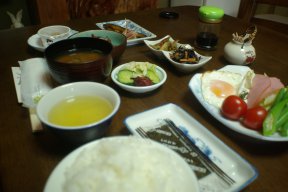 The miso soup of the freshwater clam was delicious, the kinpira dish of ZUIKI was obtained, tasting, and pounded soybeans and the stir-fried edible brown algae taught the palatability of edible brown algae.
Indoor Hot Spring
The man and woman each 1, the total Log structure,
A fountainhead tub and two bathtubs containing a natural gas iron pot.Free-flowing hot-spring water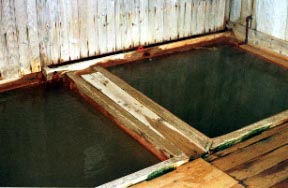 Koushin
Koushin-no-yu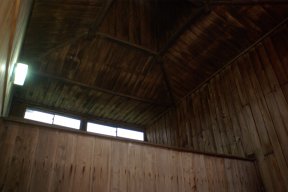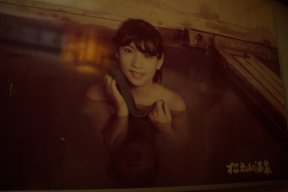 The poster of a Matsunoyama hot spring.Although it is said that it is a thing of 30 years or more ago, the Uekiya's bath and Mr. Model's expression are wonderful, and he is surely an enough photographer of a name.
Open-air Bath
The city-owned "Midorino-yu" was abolished.
Rates
* Please refer to the above-mentioned plan list.
Guest Room
All the five Japanese-style rooms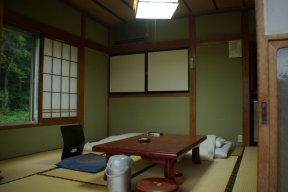 Sport Training Camp
I can take the gymnasium in Matsunoyamamachi, and a ground.A dish and a bath are reputation also to a student.

Near station
The Kubiki bus, the bus stop in front of the Matsunoyamamachi public office
Welcome and send-off
The bus stop in front of the Matsunoyamamachi public office (reservation required)
Parking lot
Full equipment
- Top -
756-3, , Tokamachi-shi, Niigata-ken
Telephone: 02559-6-2040 FAX:02559-6-2040