The Characteristic
The Geopressured type hot spring which blew off with natural gas by oil wildcatting for meiji 39 years.It is called the fossil (before 1000 Mannen) of sea water, and the ancient mineral is condensed.In the wooden bathtub, the sludge pushed out in the shape of a rivet, and since it is dangerous, the husband has covered the file periodically.There is also much salt and it is like [ with a salt manufacture factory ] before.Touch which was gently carried out into the skin after going home also carried out skin enhancement by two bathing depending on the method of an enough considerably in the evening and the morning.Here [ as good as the bathtub of the countrified Log ] is a cool.
Geopressured type: Rain water is an enough to the destiny which cannot invade but withers someday (it is the same as a fossil fuel) because of unusual hyperbaric pressure.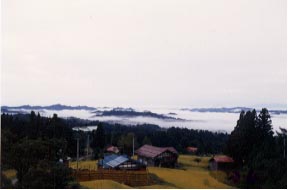 Blank of cloud.(A photograph is inn offer)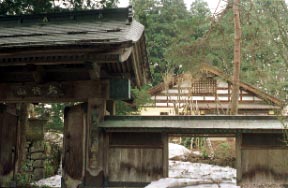 Daitouzan art museum

About 300 family treasures of the old family Murayama family of Matsunoyama Sui 1 are exhibited.Each musts and furniture, such as a hallway, a ceiling, etc. of a zelkova one board, are tasted, and are deep.Moreover, all the first edition of a book of the Ango is exhibited on the edge on which the aunt and older sister of the Ango Sakaguchi (known for maiden work "Kurotani-mura", a "Hakuchi", a "Nigetai-kokoro", etc.) were married to the Murayama family.
an
Ango-Sakaguchi prize
-- it is selection about people with the performance which was original and surpassed.Mr. Ken Noguchi is chosen the 2nd time and Ms. Yayoi Kusama is chosen the 9th latest time.H28/9
Daigonji Heights
Bird watching including the bird ruddy kingfisher of the town of a Matsunoyama can be enjoyed.
A strange festival, every year January 15 day
- "Throw newly wed groom" which fails to give up into snow the son-in-law who got married for the front year
- "Paint cool" which puts fire into pine branches and the amulet of the New Year after a throw newly wed groom, mixes the remaining ash with snow, makes Sumi, applies, and suits
Yu-touge pass
The walk course from the inside of pastoral nature, and a usagiguchi to a Matsunoyama hot spring.
Fountainhead
From 3000 m below ground to an included boric-acid alkali hot brine spring, the Akashibu color, 37 °, PH8.0, and a sprushing hot spring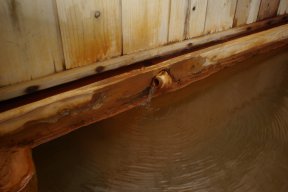 Uekiya Ryokan pouring gate
Efficacy
Rheumatic-neuritis, and muscular pain, wound, gout, arthralgia, frozen shoulder, burn, skin disease and women's-diseases - etc.
Public Bathhouse
The city-owned open-air bath "Midorino-yu" was abolished.
By Train
(From Tokyo and Niigata to the
Joetsu Shinkansen use
)
Echigoyuzawa station -> Hokuhoku Line, the Matsudaimachi -> Kubiki bus
(From Osaka to the
Hokuriku Line use
)
Echigoyuzawa station -> alighting in front of Hokuhoku Line, the Matsudaimachi -> Kubiki bus, and a Matsunoyama public office.
Matsudaimachi -> Alighting in front of the Kubiki bus and a Matsunoyama public office -> welcome and send-off
By Car
From the direction of Niigata
Hokuriku and the Kan-etsu way -> Echigo-Kawaguchi IC->R117, R253andR353, 67 km
From the direction of Tokyo
Kan-etsu way -> Shiozawa Ishiuchi IC->R353, 40 km
From the direction of Osaka
Hokurikudou -> Joetsu IC->R253andR353, 47 km