Utsukushigahara(Nagano) |Hot springs deep inside Japan
[Outline] Nagano Utsukushigahara @Matsumoto The hot spring resort of the bottom of Matsumoto Castle, and a history
[Spring quality] It is a weak alkali simple hot spring 45 °.
[Altitude] About 800-m natural woodland
[Environment] About twenty houses
[Mountain climbing and sightseeing] Matsumoto Castle, an utsukushigahara, and Kamikochi

The Characteristic
A Founded or started to use this hot spring goes back to the Asa Nara era, and is described in the Nihon shoki as "the warm water between bunches."It is a historied noted spring to become the Matsumoto Castle Lord's palace hot spring after that etc.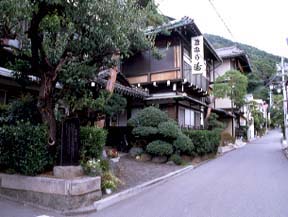 The hot spring resort chosen as the 100th elections of the Matsumoto-shi scene.
Fountainhead
45 °, a weak alkali simple hot spring
Efficacy
Recreation after gastroenteropathy, neuralgia, high blood pressure, and the illness, etc.
Public Bathhouse
Shiraito public bathhouse
By Train
Shinjuku -> Chuo Line -> Matsumoto station
Nagoya -> Chuo Line -> Matsumoto station
Tokyo -> Shinkansen -> Nagano station -> Chuo Line -> Matsumoto station
Taxi 15 minutes from the Matsumoto station
By Car
Tokyo and Nagoya -> Chuo Expressway -> Matsumoto IC -> about 8 km