The Characteristic
An authentic-Japanese-style Ryokan and here have very many local visitors, and come a meal and a bath here to a pleasure, you.Four guest rooms remodeled in Heisei 13 are feeling-of-purity enough structures individual to each.The Separate from main with an open-air bath "Yuraku-tei" completed in the summer of Heisei 2014 is a perfect Separate from main of the Asian mood which treated the bathtub of earthenware specially.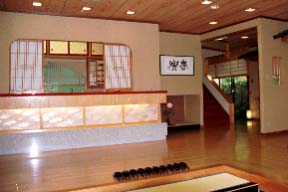 Lobby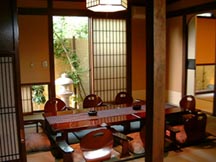 A guest room with an open-air bath "Yuraku-tei"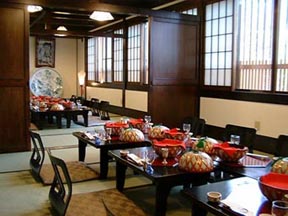 Restaurant "Yuuki-tei"
Dish
It obtains in a course dinner and a restaurant.
A dish is also a willing to do specially by a season, such as abalone dance baking and one matsutake.(Reservation required)
Rates
* Please refer to the above-mentioned plan list.
Indoor Hot Spring
Man and woman each 1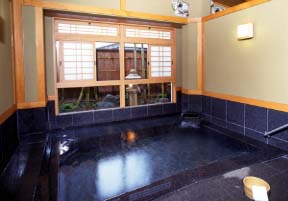 The remodeled indoor hot spring for males
Open-air Bath
A garden open-air bath, the man and woman each 1
Family Bath
Hinoki bath 1
Guest Room
14 rooms, 70 persons
H14, guest room "Yuraku-tei" completion with an open-air bath
Institution
Snack "holly"
Hall 55 mats
Near Station
From the Chuo Line Matsumoto station, it is a taxi and is 15-minute and bus 20 minutes.
- Top -
Matsumoto-shi, Nagano utsukushigahara
Telephone 0263-33-3378 FAX 00263-33-3571

Welcome and Send-off
More than 10 persons
Parking Lot
Full equipment