The Characteristic
Building the second floor (the third floor of the part) of wooden [ of the initial building of Showa ], foundation is the Edo last stage.Composure and "good work" of a guest room which are nostalgic to a latticed window, a railing, and a stairs handrail are felt, and it is imagined whether this is a spa resort building of those days.The posture which those with size and one person also say as an important visitor according to the number hears about a guest room which became intricate.And the Lord is living here, without changing the inherited life, and lamps are necessaries.It generated electricity only in order to use a washing machine, and it was said that only an electric refrigerator wanted.A meal has volume and the meal of the inn of a mountain is like [ which cannot be considered ].Please ask, when a day sets in the inn of an enough lamp life at an accessible place.In a guest room, a lamp is lighted and it is the beginning of a lamp life.
There is no putting out lights which has burned the lamp all night long.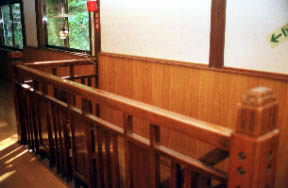 The stairs handrail of a zelkova with a beautiful railing.
■ Suffer a great deal of damage in Iwate and the Miyagi inland earthquake in 2008, and it is discontinuance of business.
A open air bath and the location of a hot spring sank. (around 2010)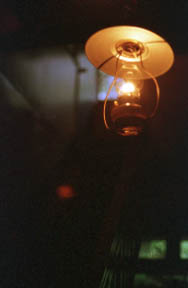 The light of a lamp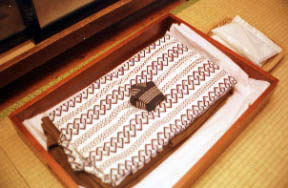 a yukata and a heavy outer kimono - towel
Dish
Wild grass and fresh water fish cuisine.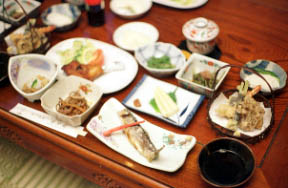 An example of this day
The seeweed volume, the chicken dish, the chawan-mushi, pickles, and fruit of the wen of tempura (a shrimp, an eggplant, a Japanese pumpkin, and maitake mushrooms) and a Ms., and Ms. [ a mustard soy sauce dressed with sauce Osmunda japonica simmered dishes, a wild banboo sprout and ]
Foods
If fate avoids the bud, the Aiko, Shidoke, Urui, etc. of a codfish in a Ms. Ms. wen, and autumn, they will be natural maitake mushrooms (usually local cultivation thing) in spring.
It is a
dish specially
:
The row-slices 2 public of 3000 yen (reservation required) of char
Meal place: Every morning and evening hall.
Rates
* overnight stay with 2 meals and consumption tax - bathing tax included
all-year-round same Rates 9700 yen consumption tax - bathing tax included
One person also OKs.
Child: The same dish as 8800 yen and an adult, with a yukata.
Infant (up to 4 years old): It is no charge when you have bedclothes nothing and no dish.
Indoor Hot Spring
It is free-flowing hot-spring water about the same fountainhead as man-and-woman one open-air bath each.
One day trip bathing Adult 500 円 子供 of 300 yen

10:00 to 16:00
Open-air Bath
The Large open-air bath of mixed bathing is one.
They are those of a Separated by gender with a spare clothing hut, and swimsuit prohibition to the neighborhood.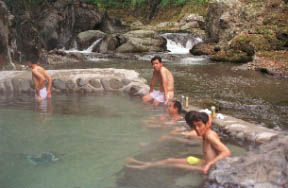 A calm large open-air bath.
Guest Room
Ten rooms, 20 persons accommodation.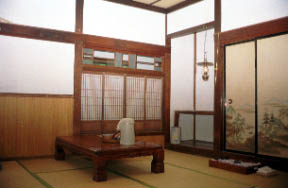 Near Station
Tohoku Shinkansen, the Kurikoma-kougen station
- Top -
Miyagi-ken Kurihara Hanayama Aza honzawa Dakeyama 1-8
Telephone: 0228-56-2878
Winter contact address
Winter: Takizawa, Ichinoseki-shi, Iwate-ken Aza Ichinosawa 127-1
0191213029
Welcome and Send-off
Nothing
Parking Lot
They are about ten sets to the around bridge of a yunokura entrance.