The Characteristic
the hot spring which wells ups to the branch of the dry river bed hut swamp which makes a spring the Mt. Kurikoma foot and the Large marsh "world Yachi" leading [ Japanese ] located in a line with Hachimantai as Oze being special.From the bridge (trailhead) concerning dry river bed hut swamp, there is a hot spring which can also be said to be paradise at the place which it says is 20 minutes an over-a-mountain middle of mountain and on foot, and which is moderately accessible and which was wrapped in the still natural natural forest and the ravine as at ancient times.the ravine seen from an open-air bath -- the enough of a name -- profit -- beautiful -- char -- the number of fish -- it lives deeply.From the skillful quay of an open-air bath, steam was raised thickly and the hot hot spring is abundantly ready.They are the discovery for Fumimasa three years, and a chlorides spring which often gets warm.I would like to think what on earth will happen to the golden age of red leaves, and the view of this open-air bath, and to come to go.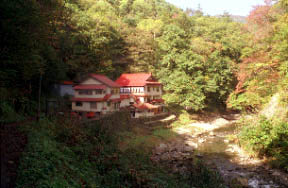 Yueikan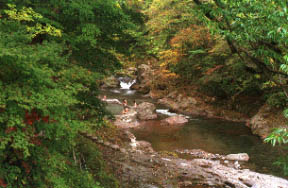 Share NO swamp and an open-air bath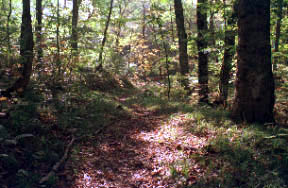 It is a forest of a beech, Cercidiphyllum japonicum, and a horse chestnut to a Shiraito-no-taki waterfall.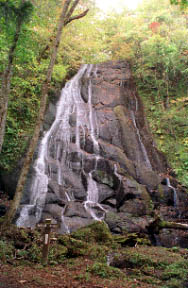 About 30 minutes after a Shiraito-no-taki waterfall and a Yueikan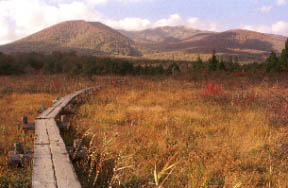 World Yachi, the second marsh, and a ground forest and Mt. Kurikoma
When a tour is carried out from a parking lot to the second to the first marsh for about 20 minutes, it is about 2 hours.If it goes from a yunokura to a path-through-a-wood terminal and goes the Mt. Kurikoma mountain trail yunokura route, it passes along world Yachi's spring and outdoes the 2nd marsh.It is a whole surface Nikko-kisuge May Lysichitum camtschatcense and the end of a June.
Mt. Kurikoma, a ground forest, world Yachi (Yayama) and a yunokura - 100 peaks and spring Japan
Fountainhead
Sodium salt ghost spring:
Transparency-and-colorlessness and 600L of output/M
Fountainhead temperature: It calls at the fountainhead. About 68 °.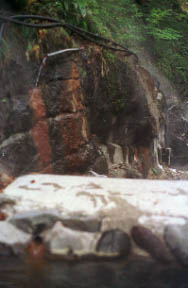 The hot spring which is ready from a quay.
The hot fountainhead is poured out from a front pouring gate.
Efficacy
Neuralgia, the arthralgia, a frozen shoulder, a motor paralysis, and a joint bruise [ a harden and ] - Break, and they are - chronicity digestive disease, oversensitivity to cold, and recovery from fatigue.
A burn, a cut, a chronic skin disease, and chronic women's diseases
By Train
Tokyo
-> Shinkansen about 2 hours and 30 minutes -> Kurikoma-kougen station
Morioka
-> Shinkansen about 53 minutes -> Kurikoma-kougen station
Kurikoma-kougen station
-> A taxi or a rent-a-car, and about 60 minutes ->
yunokura
Kurikoma-kougen station
-> Bus [ for Tsukidate ], about 10-minute, and terminal alighting -> Hanayama Chief Abbot going bus, about 40-minute, and alighting-in front of post office -> Miyakou Kurihara bus Hanayama warm water going bus, about 20-minute, and terminal alighting -> on foot about 1 hour and 20 minutes ->
yunokura
By Car
Tokyo
-> Northeast way and about 390 km-> Tsukidate IC->about 35 km ->
yunokura

Aomori
-> A northeast way, an about 276 km-> Wakayanagi Kannari IC-> general way, and about 35 km ->
yunokura
Contact
Miyakou Kurihara bus: 0228-45-5657