The Characteristic
He did not notice then the clouds of volcanic steam of the Hachiman-Jigoku which rises like a cumulonimbus cloud over the roof of an inn.However, in the whole hit, there was the strong sulphuric good smell, and it stimulated a nasal cavity and ON avarice (bath) violently.When some were called one among three Toujis, the salt-preserved cherry blossoms in hot water of the sulfur spring of which it complained to the nasal cavity, however the doroyu of alum 緑礬 were also new, and since a natural steam bath was rarely a certain thing, either, though it was natural, a bath was all taken.When it talked about "sulfur and asked ?" close also in the jigoku, the husband showed the cover shot of the inn as the Hachiman-Jigoku.a back hand is a jigoku immediately -- it is -- thank you.We obtain a steamed at mouth of volcano (a broiler chicken carrying out round 蒸), and, also itself, a natural steam bath is the recommendation here.It becomes the wooden two-story building main building, the staying-self-cooking building, and Heisei which are built on a stone wall, and is a new building extension.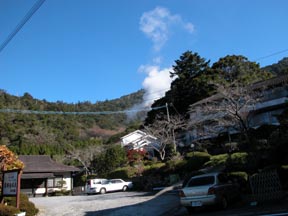 The main building built in a left new building Entrance and a right Teishi enclosure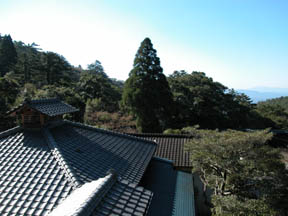 The view over the salt-preserved cherry blossoms in hot water from a main building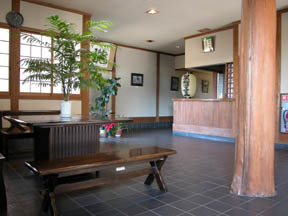 New building lobby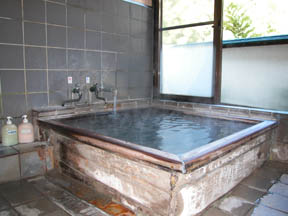 A new building, the inner bath for lodgers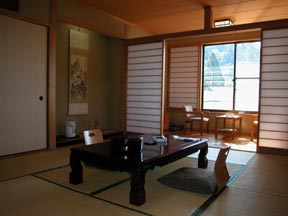 New building guest room
Dish
A
steamed at mouth of volcano
and a wild grass course dinner.
hors d'oeuvre and the small bowl 2, and sliced raw fish, a vinegared, the broiled fish (a trout or a rainbow trout), simmered dishes, a steamed cake, a change bowl and the Kagoshima pig -- nan -- tips -- a cooked in a pot (they are thin wheat noodles in summer), tempura, rice, soup, and fruit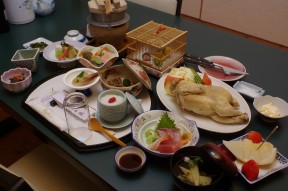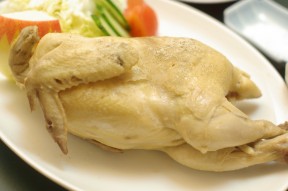 The steamed at mouth of volcano of a chicken, every circle one bird
Foods
Local wild grass, trout, and Kumgang bay fresh fish -
It is a
dish specially
:
The シシ cooked in a pot of 5,250 yen (3-4 public)
The steamed at mouth of volcano (carrying out jigoku round 蒸) of 1750 yen (including tax) of a chicken
Meal place: The restaurant for exclusive use divided every morning and evening.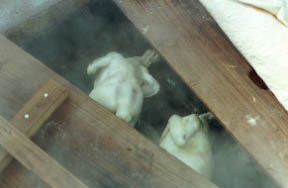 The good smell which a chicken seems to have excites appetite.
Rates
* Please refer to the above-mentioned plan list.
Indoor Hot Spring
Salt-preserved cherry blossoms in hot water: Sulfur spring
Steam bath: Radium spring
Touji [ of Take ]: -- an alum melanterite spring Dollo Touji -- all -- a Separated by gender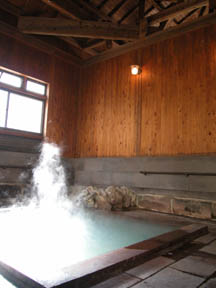 Salt-preserved cherry blossoms in hot water of a sulfur spring
One-day-trip bathing: 9:00 to 20:00
Any 1 Touji of 300 yen, two Toujis of 550 yen, three Toujis of 700 yen
With room rest: 11:00 to 15:00 They are 1 other people of 760 yen.
A December to a March is the one-room heating expense of 200 yen.
Spa Vacation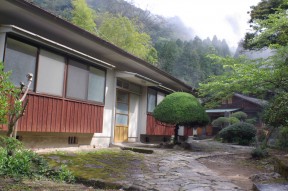 The spa vacation section guest room building in Yunomae of Take
The back is a jigoku.
Steam Bath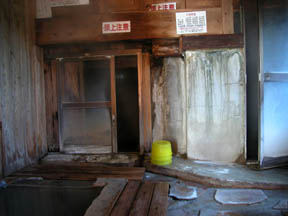 Natural steam bath
It is a steam bath to be comparatively large at a wood floor, enjoy the smell of an alum spring, and go into slowly.The objects for males are fever and those with a prepared.
* High blood pressure and cardiopathy are contraindications.
Guest Room
New building all rooms Seven Western-style toilet (shower-featured toilet) 25 persons
(Three main building 10 persons, nine staying-self-cooking buildings)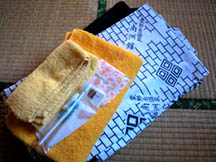 Institution
A natural steamed at mouth of volcano (for inns), 36 halls, 24 mats
Nearest Station
JR Hisatsu Line Kurino station
- Top -
6357, Koba, Yusui-cho, Aira-gun, Kagoshima-ken
Telephone: 0995-74-3511
FAX:0995-74-2580
Welcome and Send-off
More than 2 persons are reservation required to the Kurino station or the area bus stop of stylish stylish center くり.More than 10 persons are good and reservation required to an airport.
Parking Lot
Full equipment