The Characteristic
It was impressed very much by modeling of the of art and mystical ice and light which are seen in a village without the figure of a visited-three-years-continuously Shikaribetsu lake Ainu village and the evening early hours of the evening, an ice bar and an igloo, and the on-the-ice open-air bath.it is the hot spring decorated with the finale of the Hokkaido sightseeing of a severe winter January, and is Hokkaido too absolutely in winter -- the thought ! was strengthened further.It was one hot spring of appreciation in the whom who which conceives this bath and is built.If it is the hot spring which the bathtub completed by the ardent love through the failure of sinking in a lake about twenty years ago after trial and error when I heard later.It is surrounded by south and a north Mt.Petoutoru, a Mt.Hakuun, the Mt.Tenbo, etc., and they are [ in Hokkaido ] an enough natural lake "Shikaribetsu lake", therefore the made world of the false Arctic Circle at the maximum height.
Much natural experience program which leads the four seasons is also prepared.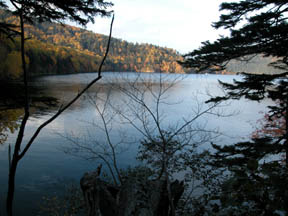 The Shikaribetsu lake of red leaves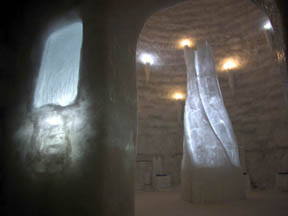 Shikaribetsu lake Ainu village 2004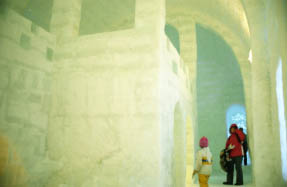 Shikaribetsu lake Ainu village 2005
*
Shikaribetsu lake Ainu village
2003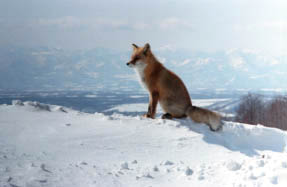 The keeper of the fan KA field which overlooks a 10 Katsuhei field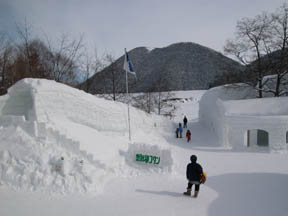 A Shikaribetsu lake Ainu village and a Mt.Tenbo (Mt.Kuchibiru)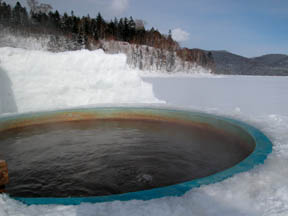 The hot fountainhead is free-flowing-hot-spring-water and on-the-ice open-air bath '05.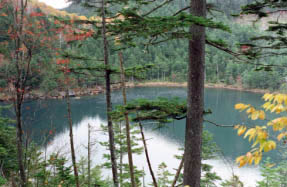 There are no people who come down to the lakefront, and it is a mystical Komadome lake.
A Mt.Hakuun-Mt.Tenbo-Shinonome lake, mountain-climbing information
The chirp of a Mt.Hakuun pika and the chipmunk have been observed.
They are about 75 minutes and a trailhead about trailhead-about 90 minutes, and Mt.Hakuun-about 60 minutes, and Mt.Tenbo-about 75 minutes, and the Shinonome lake-Shikaribetsu-lake lakefront.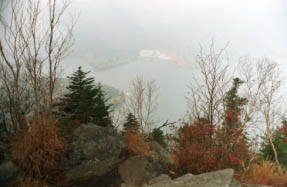 The lakeside hot spring seen from a Mt.Hakuun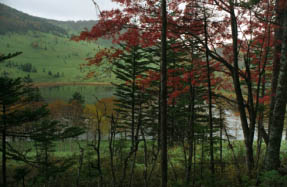 Shinonome lake
Shinonome lake: It is a mystical lake which does not have a way which goes to one of the Hokkaido 3 Large mysterious lakes, and the lakeside, and is in untouched green literally.
Hokkaido 3 Large mysterious lake
An
Onneto lake
, an
Okotanpe lake
, and the Shinonome lake
Fountainhead
The two-house fountainhead differs.
Hotel-Fukuhara fountainhead
:
A sodium salt ghost and a hydrogencarbonate spring (neutral hypotonicity hyperthermal springs)
(The old spring-quality name: Included Sodium-Hydrogen-Carbonate-hot brine spring)
Fountainhead temperature: 74.9 °
Efficacy
Neuralgia, muscular pain, the arthralgia, a frozen shoulder, a motor paralysis, and a joint bruise [ a harden and ] - Break, and they are hemorrhoids, oversensitivity to cold, after [ - chronicity digestive disease and the illness ] convalescence, recovery from fatigue, health enhancement, a cut, and a burn.
Public Bathhouse
Shikaribetsu-lake-Ainu-village on-the-ice open-air bath
* The end of the end-of 1/3/ No charge, mixed bathing and a time shift, the swimsuit possible ?, changing ice lodge
By Train
Sapporo station
-> JR line limited express and about 2-hour and 25-minute ->
Shintoku station
-> pick-up bus (perfect subscription basis) about 60 minutes ->
shikaribetsu
A Shintoku station-shikaribetsu, a pick-up bus
Shintoku 12:50->13:50 Lakeside 10:10 ->11:10
Shintoku 15:15->16:15 Lakeside 14:00 ->15:00
By Car
Obihiro
-> a Shikaribetsu-lake course, about 1 hour and 20 minutes
Asahikawa
-> 150 km (winter No thoroughfare) of abbreviation via Nukabira
Airplane
Obihiro Airport -> A colonization bus, an airport liner, the Obihiro station course, and about 2 hours and 30 minutes ->
shikaribetsu