[Under closure] The closed is carried out from November 11 Hi for 08 years.
The Characteristic
When it visited for the first time in winter, several Ezo deer greeted outside the front door.It got warm firmly with the hotter hot spring, and carried out the skilled stripes of the hot spring famous as a hidden hot spring in Hokkaido.Although the founder and Mr. Sukeyoshi Sugano were the hot springs "the miraculous fountain of universe No. 1", there is no posture which contents itself overly with the merit of a hot spring, and it corresponded to the visitor of the hot-spring cure to calorie calculation, and was deeply impressed by protecting the hidden spring with the dish of a hand structure altogether.It is the inn which began as a hot-spring cure store in the meiji last stage, and cherishes the visitor of the hot-spring cure from one person in the wooden Touji building built after the war still now.There is spring quality of eight sorts of efficacy enoughs, such as a hot brine spring, a carbonate spring, a gypsum-fibrosum spring, an alkaline spring, a boric acid, and a ferruginous spring, and it is supplied to the bathtub whose number is eight by free-flowing hot-spring water.The view of the quiet environment where it is built in the sloping ground of a valley upper hillside, and the Shikaribetsu valley seen from a main building was fresh.
Facility installation accumulates and it is from closure:Heisei 20-year November 11 Hi till around next spring.
H21/4/21 Hokkaido Shimbun: -- the prospect of resumption -- a no hope in near future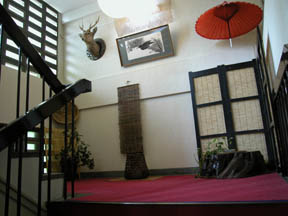 Main building inside of a hall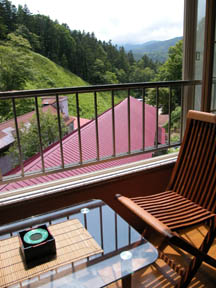 A main building guest room to the Shikaribetsu valley, and an old wing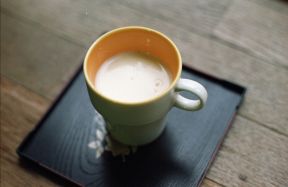 Fragrance which is drinking the milk of the Brown SUISU beef of a Hot-springs-deep-inside-Japan stay privilege, and a cookie.
Dish
Wild grass, river fish, and a mushroom dish.
* The content changes with a price.The charcoal-fire steak of a deer and the next rank of the main are [ a highest-class rank ] the dipped in a boiled waters of a deer.
(A high-class part is bought in from the butcher, and it is fresh, and is free from vice, and you feel easy, and can have the Ezo venison)
10650 yen and honzen (three hors d'oeuvre, a vinegared, simmered dishes, a row slices, and boiled fish) -- secondary -- a dinner tray (a wild grass bean paste hot pot, fruit, and chawan-mushi tempura)
12750 yen and wild grass bean paste hot pot-> venison grilled on porcelain Boiled fish-> mountain witch dish grilled with salt + small bowl
15900 yen and venison grilled-on-porcelain-> venison dipped-in-a-boiled-water SHABU Several [ +] articles are attached.
Local foods, a home-made dish.
Tastes, allergy, and a hot-spring cure are equivalent also to calorie calculation.
Foods
They are a raw fish slice cooled in a water, frying without coating, a dish grilled with salt, etc. about wild grass, a mushroom, and river fish (rainbow trout trout Dolly Varden).
Example:
The thing and soup of the thing, vinegared, and scent of hors d'oeuvre, the broiled fish, a steamed cake, simmered dishes, and a stand
* They are a deer dipped in a boiled water, a Grill on china plate (a beef/deer), a cooked in a pot (mushroom /bringing near a /beef / deer), etc. by a season.
* Number of articles and the content change on a budget.
Special dish
: Demand besides a deer dipped-in-a-boiled-water Dolly Varden dish grilled with salt is accepted.
Meal place: Every morning and evening room foods.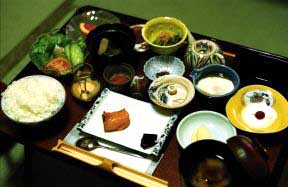 Breakfast of Zen (a top to 2nd rank)
Rates
* an overnight stay with 2 meals -- consumption tax included and excluding bath tax
Same-price-all-the-time Rates A Rates is based on the room and a dish.
More than 2 persons
Main building 10,500 yen -
Old wing 9,400 yen -
Five or more nights of hot-spring cure with 3 meals 6300-
With 3 meals 7350- 3 nights or more a mini hot-spring cure
One person
Main building 11,550 yen -
Old wing 10,500 yen -
Five or more nights of hot-spring cure with 3 meals 7350-
With 3 meals 8400- 3 nights or more a mini hot-spring cure
* The hot-spring cure 12 / 31 - 1/2 are UP(s) 2,100 yen.
* Winter discount (please ask during the period etc.)
* Tokachi discount (a 10% off, except from July to September) * Credit card use is impossible.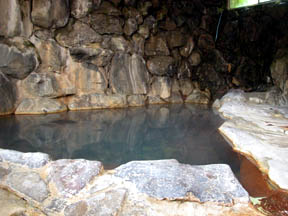 "The Iwano-yu, the hot spring of a Jyurou" where a hot spring wells ups from a bottom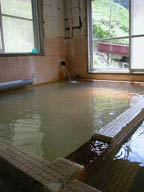 The hot spring (left) of inside bathroom immobilization, and Oguro's hot spring (right)
| | |
| --- | --- |
| The hot spring of a cloth bag | The hot spring in Ebisu |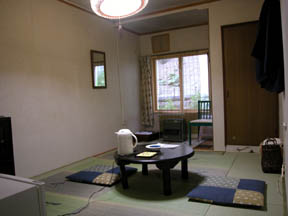 Touji section guest room
Indoor Hot Spring
Seven bath tabs,
(Large bathroom 3, inside bathroom 2, stone bath 1, and family bath 1)
An inside bathroom and stone bath are those with the thyme only for a woman by turns.
All hot springs are fountainhead free-flowing hot-spring water.
One-day-trip bathing: 10:00 to 18:00 (up to Tokachi precinct 19:00)
The adult of 1000 yen: Those with a hall free rest station
Open-air Bath
Two bathtubs, hot spring of a Fukuroku Mixed bathing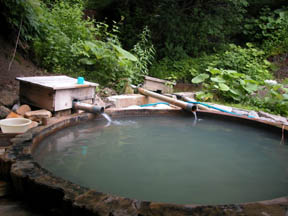 In a pouring gate, an intense carbonic acid attaches a nose.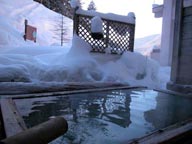 Family Bath
One, hot spring of the goddess of eloquence, music, and wisdom, a key, no charge.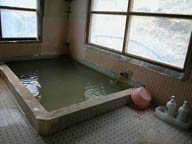 Guest Room
20 20 main buildings and old wings, number-accommodated 80 persons
Institution
A terrace and a large room (one day trip free lounge)
Pick-up
The mansion free pick-up bus of No. 1 per day from the exit of JR Obihiro Ekikita, the hotel hero forward left
11:30 suits of 10:00 hot spring -> Obihiro
Arrival at 16:00 at an Obihiro 14:30 -> hot spring
visitor-to-a-hot-spring-resort designated place pick-up: -- the Tokachi precinct resident -- the no charge from one person, and general -- the no charge from five persons.Important point inquiries, such as pick-up extent.
* The Shintoku station to free pick-up is from 5 persons.
- Top -
Postcode081-0344
Shikaoi-cho, Kato-gun, Hokkaido Shikaribetsu valley
Telephone: 0156-66-2848
FAX:0156-66-2847
Near Station
JR Shintoku station
Parking Lot
Full equipment