The Characteristic
Primitive and wildness of Shiretoko which means the end of a Shirietoku and the ground in Ainu language are remain unexplored regions.Many Ezo deer of a big corner were also followed by the female, and it ran calmly, and has also checked the footprint of the brown bear near Shiretoko Five Lakes of a winter traffic stop release On the day.Fishing starts all at once in the time the drift ice which filled the sea between winter disappears, and the utoro which wells ups to the Sea of Okhotsk side of a Shiretoko crossing road celebrates an openning of see.the included Sodium-Hydrogen-Carbonate hot brine spring where the hot spring struck in Showa 46 becomes muddy yellow, and a component -- since [ deep ] temperature is also suitable, the devide is carried out to each Ryokan.
Coverage: 2003/1, and April 2004/3 2005/February

Drift ice which fills Shiretoko Okhotsk,
Beginning of the middle of the month of a January - an April.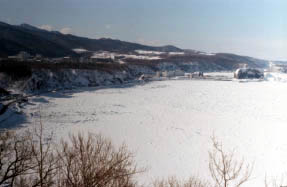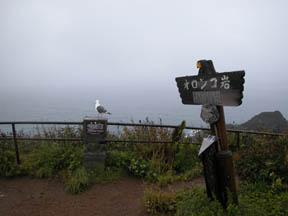 Oronko-iwa
Wild animals which live on the outskirts
:
Brown-bear Ezo deer sea eagle Steller's sea eagle

Openning-of-see spring-has-come festival
Annual holding is delicacy and important point querying.
One person 2500 yen, delicacies from the sea, buffet offering wild grass.2003/04/26
The middle of the month of the end of an April - a May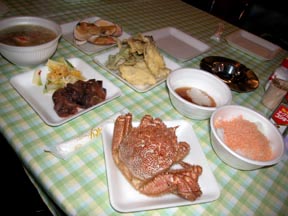 a crab -- a one and others -- a buffet, offing attachment and a fish, an ascetic's-Gyo-jya garlic, and bud-of-Japanese-angelica tempura, king crab soup, the Tyler shellfish, Hockey and a stick -- a codfish - salmon rice - still more -- a lot -- !.
* Seemingly, the stop and the Banya festival are performing the spring-has-come festival, though regrettable.2005/5 investigation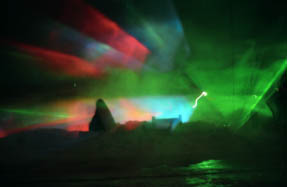 Aurora fantasy
:
From an ordinary year and a February to the 1st week of a March
Shiretoko utoro specially prepared floor
Banya festival of Shiretoko autumn
:
A thing to eat is burned by a charcoal burner by itself, and all-you-can-eat.
* One-copy option
End of the middle of the month of an October - a November
It is to the following tourist agency in detail.

Included Sodium-Hydrogen-Carbonate hot brine spring of yellow muddiness Tsukuda-sou at.
Nature watching, ski mountaineering which walks
:
Shiretoko Five Lakes: Road opening of traffic is before GW, and is XC skiing from an iwaobetsu in winter.
Kamuiwakka: Road opening of traffic is at the end of a May.
Waterfall of a Furepe:
The Shiretoko mountain peaks in line, Mt. Rausu and Mt. Syari (both are Japanese one hundred famous mountains)
Mt. Rausu opening of the climbing season, beginning of a July
A tourist ship, Io-zan and Kamuiwakka (coming alongside the quay is not carried out)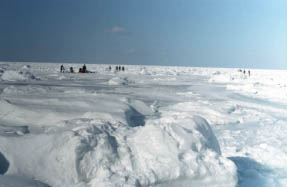 Drift ice dive
Fountainhead
Sodium salt ghost-soda water matter spring
:
Yellow muddiness.
Fountainhead temperature: 61 °
2560 mg of sodium etc. A total of 8905 mg
Efficacy
Neuralgia, muscular pain, the arthralgia, a frozen shoulder, a motor paralysis, and a joint bruise [ a harden and ] - Break, and they are convalescence, a cut, and a burn after - hemorrhoids, a chronic digestive disease, a chronic skin disease, oversensitivity to cold, recovery from fatigue, and the illness.
Public Bathhouse
Hot spring of a utoro setting sun stand 6 - October
Adult 500 円 子供 of 250 yen
By Train
JR Senmou Line -> JR Shiretoko-shari station -> a utoro going bus, about 50 minute -> utoro terminal alighting
By Car
Shari-cho
-> About 38 km ->
utoro
By Plane
Memanbetsu airport
-> Abashiri bus, Okhotsk Shiretoko line, about 2-hour and 15 minutes, or Shari bus 1-hour and 50-minute -> utoro terminal alighting
Contact
Shiretoko-shari-cho tourist agency: TEL 01522-4-2639