The Characteristic
Breath is the inn which became a stage of the weekly morning-sun series and the aquatic Tsutomu "starvation strait" in 1962, and the atmosphere is still a remain ...the altitude Mt. Raiden trailhead of about 320 m -- the hidden hot spring of an enough isolated lodge -- being closed for a while -- it will be resumption in 05.of course, resumption is not known -- the February of that year and this hidden hot spring under closure were visited, and resumption of this inn buried under deep snow was wished, and only the smell of the sulfur which is fragrant to a ravine was bought, and it came out, and returned.attainment difficulty, deep natural environment, and Koka -- it was called the open-air bath of the spring out underneath which wells ups to the attractive point enough building of the history which continues from the first year (1844), and the siding of the 1954 Structured, and a ravine, and was felt as the true hidden hot spring seen nationally and rarely.The floorboard of a pure Log shines, it is kept clean, beautiful bedding is also prepared and inside of a hall and a changing room can be passed pleasantly.After being resumed, the supper is cooking for oneself, but happy is carried out, a moveable cooking stove, foods, and alcoholic drinks are gathered, and just like the group gathering in the Imoni of Yamagata, the thing enjoys a hidden hot spring for a night of a deep mountain, surrounds a cooked in a pot, and serves as a place of relaxation of the group who enjoys conversation.It is the hot spring which a commercial atmosphere does not have, either and is protected in the better whom who.
starvation strait: -- the person who stayed at the previous night of the Iwanai conflagration which had the same time as the Seikan ferry boat accident, and occurred, and the Spa accommodation Asahi onsen of Iwanai -- ? victim -- a binary name -- the mystery of many is approached.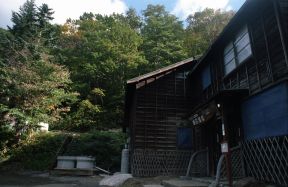 An Asahi-onsen Entrance, thunder-and-lightning Yumoto's signboard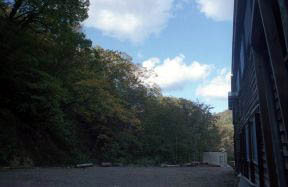 The inn of a valley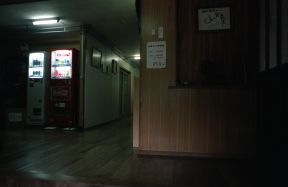 Inside of a hall of between Entrance boards and a home generation of electricity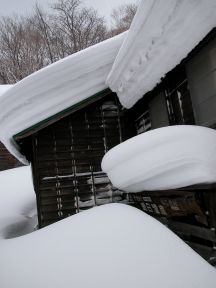 * The visit in a winter closure.05/02/24
(It is ... if existence of an open-air bath is known at this time)
Dish
* As for the supper, please have foods which are self-cooking.Alcoholic drinks can also be carried in.
* I also lend cookroom equipment.The one-person gas bill of 100 yen
* Although you bring a portable gas stove with you and you can use it in the room, please withhold the pottery.A cooked in a pot is OKed.
A
breakfast example
:
Even if materials, such as a sockeye and cod roe, are good and it sees a Chinese yam, a fried egg, and boiled greens, it turns out that time is applied.I received very deliciously delicate dishes, such as a dessert of handmade pickles and pickled plum, a grape, and a cherry tomato.It can ask for another helping of boiled rice miso soup.(appetite progressed and the boiled rice of a joint iron pot also of number of articles has been lost)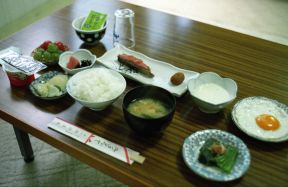 Breakfast
Meal Place

A supper is self-cooking, a room, or a restaurant at.

Breakfast: Restaurant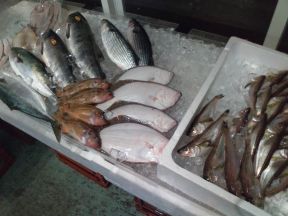 The recommended store of foods procurement
Nagasawa store (photograph) 0136-56-2136: A fresh fish and a dried food can procure cheap.It is said that its service will be given if it says that it goes to an Asahi onsen.Please say that this page was seen.
Shiribetsu River mouth-of-a-river Isoya bridge
Rates
* Please refer to the above-mentioned plan list.
Indoor Hot Spring
Separated by gender:
It is divided, and stone bath and a bathtub are divided into two, and are changing water temperature.
One-day-trip bathing: 9:00 to 19:00, 600 yen (child of 300 yen)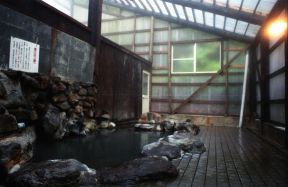 Bath structure of the beam and post using a telegraph pole
It is fountainhead credit sink suitable temperature.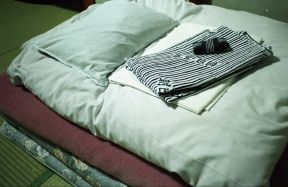 A beautiful bedding feather quilt, a yukata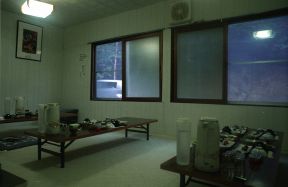 Restaurant
Open-air Bath
Mixed bathing open-air bath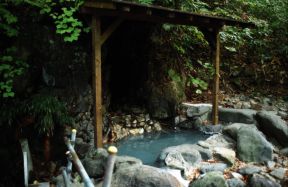 The open-air bath of a spring out underneath
Guest Room
Five Japanese-style rooms (one 12-mat large room), 15 persons accommodation
Institution
Restaurant and one day trip lounge
Near Station
Rankoshi station however, bus connection -- Otaru station
- Top -
Postcode045-0025
117-3, Shikishimanai, Aza Iwanai-cho, Iwanai-gun, Hokkaido
Telephone: 080-1870-1867
Welcome and Send-off
Nothing