The Characteristic
The snow of South Hokkaido, which falls a Mt.Oboko from the cross-over Sea of Japan side is raising the blessing of the rich mountain.The Nodaoi river had the high popularity of mountain stream fishing, and the husband taught the degree by which fields and mountains do not pass along the treasury of wild grass, and a wild banboo sprout does not pass along the mouth of a 1-sho bottle.Moreover, it can start in splitting ascension and can also touch in autumn Wilde nature, such as observation of the sea eagle and Steller's sea eagle which aim at a salmon, on the Yurappu river.
coming out of the hot spring which carries out a flow out naturally from a Nodaoi river river side suitable temperature -- a little muddy and a component -- it being deep and being used by non-[ non-heating ] water-running free-flowing hot-spring water -- brown -- common eye-like precipitation -- and it is the new spring quality seldom seen.It is called the (Sodium Hydrogen Carbonate) of lustrous skin, and the hot spring which gets warm well (hot brine spring) to eyes well (boric acid) also from the old spring quality name.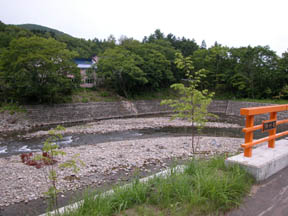 A Nodaoi river and a Kumanesou

Nodaoi river-fishing information
: As for char, trouts are the opening of hunting season on June one day, and fishing fee needlessness all year round.It is to a husband for details.
Wild animals and a living thing which lives on the outskirts
: Salmon ascension and a sea eagle Steller's sea eagle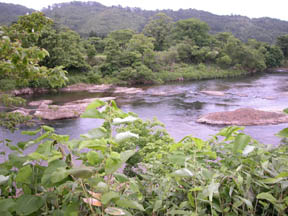 Yurappu river (they are a salmon and Steller's sea eagle watching in autumn)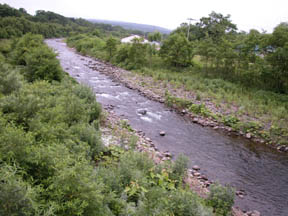 The Yurappu river, the hatchery to avoid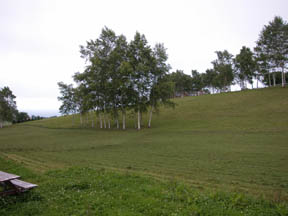 "A KFC kernel stock farm and a restaurant"
It is a marine location to that direction of a prairie.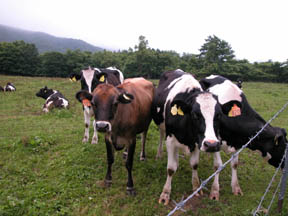 From an inn, it is a car and they are the beeves of several minutes and Warabino.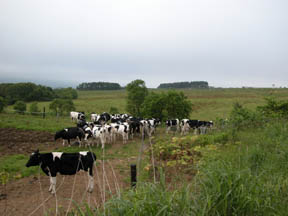 Yakumo town ownership training stock farm
Fountainhead
The included boric acid and Sodium-Hydrogen-Carbonate-hot brine spring:
Ca-Na-Mg-Mn-aluminum etc.
Transparency and colorlessness, the clean hot spring of tasteless no odor.
Fountainhead temperature: About 52 °.
Efficacy
The arthralgia, a chronic skin disease, chronic articular rheumatism, chronic muscular rheumatism, backache, neuralgia, the sciatica, a wound, and gout
By Train
Sapporo
-> limited express about 2 hours and 20 minutes ->
Yakumo
Hakodate
-> limited express about 55 minutes ->
Yakumo
Ueno
, evening -> express-trains-with-sleeping-berths (Big Dipper etc.) about 13-hour ->
Yakumo
, early morning
JR Yakumo station
-> JR, about 11 minute -> Nodaoi station -> pick-up use, and about 15 minutes ->
sakurano
By Car
Hakodate
-> R5 and prefectural road 573 course and about 70 km ->
sakurano
Muroran
-> About 84.6 km->
Kunnui IC->R
5 and Doo way and prefectural road 573 course and about 45 km ->
sakurano
Sapporo
-> About 200 km->
Kunnui IC->R
5 and Doo way and prefectural road 573 course and about 45 km ->
sakurano
By Plane
Hakodate Airport -> an airport airport bus, an about 20 minute -> Hakodate station
It is above reference from
JR Hakodate station
.