The Characteristic
The inn which tells the history of prosperity in the middle of a meiji once.In the surroundings, a big water wheel enjoys a sunken hearth, and puts into the bath of a stylish hexagon in the garden.Calcium projects, and the smooth feeling of many spring quality on a mark and an after bathing wants to be wonderful and to come to come.On the other hand, if the heating fountainhead of heat exchange is supplied, the bathtub of a tile also has fountainhead rinsingitselfwith hot water outside the bath and its feeling to touch hot water is still better, it is popular.It is remodeled in Heisei 20 and has become a beautiful bathtub.as for a sunken hearth, meet in the others using the sliced tree vacant inside like doughnut of big Aesculus turbinata -- there is nothing.Please burn the candle of a paper-covered lamp shade and enjoy the cold of winter.
Re-coverage: '08-10-18
Although it was retrogression at environment, please give me overflow for a fountainhead injection.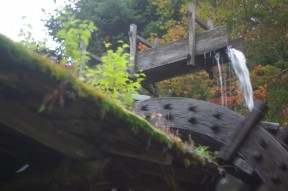 The water wheel of a Kiridumikan trademark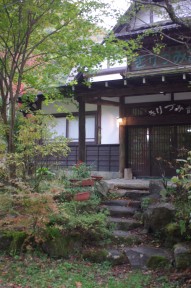 Entrance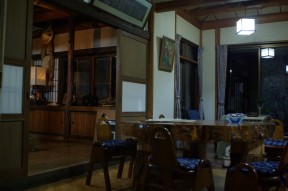 Between sunken hearths, inside of a hall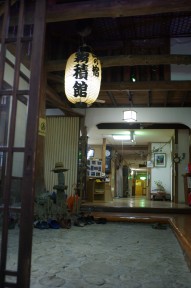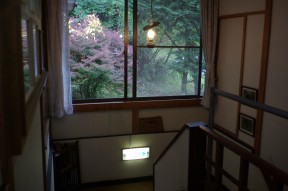 Inside of a hall of an illumination lamp
The bath reproducing the public bathhouse of having been shown in the old map of Meiji Era on this background based on the name of a place called an enough hexagon.A building and a bathtub are hexagons.
The rock arbor of a beginning-of-autumn Mt.Kiridumi
Six-side-of-window covered by fog
Akiko Yosano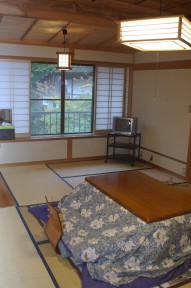 It is full of warmth of a Log and is a feeling-of-purity enough guest room.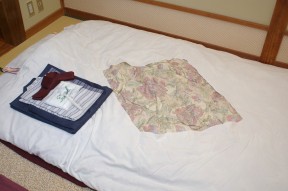 Bedclothes are the self.
Dish
River fish, a dish of wild plants.
An
example of this day
:
They are a じます dish grilled with salt (the 2nd night is char), miso soup with pork and vegetables, pickles, a dessert, etc. to spinach boiled-greens, wild grass small bowl, Shimonita konnyaku, and tempura -.
It is a slices-of-carp-chilled-in-icy-water + carp-cooked-in-miso-soup possible (reservation required) instead of miso soup with pork and vegetables.
Meal place
:
It restricts to room foods or one group every morning and evening, and is between sunken hearths.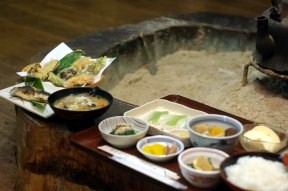 Fire also enters in the meal between sunken hearths, and winter.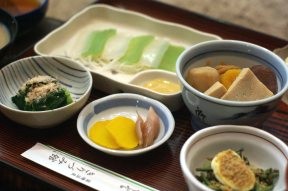 Shimonita sliced-raw-fish konnyaku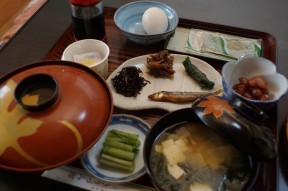 Breakfast
Rates
* an overnight stay with 2 meals -- consumption tax included and excluding bath tax
Same-price-all-the-time Rates \11,025
A bon festival, the New Year, GW, 7 / 20 - 8/31 are removed, and more than 4 persons are \10,500.
A futon is self-service.
Indoor Hot Spring
The man and woman each 1, a hexagon bath, and stone bath (man-and-woman shift operations)
One-day-trip bathing: Adult of 800 yen About 8:00 to child 17:00 aged 3 and over of 400 yen
24-hour bathing is possible (heating, cleaning circulation).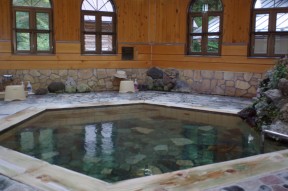 The smooth feeling of an after bathing is wonderful.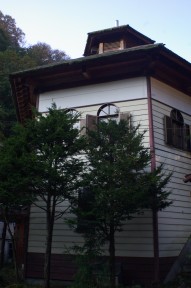 Hexagon bath bath structure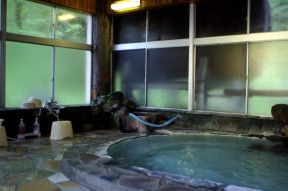 The bathtub of the remodeled tile
Guest Room
20 rooms, 60 persons
Institution
It is one room between 30 halls and a sunken hearth.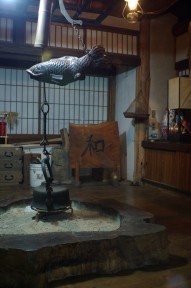 Near Station
12 km on foot, about 3 hours, and a mata are a taxi and about 25 minutes from the Yokogawa station.
- Top -
Postcode3790307
Gumma-ken Usui County Matsu Ida-cho Sakamoto 1668
Telephone 027-395-3856 FAX 027-395-3821
Welcome and Send-off
More than 2 persons are to the Yokogawa station.* Reservation required
Parking Lot
Full equipment