The Characteristic
Kamata -- the mixed bathing Large open-air bath which is proud of the leading area in the enough country to the site the riverbank was [ the site ] extensive is called west yokozuna from the size, and views a long distance Japanese North Alps, and its feeling of freedom is also wonderful.The open-air bath only for a woman is also large, and also has three open-air baths as [ on hire ].A dish and service are also substantial and it is an enough inn of popularity.
Seven sets of auto-camping are possible.
Temporary closed until farther notice,1 or 2 years from December 2018.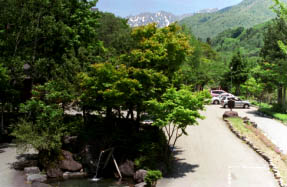 From the second floor to the Hotaka mountain peaks in line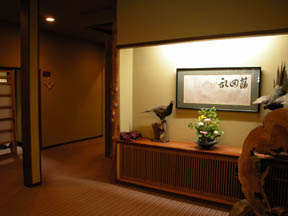 Inside of a hall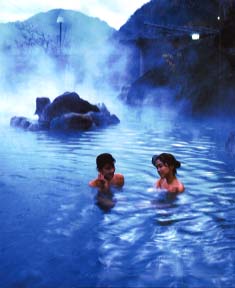 A Large open-air bath like a river
The three-place fountainhead is located in the inside and it is proud of abundant hot water quantity.It is said that a hot spring like this accumulates in slight time even if it carries out hot-spring payment cleaning every day.
The 1st fountainhead is a simple spring and an object for open-air baths.
The 2nd and the 3rd are a hydrogencarbonate spring and an object for indoor hot springs.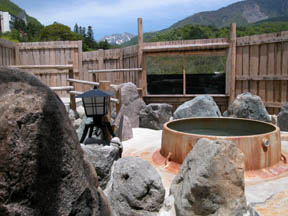 Kama-yu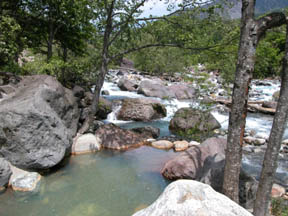 The hot spring of a rudder
Dish
A seasonal course dinner.They are 12 articles mainly about the Ho-leaf bean paste steak of a Hida-gyu meat.
Rates
* Please refer to the above-mentioned plan list.
Indoor Hot Spring
Man and woman each 1
Open-air Bath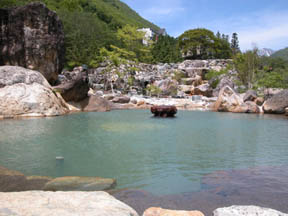 Mixed bathing Large open-air bath (swimsuit prohibition)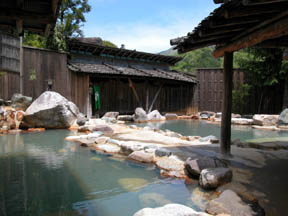 The open-air bath only for a woman
Family Bath
It is a dream Three, such as a hot spring by when
The championship work of the Television Tokyo Channel 12 "TV champion" carpenter king championship.It can sit on the bench in a bath tab, and can rotate a bench with a table by the principle of the coffee cup of an amusement park.With a guarantee [ of Mr. Etsuo Noguchi ].
The authors are Gumma-ken and a Katsuyuki Yoshida Mr. group.
Lodger no charge and when vacant, you can use it at any time.
As for one day trip bathing, one day trip Rates \500 is an extra charge.
It is 1 other-people \1000.
Guest Room
14 rooms, 50 persons
Institution
A restaurant and tea drinking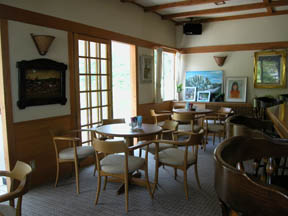 Near Station
Noubi bus shin-hotaka going from the Takayama Line Takayama station, Karukaya alighting on foot 3 minutes
Gifu-ken shin hotaka
Suimei-kan Karukaya Sanso
- Top -
Gifu-ken Koyamaichi Okuhida Onsenkyo Misaka 555
Telephone 0578-89-2801 FAX 0578-89-2251
Welcome and Send-off
Nothing
Parking Lot
Full equipment