The Characteristic
It is dotted so that seven Separate from mains may hide into the grove of a maple or a zelkova at a green thicket.Foundation of the Showa first year and a common store-denominated Separate-from-main guest room have warmth of the peculiar building which took out the drooping tree, and a pure Log.It sits on a traditional veranda, the sound of the clear stream of Tama River is heard, and the four seasons is felt for the trees of a thicket.The inside was heard that many fireflies fly now.
One another dish carries a dish to a Japanese-style cooking kaiseki cuisine and a Separate from main.The Imperial-Family whom who visited before and after Ontake, an Oodake, and Kumotori mountain climbing is also an enough inn of elegance called an enough.(Sentence: June eight days)
Business is done when either Wednesday regular holiday:, or however a tuesday wednesday thursday is a national holiday.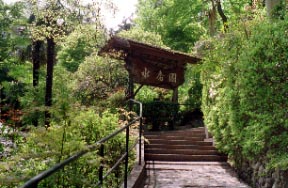 Approach from which it gets down to an inn.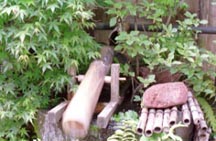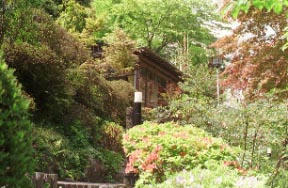 "Separate-from-main guest room"
Dish
Japanese-style cooking kaiseki cuisine.
Foods
Local river fish, wild grass, a marine thing
an Example
They are a dish dependent on a chef, and around ten articles by a season.
Meal place: It is a hall in a supper, room foods of a Separate from main, and the morning.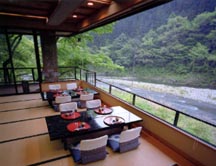 Breakfast and lunch rest are this restaurant.
Rates
* an overnight stay with 2 meals -- both consumption and bathing tax excluded
same-price-all-the-time Rates 18,000 yen (2 persons or more), 22 or 00 yen, and 25,000 yen
the difference of a Rates -- a dish -- measure.
Check-in
15:30
Indoor Hot Spring
Man and woman each 1
One Day Trip Bathing:

Adult of 1000 yen 10:30 to 19:30

* Important point contact
Guest Room
Perfect Separate-from-main form, seven rooms [ eight ], 35 persons accommodation
Near Station
JR Ome Line, Kawai station -> on foot 5 to 6 minutes
- Top -
640, Kawai, Nishi-Tama-gun Okutama-machi, Tokyo, 198-0102
TEL:0428-85-2221 FAX:0428-85-1617