The Characteristic
The hot spring of the mountain surrounded by the noted mountain.Till Heisei 11 when a road will be opened for traffic, it was in the place which cannot go if you do not walk on foot from Yamaguchi of foot for about 2 hours, and was a hidden hot spring known only to insiders among mountaineers.It seems that it also comes to put in the present private car to the bottom gate of a hot spring, and the whom whoes which visit the hot spring of a mountain to a pleasure gradually are also increasing in number.A view of the sea valley cluster of summits connected with Mt. Nokogiri, a devil's face mountain, and Mt. Komagatake in a north direction in the back in Mt. Amakazari counted by Japanese one hundred famous mountains is brilliant.Both of the mountains need the physical strength and equipment of full-scale mountain climbing for about 7 both-way hours.

An Amakazarisansou and a devil's face mountain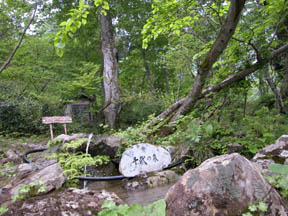 "Chiyo's spring" near the tent place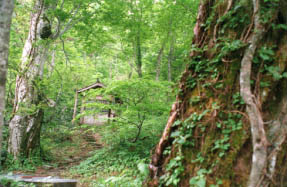 Three beech big trees which still escaped the cut down thinly surround a hall of the Medicine Buddha at a meiji term.

The enough ravine of the fountainhead

From a Yakushi-female-budda ridge "to a sea valley cluster of summits" (photograph: inn)
It is a good location to see about Mt. Nokogiri, the devil's face mountain and Mt. Komagatake from the right, and the long distance Sea of Japan.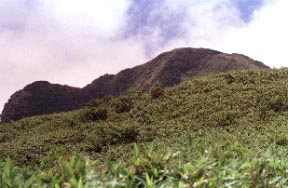 "Mt. Amakazari"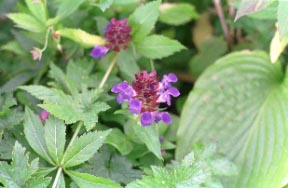 Alpine flora had bloomed all over.
Mt. Amakazari mountain-climbing information: A 100 peaks and spring Japan, Mt. Amakazari
Fountainhead
an alkaline spring -- water-white 55 °

Pouring gate: Precipitation of hydrogencarbonate spring + calcium
Efficacy
Neuralgia, gastroenteropathy, etc.
By Train
Hokuriku Line -> Itoigawa station -> bus bessho going, Yamaguchi bus stop alighting -> on foot 2 hours
From the Itoigawa station to or taxi use (about 7000 yen) -> from the bottom gate of a hot spring to on foot
* Nearby "the Nechi station" does not have standby of a taxi.
By Car
Hokurikudou -> Itoigawa I.C.
->R148, a Nechi -> No. 74 line, the Yamaguchi -> path through a wood, the bottom gate of a hot spring
A private car is also put in to the bottom gate of a hot spring.From there, it is a way only for the persons concerned.