The Characteristic
The hut of a wooden structure where the Japanese one hundred famous mountains "Mt. Amakazari" north foot was countrified.It leaves the thick pillar and beam which started from the mountain and have borne the heavy snowfall in 100 or more, and it becomes Heisei and is rebuilding.These days, a guest room and a dining-room are extended and it is becoming comfortable.The open-air bath "Touji of a capital failure" into which it goes at the time of the nightfall of summer was the highest after mountain climbing.It is a bench of the extensive garden on heights, and if an after bathing is blown on the refreshing breeze of a mountain and it relaxes in beer one hand, they will be this and the highest.and another pleasure here -- snow, such as a dish of wild plants, a Yukizasa wild plant, an Amadokoro, a Udobuki, a bamboo shoot, -- the fresh wild grass unique to a deep district can be tasted.Electricity is early the night of a home generation of electricity, 9:00 putting out lights, and a hut.
* I do business as a hut even now along which the road passed in Heisei 11.It is not a ryokan with a hot spring.
* I ask the inn of the Nagano Otari hot spring, and a mistake for there not to be.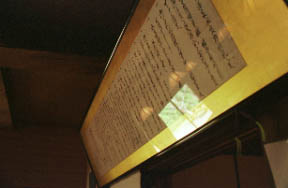 Writing between Masatoshi Bun who wrote the conveied history of the hot spring.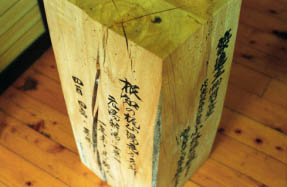 The ridgepole at the time of the extension by which the song was read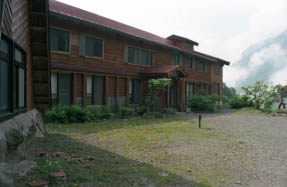 It is a good-location-to-see complete view about a sea valley cluster of summits.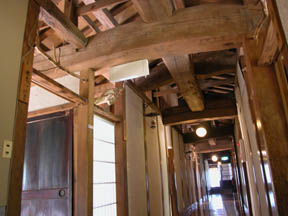 The snowy country building of a thick pillar and a beam.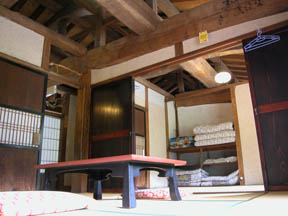 Guest room "amakazari" - "gold mine"
Dish
They are mainly the Itoigawa local culinary specialties about wild grass.
Foods
Wild grass of a gathered at mountain
It is in 40 to 50 minutes by car from a three-spined stickleback river-fishing port, and fresh seafood enters.Boiled rice has cooked Niigata Koshihikari at the hot spring.Although it becomes slightly yellow, it is reputation, when a mineral is abundant and it is delicious.
A photograph example
Shozan, such as a climax udo, a Udobuki, and an ascetic's-Gyo-jya garlic, -- a vegetable - wild grass tempura and a coltsfoot - chikuwabu vegetables boiled hard with soy, sushi wrapped in bamboo grass, stir-fried vegetables, a salad, hot spring boiled rice, a dessert, etc.
Meal place: Every morning and evening is a dining-room.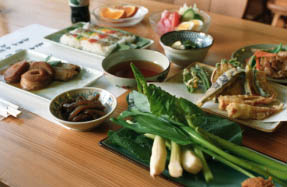 Rates
* Please refer to the above-mentioned plan list.
Indoor Hot Spring
Man and woman each 1.
day trip bathing:500 yen.
Open-air Bath
The open-air bath of mixed bathing is 1.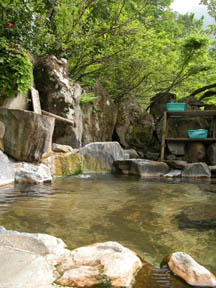 The Touji of a capital failure
Guest Room
12 rooms, 100 persons accommodation
Usually, although it is a single room, please give me the sharing a room at the time of rush hours.
Institution
A large room and a dining-room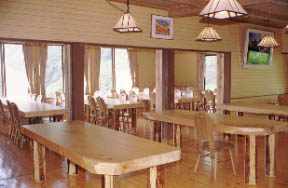 The Heisei 12 extension, a beautiful large dining-room.
Being Enough Question (FAQ) Well
It becomes the Mt. Amakazari trailhead in Kajiyama, Itoigawa-shi, Niigata-ken in an enough hut.Amakazarisou is another inn in Otari in Nagano Prefecture.[ -- * important] -- when you put into car navigation, please give as an amakazari.
A yukata and amenity become a charge.Yukata loan: 500 yen, a bath-towel loan: 100 yen, towel sale: 300 yen, Tooth-brush sale: 50 yen
It becomes on foot [ of about 2 hours ] by about 6 km and a descent from the mountain villa up to the Yamaguchi bus stop.
It changes to about 45 minutes and about 8000 yen in case of a taxi.
Nechi line bus timetable (the Yamaguchi bus stop is the next of seaside ballet): http://www.marukei-g.com/busgroup/rosenzu/neti-imai.pdf
Tent place: The inside of several minutes out of parking, and a beech forest, about 10 tensions, those with a watering place
A tent stay: An one night [ one ] : 1500 yen including tax (bathing and toilet use are possible)
Nearest Station
From the Itoigawa station, it is a bus and is the Yamaguchi bus stop.
1870, Koudoukura, Aza Kajiyama, Itoigawa-shi, 949-0544
- Top -
Telephone: 090-9016-3212 FAX:090-9016-3212
Welcome and Send-off
Nothing.
Parking Lot
The bottom gate of a hot spring is equipped fully.