The Characteristic
The heights which are located in the heart of the mountain of the famous place "Yoshinoyama" of the No.1 cherry blossoms of Japan that all the mountains are covered with cherry blossoms, and are said to a Cherry blossom stream from foot to an Okusenbon, and are crowded with sightseeing are the furuyus which wells up to a quiet OnsenValley quietly at marked contrast.it is now why at the conveied history of a hot spring -- it was written whether was it alike and would have left the image of a hidden hot spring strongly.It is exposed to criticism making it revive as a yoshino with the period of the prosperity which overflowed with the writers and artists and mountain ascetics of the time of a Founded or started to use this hot spring, abolition by confiscation command, and a subsequent secret bath, and the Meiji Restoration, and that it is premature in part, and a fire will be encountered for meiji 18 years, or boos will be referred to as having spoken ill.It became without being shown as a hidden hot spring of quiet appearance reconstruction and after that for meiji 20 years.Touson Shimazaki of the young day who loves a hidden spring is staying over a long period of time in meiji 26.Hot springs are the reddish brown in which clear efficacy is given, and the effect of a carbon dioxide or the hot spring which gets warm well.It is recommended also as a hot spring after "Mt.Oodaigahara" gaining the summit.Yoshinoyama was registered into world heritage as the holy place and worship way in Kii Mountains.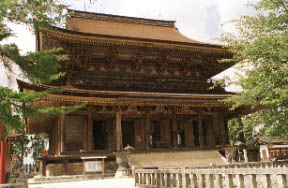 National treasure Golden Mineyama temple "Zao-do"
The wooden structure of overwhelming force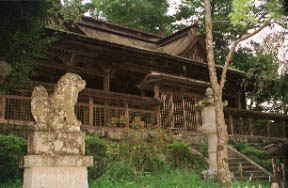 Katte shrine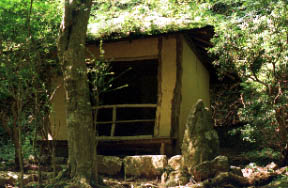 An Okusenbon, "Saigyo-an"
West line Hoshi who loved Yoshinoyama says that he lived for three years.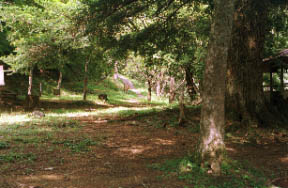 Okusenbon
If it comes so far in the mountain like on foot 15 minute from a Kinbu shrine, cherry blossom viewing is likely to be possible in quiet environment.
Trekking half-a-day course: OnsenValley
Trekking one day course: OnsenValley-Nyoirin-temple-Nakasenbon-Kamisenbon-observatory-Suibun-shrine-Kinbu-shrine-Okusenbon -(climb down to entry)- Katte-shrine-yoshimizu-shrine-Zao-do-OnsenValley
Mountain Climbing

It is about 1 hour in a car to Japanese one hundred famous mountains "Mt.Oodaigahara" popular in Kinki.A parking lot-Mt.Hidegatake-Masakigahara-Owasetsuji-Daijya-gura-Shiokara-ravine-parking lot and the circumference course around which it turns are about 3 hours.In the shape of stairs, and the back, Shiokara-ravine order and a Mt.Hidegatake are almost flat mountain trails.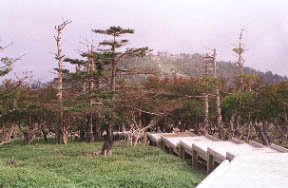 A Mt.Oodaigahara, a Mt.Hidegatake, and Kimichi.
Fountainhead
Carbon-dioxide cold mineral spring (iron carbonate spring) 16.7 ° Reddish brown
Efficacy
It bruise [ neuralgia, muscular pain, the arthralgia, a frozen shoulder, and ] - Breaks, and they are - chronicity digestive disease, hemorrhoids, oversensitivity to cold, a cut, a burn, high blood pressure, and arteriosclerosis.
By Train
Osaka Abeno bridge -> the Kintetsu limited express yoshino going nonstop, an about 68 minute -> Yoshino station
Kyoto -> the Kintetsu limited express (Kashihara Jingu station change), an about 1-hour and 30-minute -> Yoshino station
Nagoya -> the Kintetsu limited express (Yagi and Kashihara change), an about 2-hour and 30-minute -> Yoshino station
* JR user is a change from the Yoshinoguchi station to the Kintetsu yoshino going.
By Car
Nishimeihan Koriyama IC->R24, R169, about 38 km