Shibu(Nagano) |Hot springs deep inside Japan
[Outline] Nagano Shibu @Yamanouchimachi The emotional hot spring resort of a stone pavement, a Shibu 9 public bath
[Spring quality] Shibu spring quality is various. Water-white 80 ° Simple spring Water-white 48-93 ° Weak alkali included hot brine spring 62 °, 85 °, and 98 ° A sodium calcium salt ghost, sulfate hot spring, etc.
[Altitude] About 700-m natural woodland
[Environment] About thirty houses
[Mountain climbing and sightseeing] A Snow Monky Park, the Shiga Heights, Shirane-san, the Hokusai hall, and a Zenkoji

The Characteristic
The shibu and Yudanaka Onsen said to have carried out the Founded or started to use this hot spring about 1300 years ago (Nara period) are hot springs where a long-established Ryokan is full of the sentiment which left many simplicity [ many ] of the hot spring of a mountain.There are nine public-baths in a shibu, a take a bath one another while stamping a stamp on a towel passes pain (9) trouble, and the divine favor of charm against misfortunes, an easy delivery, and perpetual youth and longevity has an enough and popularity.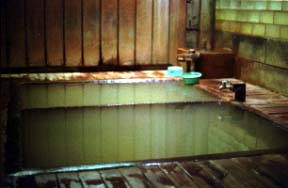 Oyu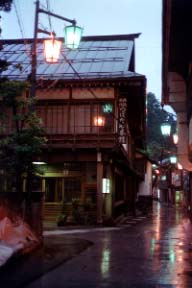 Ryokan town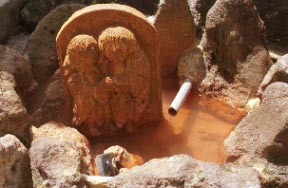 They are an enough travelers' guardian deity and the fountainhead in shibu Jo Oyu.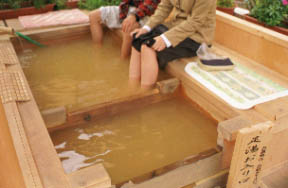 The footbath newly established next to Oyu.
Fountainhead
Shibu spring quality is various.
80 °, transparency and colorlessness, a simple spring
48-93 °, transparency and colorlessness, a weak alkali included hot brine spring
62 °, 85 °, and 98 ° A sodium calcium salt ghost, sulphate hot spring, etc.
Efficacy
Neuralgia, rheumatism
By Train
Tokyo -> Shinkansen -> Nagano station -> Nagano Electric Railway yudanaka (limited express about 40 minutes)
Nagoya -> Limited Express Shinano Nagano station -> Nagano Electric Railway yudanaka
from a yudanaka electric railroad bus 10 minutes, and shibu Wago -- under a bridge -- car
By Car
Tokyo -> Joshin-etsu Expressway -> Shinshu Nakano IC
Nagoya -> central way -> Nagano way -> Joshin-etsu way -> Shinshu Nakano IC
6 km of Shinshu Nakano IC->R292 abbreviation