The Characteristic
It is in the altitude of 1800 m of the okutateshina area deepest part, and is known as an inn of the Mt. Tengu trailhead.The hot spring which relieves the fatigue of mountain climbing is the historied noted spring that Shingen Takeda cured the invalid.In the hot spring of a smell slightly and the countrified structed-by-Japanese-cypress structure, hydrogen sulfide odor has a bath tab of the fountainhead, and a bath tab of rinsingitselfwith hot water outside the bath, and mind and body can relax the hot spring of the longevity in which the fountainhead carries out a flow out naturally from a bottom especially with a bubble.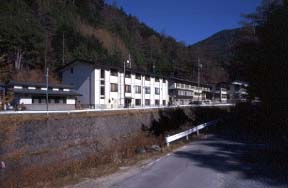 Complete view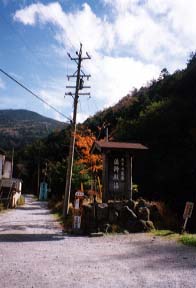 Trailhead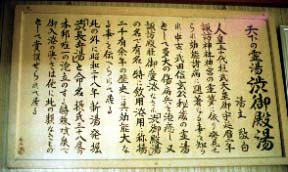 Medical treatment and the Suwa load are love-to-bathing hot spring for loads about an invalid as a spiritual spring of Shingen Takeda treasuring.
Dish
oh [ one-pot-dishes, red salmon dish-grilled-with-salt, and carp ] -- it is -- or raw horse meat, tempura, etc.
According to the season, I am taking out seasonal wild grass, a mushroom, etc.
Meal place: An every morning and evening dining-room or a hall (banquet)
Rates
* Please refer to the above-mentioned plan list.
Indoor Hot Spring
Man and woman each 2
The bathtub of three "east hot springs" and a washing place are nothing.
"West hot-spring" bath tabs are the fountainhead 1 and the rinsingthemselveswith hot water outside the bath 1.
One-day-trip bathing: 1000 yen 10:00 to 15:00
(Only west hot spring)
Room rest of 2000 yen An east and west can be used.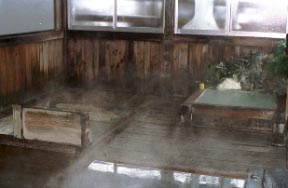 A Shibugotenyu, an east hot spring
Guest Room
35 rooms, 130 persons
Near Station
It is in front of a Shibugotenyu bus stop (terminal) inn.
- Top -
Chino-shi, Nagano okutateshina
Telephone: 0266-67-2733 FAX:0266-67-4467

Welcome and Send-off
Nothing
Parking Lot
Full equipment